Easy Pasta Skewers Recipe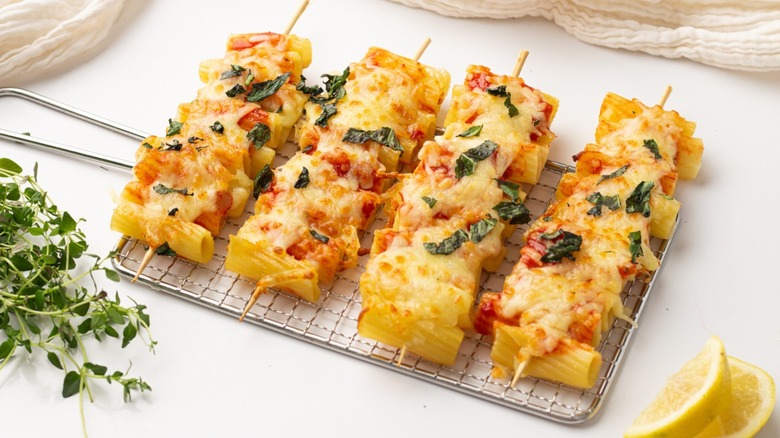 Susan Olayinka/Mashed
Pasta and fast food, where do they meet? Look no further than the Mashed table. With TikTok inspo in tow, recipe developer Susan Olayinka, founder of The Flexible Fridge, has graced us with a tasty, flexible dish. This is a quick fix you'll have ready in 30 minutes. Busy Mommas, this is your time to shine. College kids, how about regal rigatoni on a budget? These air fryer pasta skewers are perfect as a hearty appetizer or a party-time snack, and guess who's here for it? That's right. We have all the info and tips you'll need to have dinner wrapped in a snap. This dish may serve as the perfect entrée, and it's ideal for, "[b]oth adults and kids alike!" 
The pasta used in this recipe is rigatoni, an American favorite. If you don't have rigatoni on hand, ziti would also be a great option to use. Let's get cooking and merge Italian cuisine with an American dream, to see if you love it (like we think you will)!
Gather your ingredients for the easy pasta skewers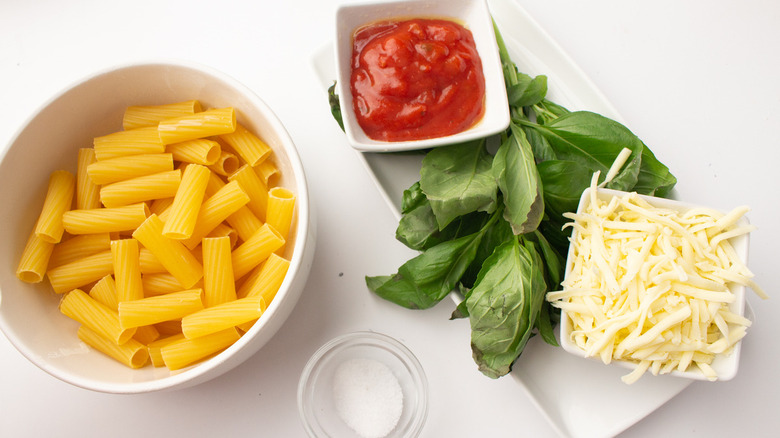 Susan Olayinka/Mashed
You won't find this recipe in Granny's cookbook, that's for sure. But, don't worry — it doesn't take much. Do you have pasta in the pantry? Then you're already on your way. To make 4 skewers, you'll need 1 cup of rigatoni pasta, 1 teaspoon of salt, ¼ cup of fresh basil with ¼ cup of marinara sauce, and ½ cup (or more) of mozzarella.
You may season and add extra veggies or cubed meats, to taste. However, we'll provide you these simple directives, and you may elaborate as you see fit.
Boil the pasta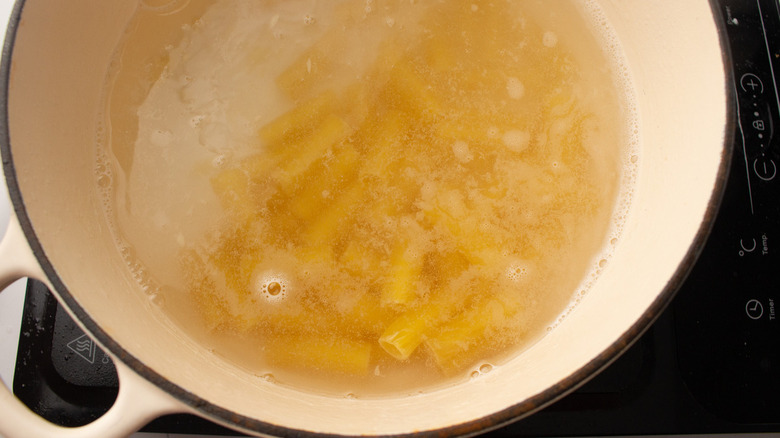 Susan Olayinka/Mashed
With liberty, you may choose the type of pasta you'd like to use. We do recommend using a similar shape to that pictured above. To start out, begin the recipe by cooking the pasta according to the package instructions. Sprinkle a bit of salt into the water to flavor it. While the pasta is cooking, chiffonade the fresh basil into thin strips. Set the basil aside. We'll use that for garnish at the last step.
Thread your pasta onto the skewers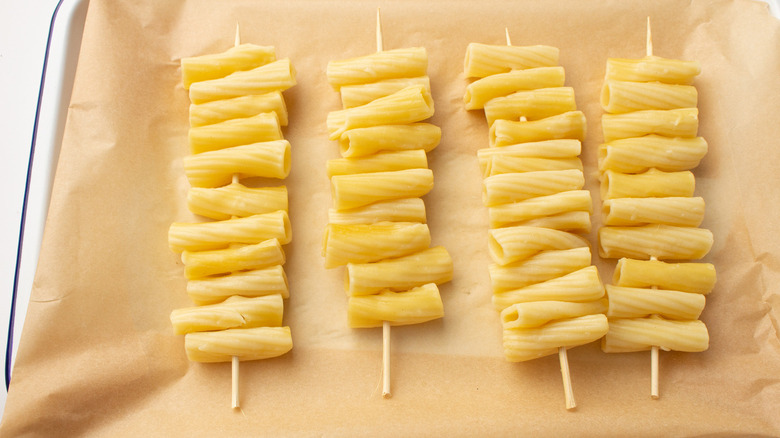 Susan Olayinka/Mashed
Once your pasta is fully cooked, drain it with a sieve. Pour the cooked pasta out onto a plate. Prepare your skewers and begin threading the pasta onto each skewer. As pictured here, you can fit 10 or 11 pastas each, at best.
While you do so, have in mind how you'll serve this. As a sole entree, or as a first course with an entree to follow? Olayinka recommends serving this for "[f]inger food or at a child['s] birthday." She told Mashed, "The texture is amazing."
Build and cook your pasta skewers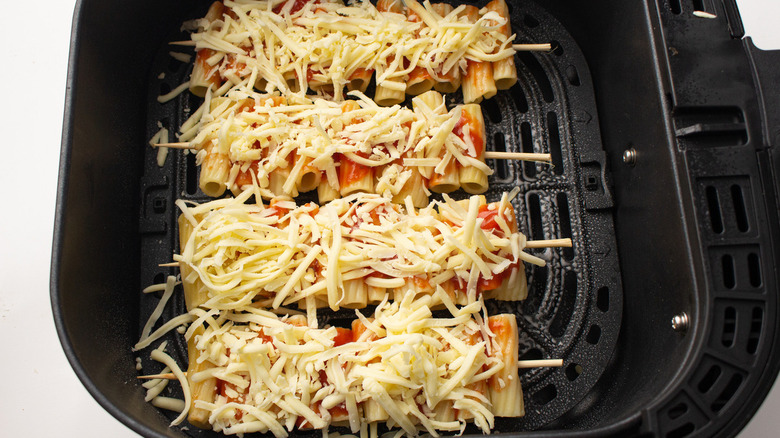 Susan Olayinka/Mashed
Once your skewers are loaded with pasta, use a basting brush to cover the pastas with marinara sauce. Do this on both sides. The sauce doesn't need to be pre-cooked or heated; we'll let the air-fryer do that! Depending on how steady your hand is, you can place the mozzarella on the skewers before placing them on the tray. Or, alternatively, you may set the skewers into the air fryer tray and then cover the top with mozzarella cheese and other desired toppings. Set the machine on bake at 400 F for 5 minutes.
Serve your skewers and enjoy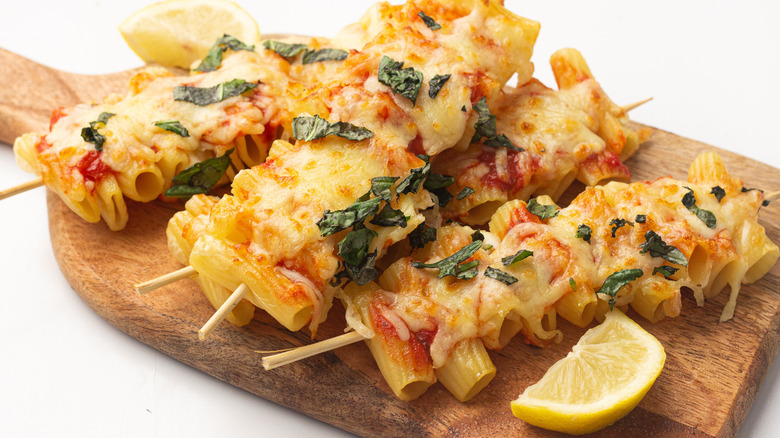 Susan Olayinka/Mashed
After the timer dings, remove your skewers from the air fryer. Garnish with the chopped basil, and voíla! Bon apetít. Now, let's circle back to the earlier question: How will you serve this? That may depend on your crowd. That said, our developer Olayinka recommends, "Maybe readers can do an Italian theme and follow it with homemade pizza [or] ravioli." While these delicious skewers are best enjoyed fresh, leftovers can be preserved in an airtight container for 2 to 3 days.
Molto bene, well done! This creative dish will be the talk of the table. Maybe you can *cough cough* post it on TikTok? No matter how you choose to enjoy the skewers, we hope you love how they turn out. From our kitchen to yours, cheers!
Easy Pasta Skewers Recipe
You probably haven't eaten pasta on a skewer before. But this easy pasta skewers recipe is delicious, simple, and a perfect party appetizer.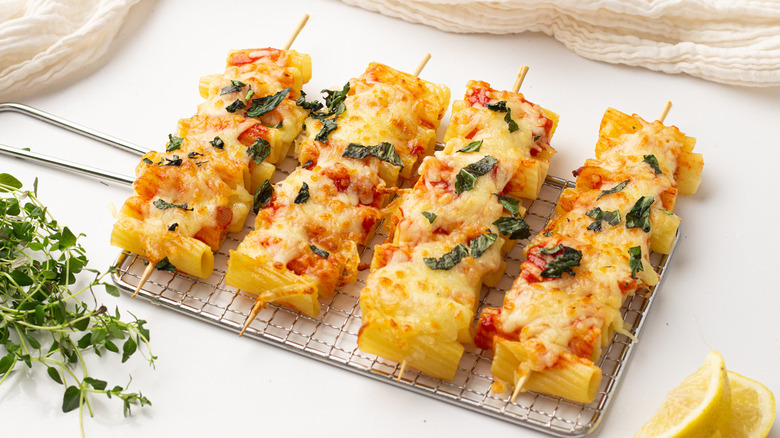 Ingredients
1 cup rigatoni pasta
1 teaspoon salt
¼ cup basil
¼ cup marinara sauce
½ cup mozzarella
Directions
Cook the pasta according to the instructions, adding salt to the pot.
While it's cooking, chop the basil into thin strips.
When the pasta is cooked, drain it through a sieve and place it on a plate.
Thread the pasta through skewers. Put about 10 to 11 pieces on each skewer.
Place the four pasta skewers in the air fryer, cover with marinara sauce on both sides, and sprinkle with mozzarella.
Bake at 400 F for 5 minutes.
After 5 minutes, take the skewers out of the air fryer and sprinkle on the chopped basil.
Nutrition
| | |
| --- | --- |
| Calories per Serving | 148 |
| Total Fat | 3.8 g |
| Saturated Fat | 1.9 g |
| Trans Fat | 0.0 g |
| Cholesterol | 11.4 mg |
| | |
| --- | --- |
| Total Carbohydrates | 21.2 g |
| Dietary Fiber | 1.2 g |
| Total Sugars | 1.8 g |
| Sodium | 158.6 mg |
| Protein | 6.8 g |