This McDonald's Employee Fish Filet Joke Had TikTok Arguing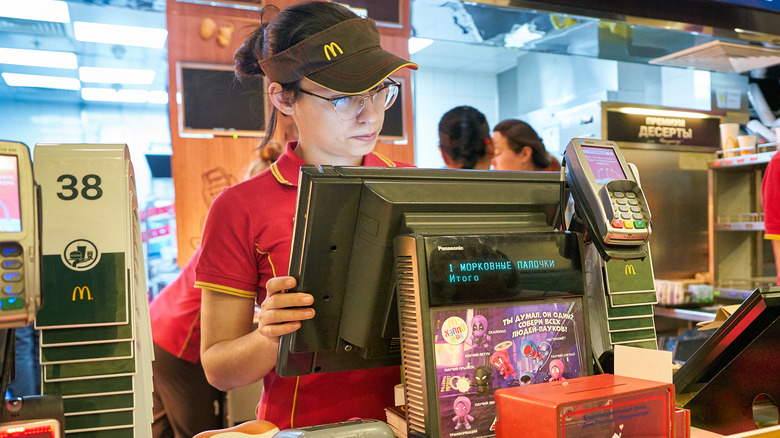 Sorbis/Shutterstock
McDonald's certainly didn't achieve its immense success without some pretty spectacular products. Some of the greats are the giant Big Mac, delicious McFlurry, and humble — but irresistibly salty — fries.
However, even though it is undoubtedly a food icon, McDonald's Filet-O-Fish is frequently considered to be one of the Golden Arches' questionable food items. Evaluating the most popular McDonald's menu options, Mashed rates the Filet-O-Fish as the second worst, while Delish reports another survey that lists it as the least favorite.
Consisting of a burger bun filled with a crispy fish patty, half a slice of American cheese, and tartar sauce (via McDonald's), the Filet-O-Fish seems a straightforward meal to prepare — so simple it can be made in under 20 seconds, according to a satirical TikTok video. User @treyyuhhhh uploaded a clip that purports to show how McDonald's workers make the sandwich in a rush by rapidly cramming together its ingredients and sliding it out for delivery. Needless to say, TikTok users have some strong opinions about the method — and people who order the Filet-O-Fish.
TikTok debated whether Filet-O-Fish is an acceptable McDonald's order
The unappetizing video has seen TikTok viewers call out McDonald's Filet-O-Fish preparations, with one saying, "They don't put any love into making this" and others remarking that there is typically not enough cheese, sauce smeared over the box, and a bun stuck to the cardboard container. However, @treyyuhhhh clarifies that the video was actually intended as a joke, stating workers would be fired if they served such a rapidly constructed sandwich to a customer.
TikTok commentators also poured scorn over people who choose to purchase the sandwich, including one who proclaimed: "People who eat Filet-O-Fish at McDonald's can't be trusted." Another viewer labelled the sandwich an "unacceptable" choice, while one comment suggested that ordering the fishy treat is a crime. However, supporters of the meal have called it a "guilty pleasure" and recommended adding lettuce and pickles to make the menu item tastier.
Despite its controversial reputation, Filet-O-Fish remains a highly popular menu item for McDonald's. According to Mental Floss, the fried seafood achieves in excess of 300 million sales every year (with 25% of those being recorded during Lent when Catholics opt to avoid traditional meats on Fridays, reports USA Today).