Why The M&M's Characters Will Look Totally Different In 2022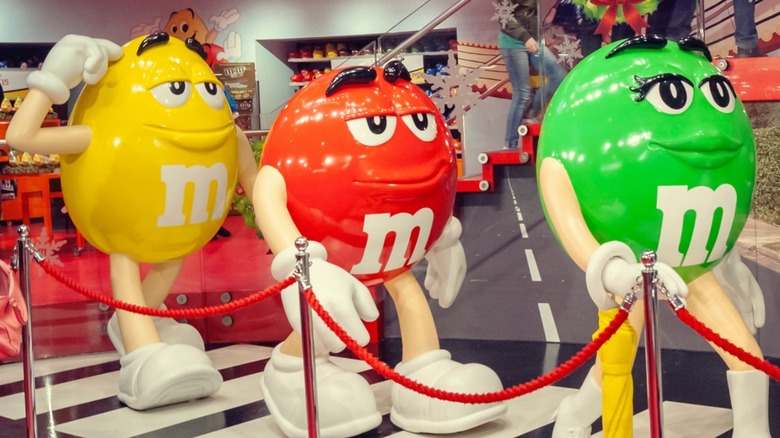 PaolaV1/Shutterstock
For years, they've been melting in your mouth, not in your hand — and now they're getting a bit of a makeover, at least where branding is concerned. Of course, we're talking about M&M's, the iconic, bite-sized chocolate gems with colorful candy shells and a white "m" stamped on each and every piece. Since their debut in 1941, M&M's have had a massive impact in the confectionery world, launching a number of different beloved varieties, being incorporated into recipes for cookies and other baked goods, and even becoming the first candy to be eaten by astronauts in space, according to the official M&M's website.
Delish reports that the candy first introduced its proto-mascots in a black-and-white commercial dating back to 1954. Like many brands that were introduced during the Golden Age of Advertising, the candy has its very own mascots, all of which represent different flavors of the treat. By 2012, the six colorful M&M's that consumers have become familiar with have graced advertisements together and developed distinct personalities. 
The widely recognizable, oftentimes humorous "spokescandies" — including the snarky, know-it-all Red, the dull-witted Yellow, the paranoid Orange, the sultry Green, the posh Brown, and the confident Blue (per M&M's) — have appeared in ads for a while. But much to the shock of some fans, this animated cast of saccharine characters has undergone makeovers. The mascots of the legendary candy brand, which is owned by Mars, Incorporated, will undergo a new look in an effort to promote inclusivity, according to a press release.
Here's why the M&M's mascots are getting makeovers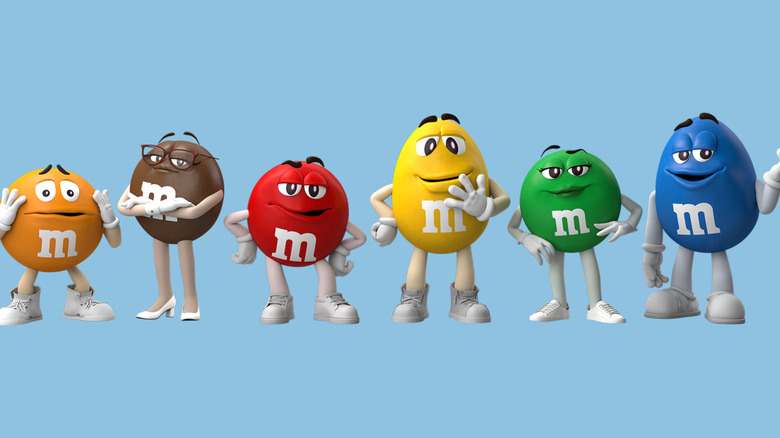 Mars
Mars announced in a press release that the revived M&M's messaging plans to leverage the "power of fun" to make fans feel a stronger sense of belonging. Included in the brand refresh is a subtle modernization of the candy characters, including the uber-feminine Green changing out of her classic high-heeled boots and into a pair of fashionable, Chuck Taylor-esque sneakers (per Marketing Dive) and the mascots' arms and legs becoming a more "neutral" shade, per the New York Post. 
According to Adweek, Mars' vision is to focus more on the characters' personalities. The shapes and sizes of the actual candies will also differ to promote diversity. "M&M's is on a mission right now to create a world where everyone feels they belong," Jane Hwang, Global Vice President of M&M's, told Adweek. "We took a deep look at our characters, both inside and out, and have evolved their looks, personalities, and backstories to be more representative of the dynamic and progressive world we live in."
But these changes have been met with criticism on social media. Since the announcement, Twitter has been flooded with sardonic comments including, "Finally, the change we've all been waiting for: M&Ms with more nuanced personalities," from @TheDailyShow. Another fan chided, "M&M's making the green M&M less sexy to be more 'inclusive' is the funniest thing in the world to me." And a third said, in all caps, "KEEP THE GREEN M&M A HOT SEXY LADY."
There's been media controversy over the M&M's new look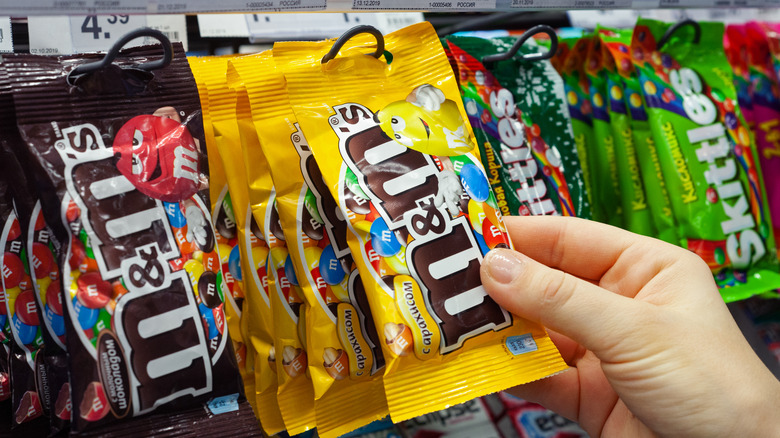 8th.creator/Shutterstock
The controversy over the M&M's characters' redesign has spilled over from social media and now has news pundits up in arms, too. Per Insider, Fox News personality Tucker Carlson has gone on the defensive, claiming that the new M&M's candy characters appear less appealing. He's gone on record saying, "M&M's will not be satisfied until every last cartoon character is deeply unappealing and totally androgynous until the moment you wouldn't want to have a drink with any one of them. That's the goal. When you're totally turned off, we've achieved equity. They won."
Most of the blowback centers around the choice of shoes that the green and brown candy mascots will now wear. But these decisions weren't made lightly, and Mars has explained in a press release that the new shoes serve as just one stylistic component that could help a modern shopping demographic relate to the candy characters.
On the other side of the M&M's conversation, some critics wondered why the candies needed to have personalities in the first place. A New York Magazine op-ed, for instance, questioned the implications of candies like the orange M&M having acute anxiety or the existence of feminism in an M&M's candy world. 
Still, why anyone would be so upset about slight changes to fictional characters' appearances is a bit of a mystery. But no matter what their marketing representatives are wearing, M&M's will likely be enjoyed by generations to come.