Bakery Owner Sarah Lim Opened Up About Her Queer Eye Experience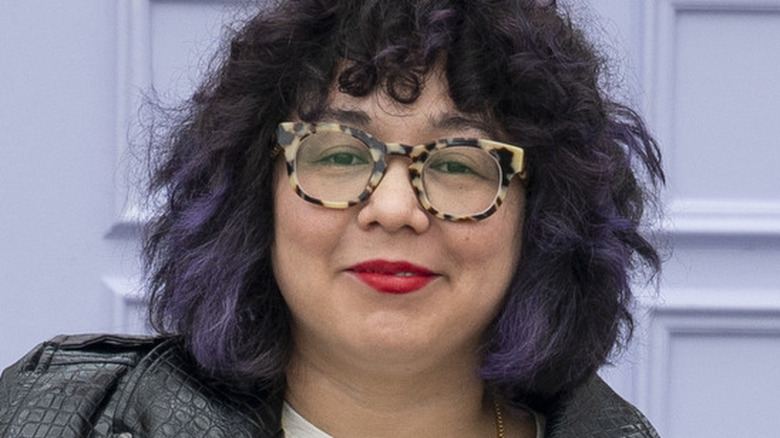 Netflix
When Season 6 of Netflix's "Queer Eye" headed to Austin, local foodies tagged the episode featuring Sarah Lim, owner of the Texas city's OMG Squee bakery, as a much-watch, Eater reports. The OMG Squee website describes Lim's journey from "burnt out" freelance photographer to self-taught gluten-free baker — and her business' transformation from a small farmer's market operation to a full-blown bakery in East Austin. Now, she and her co-owner strive to make visually engaging, Asian-style desserts that bring smiles all around, such as character macarons and stuffed mochi waffles. These Instagrammable treats gained OMG Squee a loyal following, but being a business owner has also brought Lim her share of difficulties.
Prior to her appearance on "Queer Eye," Lim shared that several struggles — from anti-Asian American vandalization to COVID-related shutdowns — made her fear that her business was on the verge of closing (via Bustle). As Lim told Eater, the pandemic made it difficult for her to get her footing as a bakery owner, while the unkindnesses she faced as a person of color heaped onto her stresses. When going on "Queer Eye," she had to embrace a "big trust fall" and be willing to open up to the Fab Five and embrace change, which she certainly did.
How the Fab Five helped Lim grow her business
While OMG Squee had a steady farmer's market fanbase when it opened its storefront in November of 2019, the bakery still lacked enough resources to bring all of Lim's ideas to full fruition. In a recent conversation with Eater, Lim credited "Queer Eye" with helping her turn her original visions into reality. The bakery's new patio space and counter area, created by Fab Five member Bobby Berk and his design team, helped give her business a more updated setting to handle new clients.
The Fab Five also implored Lim to make changes in her personal life and set some boundaries. She shared with Eater the impact that each "Queer Eye" cast member had on her, from Tan France's "warmth and kindness" to Antoni Porowski's habit of keeping up with her as a friend after the show. While the bakery owner is used to working tirelessly to stay afloat, her time on the series seems to have given her a better understanding that it is important to take time to care for herself, as well.
What's next for Lim and OMG Squee after "Queer Eye?"
Lim told Eater that "Queer Eye" helped expand her business, creating demand all over the world for OMG Squee merchandise. Though her time on the show was valuable both personally and professionally, her bakery has still faced struggles and periodic closures due to COVID-19, maintenance issues, and weather, per Bustle. Nevertheless, the OMG Squee Instagram account has posted job openings, special offers, and online ordering options for locals throughout the pandemic.
Among Lim's goals for the future are revisiting the idea of pursuing nationwide delivery through Goldbelly, as Antoni Porowski suggested on the show, when she has the chance to create custom packaging. On Instagram, she described last year as an "insane, intense, emotional rollercoaster" with more ups than downs. Although she added that "Queer Eye" might have been "the biggest, cherry-on-the-cake, chef's kiss, most mind blowing most thing that might ever happen to" her business, she seems ready to tackle 2022 with newfound confidence.