Guy Fieri Just Shared A Moving Tribute To Louie Anderson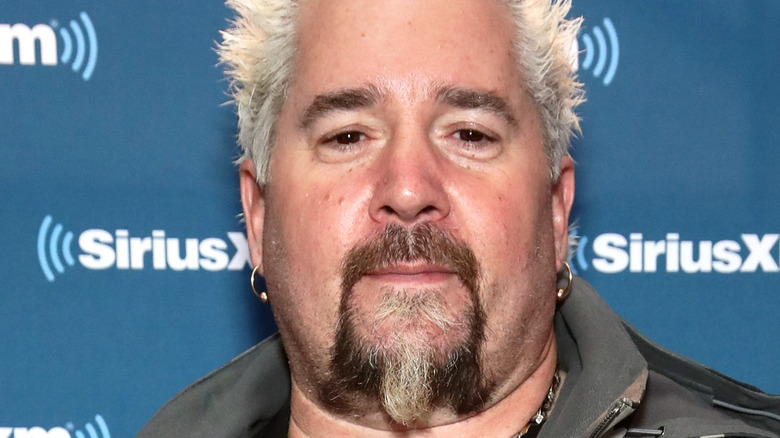 Cindy Ord/Getty Images
Stand-up comedian, actor, and game show host Louie Anderson died on Friday of complications from cancer at age 68. According to those who knew him, he was a kind, loving, and hilarious friend. To the rest of the world, he was a comedy legend, with a nearly 40-year career that included countless stand-up bits and quotable characters (via The New York Times). From his appearances on "The Tonight Show with Johnny Carson" to his Emmy-winning role as "Christine," the mother to a rodeo clown on the television series "Baskets," Anderson captured the admiration of millions as well as many accolades. 
Following the news of his death, both fans and friends of Anderson have taken to the internet to grieve the loss of the "Search Party" star. Fellow actor-comedian Pauly Shore wrote of how much he will miss the actor and said, "We will keep your name alive down here" (via Twitter). Henry Winkler also honored Anderson in a tweet, writing that "we are so lucky you were on earth for a moment, spreading your humor all over like bars of living gold .. Good Bye."
And it's not just fellow actors showing their love for Anderson. Celebrities across the entertainment industry have taken the time to express their heartbreak over his death, including Food Network star Guy Fieri. On Twitter, the "Guy's Grocery Games" host posted a photo of himself and the comedian together, captioning it, "RIP Louie One funny dude! Loved him in Coming to America RIP!" 
A performance by Anderson people will never forget
The movie Guy Fieri mentions in his tribute, "Coming to America," is a 1988 cult comedy film that features one of Anderson's most beloved roles to date. In the movie, Anderson portrays Maurice, an eager fast-food employee who appears in an iconic scene with Arsenio Hall and Eddie Murphy where he dutifully washes lettuce and waxes on about his dreams of becoming promoted to fry cook and manager (via Youtube). The moment perfectly captures Anderson's Midwestern do-gooder energy that was a cornerstone in his comedy, which is probably why it resonates with folks like Fieri more than 30 years later.
During an interview with "Sway in the Morning" back in 2017 (via Youtube), the comedian called the role his "first big job" and even quoted some lines from the movie, like "Soon, I'll be on fries!" Anderson reprised the character in 2021's "Coming 2 America" for his final performance on film (via IMDb).
It makes sense that a foodie like Guy Fieri, who has spent a lot of time in restaurants himself found that particular performance of Anderson's memorable and included it as part of his tribute. It seems his followers feel the same way, with 1,300 people liking the tweet and 48 retweeting it. One user even replied to the post with a gif of Anderson as Maurice and wrote, "He was great in that movie. RIP to Louie!" Another simply replied with "such a great loss." Indeed, it is.