Paula Deen Shares A Joyful Pic From Her 'Incredible 75th Birthday'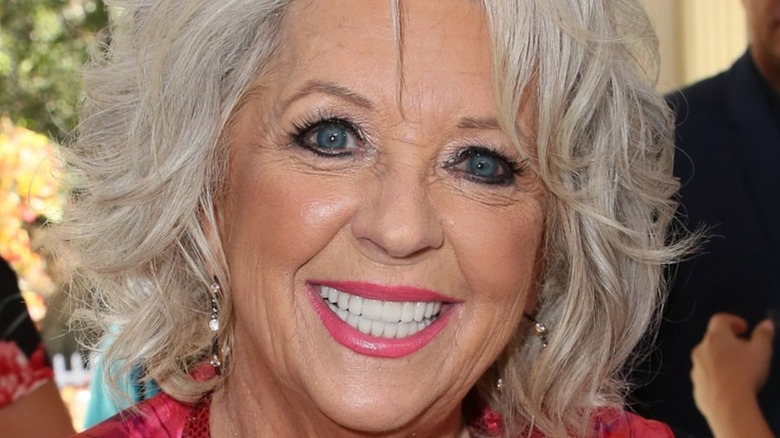 David Livingston/Getty Images
We love a good birthday, complete with cake, candles, balloons, and maybe even a verse of everyone's favorite birthday song. And it looks like Paula Deen was appropriately feted for hers. Deen recently celebrated her 75th birthday and has taken to Instagram to share a picture that encapsulates warm and happy feelings.
The woman who hails from Albany, Georgia may have started her cooking career a little later in life, but the Southern diva has years of wisdom to impart, and, per her website, even used her milestone birthday to share "75 Life Lessons" she has learned during the course of her rich and full life. It's a pretty comprehensive list about living your best life and showing gratitude for the family you are given and the family you make. Perhaps one of the best lessons Deen learned was this: "If you can read, you can cook. Cooking can be as easy as following a recipe (and paying attention). Once you've followed enough recipes, you'll likely feel more comfortable to start experimenting." Truth. Another one of Deen's lessons might be illustrated by her Instagram post: "You never know how your smile or laughter can brighten someone's day, so do it as often as you can."
The flowers aren't flowers
Paula Deen revealed on her Instagram account that her 75th birthday was quite a happy one, sharing a photo of herself with the caption, "Y'all, I had such an incredible 75th birthday, and I'm so grateful to my family and friends who made it so very special — and of course to y'all for your well wishes too! #pauladeen #birthday #75 #75thbirthday #southern #savannah." Clearly, the celebration checked the boxes for balloons and loved ones. And while it might not be obvious at first, the cake box was checked off, too.
The post has been liked more than 11,000 times with many of her fans and followers posting heartfelt birthday wishes and heart emojis for the birthday girl. One IGer wrote an emoji-filled tribute, saying, "Hope you have 75 more!! Happy birthday Paula Deen ageless beauty not to mention True Goddess looking better with every year." Another fan admired those blue and white dishes. But that pot of beautiful pink flowers might be the most surprising element of this photo. It's a cake!  
Artist Bonne Bedingfield, who goes by @beautifullybakedbybonne, tagged for Elaine Drouin Cakes in the comments, exclaiming, "[it's] our collaboration cake!" To which Elaine Drouin Cakes responded, "@beautifullybakedbybonne So happy that I got to make flowers for Paula Deen!!! And what an honor it was to meet her. So glad we got to collaborate again for her." If you are blown away by this sugar artist's flowers, we are with you. What a beautiful way to celebrate 75 years!