Simple Vegan Crepe Recipe
Susan Olayinka/Mashed
There's something decadent about starting off the day with a light, delicious crepe. Typically, these pancake-like pastries are made with butter, milk, and eggs, which makes them off-limits if you're following a vegan diet. But if you're a vegan, like recipe developer, Susan Olayinka of The Flexible Fridge used to be, you can feel good about indulging your taste buds with this recipe for vegan crepes. Even if you're not ready to commit to a long-term vegan lifestyle, Olayinka points out that "It's Veganuary in most parts of the world. This recipe can suit vegan[s and non-vegans alike.]"
This makes it a great option if you're test-driving a plant-based diet or you're trying to eat fewer animal products this year. Plus, it's a quick and easy recipe — it'll serve a total of four crepes, and each crepe only takes about three minutes to cook. When you add in the prep time (it's a minimal seven minutes), you can make all four crepes in under 20 minutes. So go ahead and plan your vegan-friendly brunch menu — we hear that mimosas and bellinis are vegan-friendly, too.
Gather your ingredients for the vegan crepes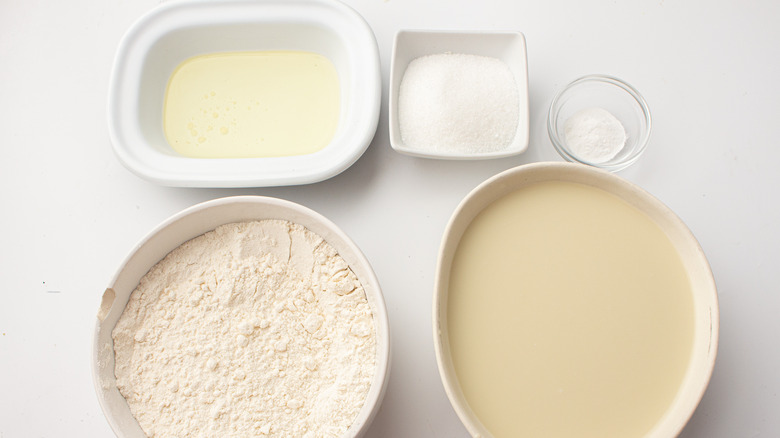 Susan Olayinka/Mashed
First, you'll want to gather your ingredients to make sure you have everything you need on-hand. With any luck, you'll already have these pantry staples and you won't even need to hit the store. The vegan crepes only require five ingredients — oat milk, all-purpose flour, vegetable oil, white granulated sugar, and baking powder. And while the recipe calls for oat milk, any non-dairy milk can pinch-hit if needed. "I always use oat milk for cooking as I find that it is the most like full fat," says Olayinka. "It's creamy, too. But any other non-dairy milk would do."
Mix the crepe ingredients in a bowl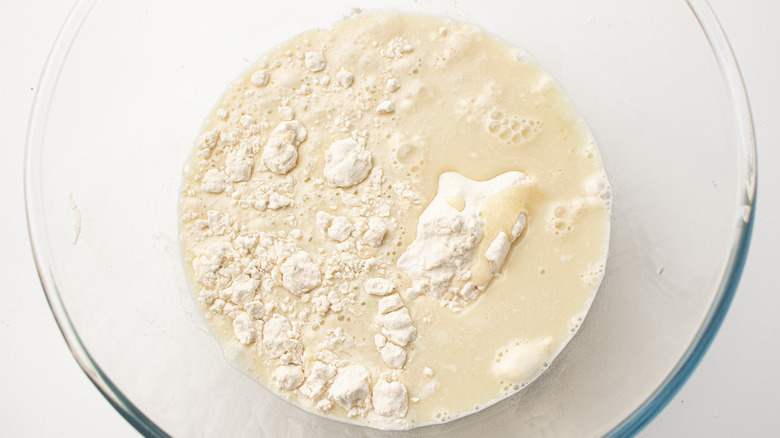 Susan Olayinka/Mashed
The prep work for your vegan crepes couldn't be more simple. Simply add the oat milk, all-purpose flour, sugar, and baking powder to a mixing bowl. Don't add the vegetable oil — that's reserved for the cooking. Simply mix the ingredients together in the bowl until they're well combined and there aren't any remaining clumps. You may also feel skeptical about the taste or texture of these crepes because they don't include eggs, but Olayinka insists that they' end up being every bit as "soft and malleable" as a more traditional recipe. 
Pour batter into a skillet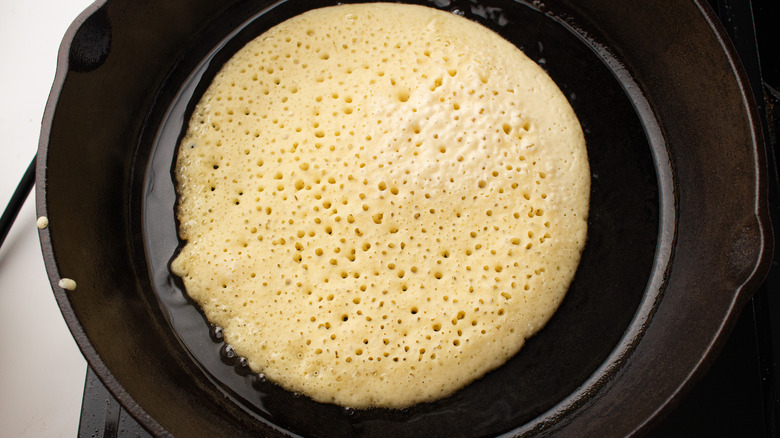 Susan Olayinka/Mashed
Go ahead and pour a little bit of the oil onto a saucepan and heat it up to low-medium heat on your stove top. Use a spatula to make sure the oil is spread out to the edges of the pan. 
Next, pour ¼ of the batter mixture into the pan, moving the pan in a circular motion to help the batter spread out in a thin layer. Olayinka says you should aim for a thickness of about ½ millimeter. You'll end up cooking the crepes for about a minute and a half per side — when the batter becomes bubbly, it's time to flip them over. 
Continue cooking the crepes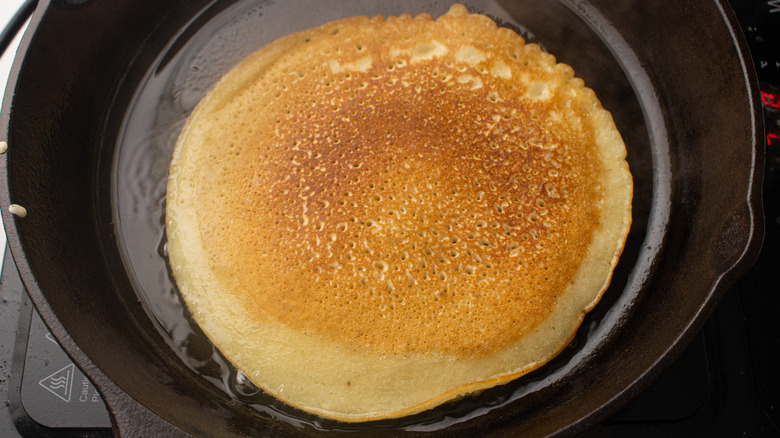 Susan Olayinka/Mashed
Once you have one perfect crepe, move it to a plate and set it aside. You'll want to repeat the process three more times to end up with four total crepes.
There's one other thing Olayinka needs you to know about the cooking process: "Making them with a cast iron skillet is a must. I had to throw a batch away because I made it with a regular frying pan. The magic of the [cast iron] skillet works here," she says.
Add toppings and serve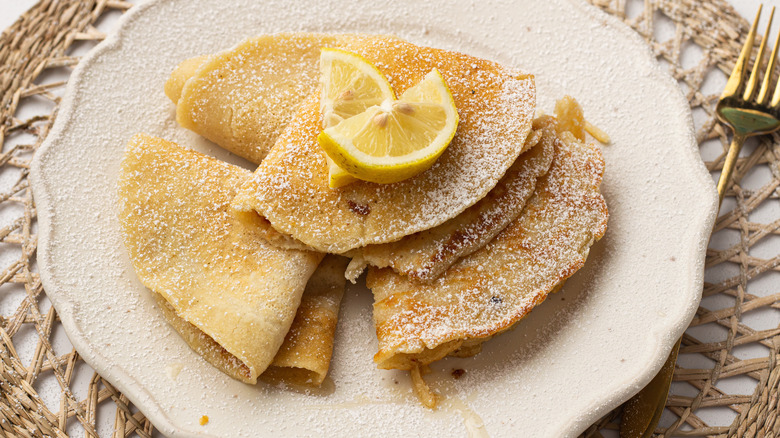 Susan Olayinka/Mashed
When all four crepes are ready, distribute them on serving dishes (each crepe counts as a single serving, but we suggest using two crepes per person), and top with your favorite toppings. "Crepes are normally had with lemons and sugar, so I wanted to follow suit," Olayinka says. That said, she admits, these are hardly the only options. Other tasty toppings include Nutella, fresh strawberries, banana slices, and chopped nuts. Don't be shy about getting creative!
Simple Vegan Crepe Recipe
Believe it or not, crepes can be vegan, and this recipe is proof of just how delicious vegan crepes can be.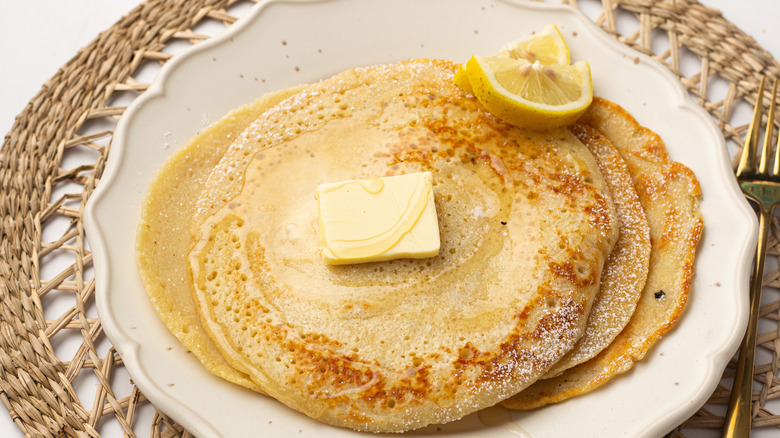 Ingredients
1 ½ cups oat milk
1 cup all-purpose flour
½ cup vegetable oil
1 tablespoon white granulated sugar
1 teaspoon baking powder
Directions
Place the oat milk, all-purpose flour, sugar, and baking powder into a bowl. Mix everything together until well incorporated.
Pour 2 tablespoons of oil onto a saucepan.
Pour the batter onto the pan and cook on low-medium heat for 1 ½ minutes on each side, until it becomes bubbly.
Repeat the process 4 times until all the crepes are cooked. Optionally top each one with lemon and sugar.
Nutrition
| | |
| --- | --- |
| Calories per Serving | 430 |
| Total Fat | 31.3 g |
| Saturated Fat | 3.6 g |
| Trans Fat | 0.2 g |
| Cholesterol | 9.2 mg |
| | |
| --- | --- |
| Total Carbohydrates | 31.6 g |
| Dietary Fiber | 0.8 g |
| Total Sugars | 7.8 g |
| Sodium | 130.8 mg |
| Protein | 6.1 g |