Costco's Kitchen & Pantry Storage Bins Make Organizing A Snap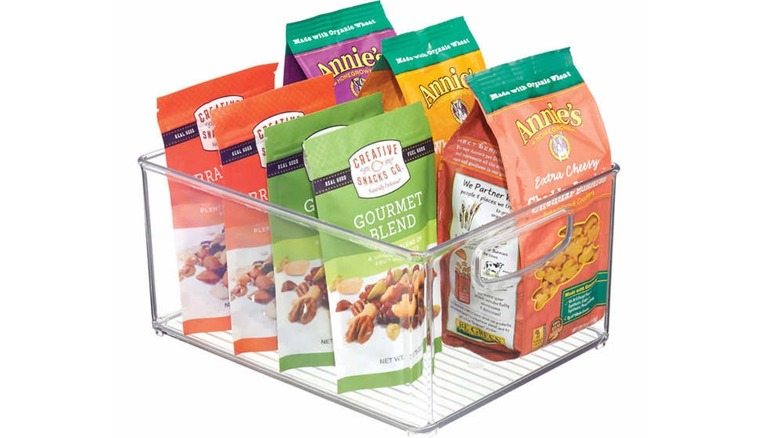 Costco
Few things in life are as satisfying or joy-sparking (thanks, Marie Kondo!) as a beautifully organized kitchen. Just ask anyone who's ever looked in the back of their pantry to find a can of green beans that expired 10 years ago. Nevertheless, trying to keep your kitchen area neat and tidy can be a struggle. "A pantry, big or small, can be one of the hardest spaces to keep organized," Clea Shearer, co-founder of home-organization service The Home Edit, told SemiStories. "This is simply because it's accessed multiple times on a daily basis, typically by multiple people, and food items have a high turnover rate."
Fortunately, you can find tons of different kitchen organizers and storage containers at any number of retailers. You can even pick up a few during your next Costco run: A recent Instagram post revealed a find at the warehouse chain that may be handy for anyone in need of some kitchen organization.
You can use these Costco containers anywhere in your kitchen
If getting organized is at the top of your New Year's resolutions list, a trip to Costco might be in order. On Instagram, Costco fan account @costcobuys recently posted a photo of a set of clear storage bins they found at their local store — and commenters seem to be clamoring to get their hands on them. The set from iDesign comes with four stackable clear bins — two bigger ones and two smaller ones — and costs $19.99. "These really help make organizing a breeze," one person wrote, while another added that you can use them in your freezer, refrigerator, or pantry, as well as in other areas of the home for non-food items.
Another Instagrammer, @costcohotfinds, also posted about the storage bins. "Must have!!! I have several sets from last season. Great to keep the refrigerator and pantry clean and organized." Social media users also seem to love the price of these kitchen organizers, with many saying that you'd pay a lot more for similar bins at other retailers.