M&Ms' New Packages Celebrate These Iconic Albums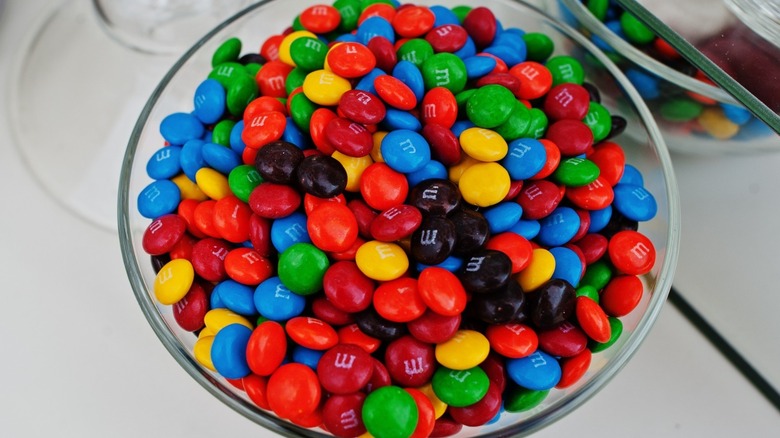 AS photostudio/Shutterstock
When it comes to wrapping up chocolate, some confectioners have set a high bar. Saveur illustrated a few prominent examples of creatively wrapped treats, including Marou's single-origin chocolate bars that feature wrappers in the same vibrant colors of the candies' cacao pods, as well as Omnom's animal-themed wrappers with illustrations resembling origami sculptures. Now, a much larger candy brand hopes to draw attention to its chocolate wrappers, suggesting that how a food product is packaged is just as impactful as how it tastes.
According to a press statement sent to Mashed, M&M's has designed a series of limited-edition candy packs that pay homage to a few iconic albums. The bags feature "beloved M&M's characters reimagined as landmark album covers," including David Bowie's "Aladdin Sane," H.E.R.'s "H.E.R.," Kacey Musgraves' "Golden Hour," and Rosalía's "El Mal Querer." The Album Art packs will be available starting January 25 on the M&M's website and at stores nationwide.
A new look for a classic candy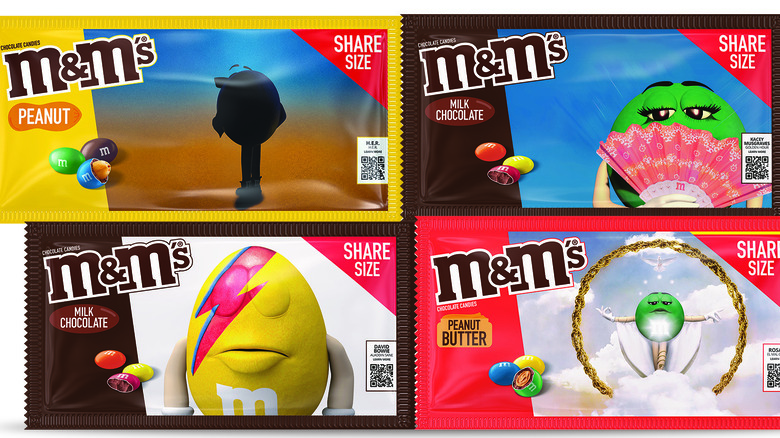 M&Ms
The new album art packaging comes on the heels of the M&M's mascot redesign that has made waves in the news and on social media, per Today. Just as the candy brand updated its six characters to be more "inclusive," it intends for these limited-edition candy packs to helps customers "see past their differences and inspire connection and belonging," it explained in an announcement shared with Mashed. The chosen albums range in genre and release dates from 1973 to 2018 and are meant to represent artists and fans "from different cultures, backgrounds, and generations."
As for what's inside the new packaging, each bag has a different flavor: milk chocolate, peanut, peanut butter, and miniature M&M's. The announcement didn't specify how long the candy company plans to produce these wrappers, but the promotion and updated mascots seem to mark the beginning of a new era for M&M's.