Starbucks Is Launching An Energy Drink Line. Here's What We Know So Far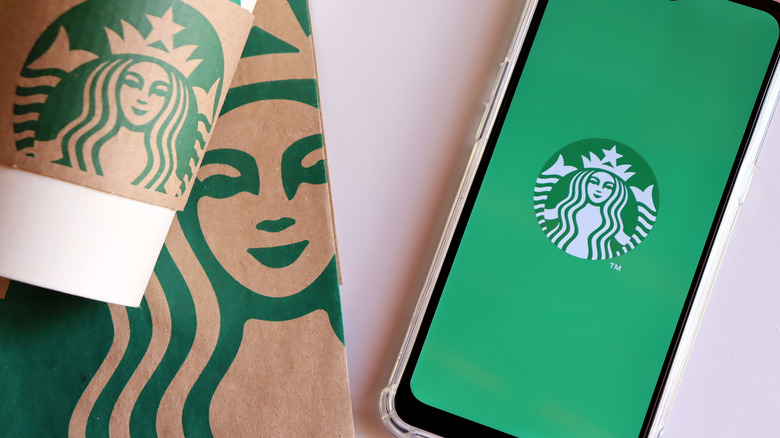 Brenda Rocha - Blossom/Shutterstock
When you think of Starbucks, the first thing you likely think of is coffee. After all, that's what the Seattle-based chain built its fortune (and reputation) on. Whether you're ordering a cup of piping hot Pike's Place Roast, a bold Americano, or a fancy Caramel Macchiato, Starbucks is the place to go if you're looking for a caffeine hit in the morning. According to Eat This, Not That!, a grande coffee from the retailer clocks in at a high 330 milligrams of caffeine. That's quite the boost!
Now there's even more good news for the caffeine-addicted among us: Starbucks is venturing into the world of energy drinks with a new beverage, Baya (via CNN). Thanks to the likes of Monster, Red Bull, Bang, and Reign, the energy drink market is a growing one — Investopedia reports that energy drink sales around the world hit $57.4 billion in 2020 and the market is expected to increase significantly over the next few years. Starbucks' foray into energy drinks is marked by the launch of its new beverage this week. Here's what you need to know, including where you can buy cans of Starbucks Baya for yourself.
The new drink doesn't have coffee in it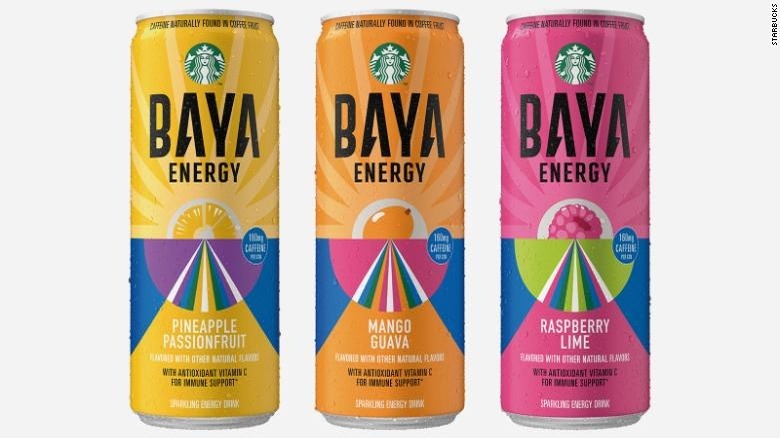 Starbucks
This isn't the first time that Starbucks has come out with a bottled energy drink — it currently has its popular Doubleshot and Tripleshot coffee energy drinks. However, it is the first Starbucks energy drink that doesn't contain any coffee at all. According to Food & Wine, the new Baya drinks are available in three fruity flavors: Raspberry Lime, Mango Guava, and Pineapple Passionfruit. While they won't be available in Starbucks stores in the United States until March 1, you can currently get the 12-ounce Baya cans for a suggested retail price of $2.89 each at numerous other retailers right now, including Amazon and Target.
At 90 calories each, the cans contain 160 mg of caffeine. Compare that to 113.5 mg in a Red Bull and 120 mg in a Monster (via Spoon University). But if there's no coffee in the drinks, where does the caffeine come from? CNN reports that even though there's no java flavor, the Starbucks Baya energy drinks are made with natural coffee beans and fruit, which Starbucks VP of Americas Channel Development Chanda Beppu says is "a boost [customers] can feel good about." Note, however, that the FDA recommends consuming less than 400 mg of caffeine per day, so drink responsibly.