This Sam's Club-Exclusive Popcorn Is Perfect For Doritos Lovers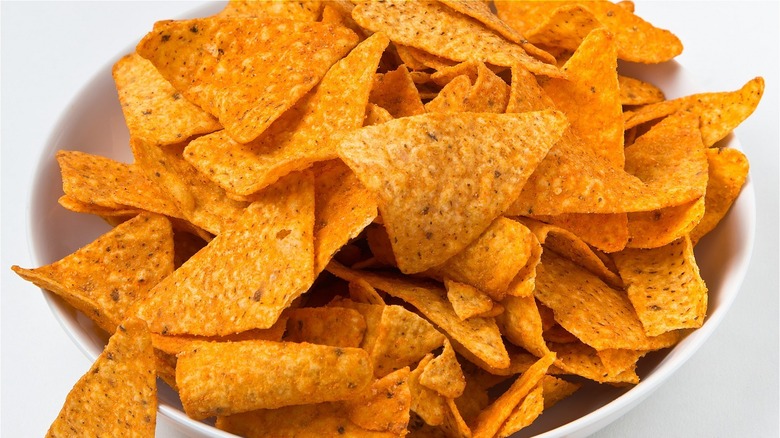 Konmac/Shutterstock
Doritos have been on snack lovers' radars since 1966, when Frito-Lay first introduced this crunchy, triangular corn chip, per The Washington Post. Although many people think of the Nacho Cheese flavor as the original variety of Doritos, the fact is that the first Dorito was just plain salty. In fact, the Nacho Cheese flavor didn't debut until the following decade, according to Consumer Reports, after Frito-Lay had already tried out another flavor called Taco, which was coated with taco seasoning. 
If you're a ride-or-die fan of Nacho Cheese Doritos and are disappointed to hear that your favorite flavor did not come first, here's some brighter news to cling to: As of today, warehouse grocery chain Sam's Club has exclusively launched a new snack food that applies Doritos' signature nacho cheese flavor to Smartfood's air-popped popcorn. The new Smartfood Doritos Nacho Cheese Flavored Popcorn is basically a vehicle for powdered cheese seasoning, but in the form of the classic movie theater snack.
Sam's Club's exclusive new snack is a mashup of two beloved snack foods
Based on a Sam's Club press release sent to Mashed, shoppers who buy this new Smartfood popcorn can expect the classic, zesty flavor of Nacho Cheese Doritos with a textural twist: Instead of crunchy tortilla chips, you're getting light, slightly fluffy popcorn. As Sam's Club puts it, this is "nacho ordinary mashup." Made with real cheese and no artificial colors, flavors, or preservatives, the 100% whole grain popcorn also happens to be gluten-free.
Starting today, 17-ounce bags of Smartfood Doritos Nacho Cheese Flavored Popcorn are available exclusively from Sam's Club stores or its website for $5.28. However, that "exclusivity" only extends through the end of April, which we presume means that other grocery chains will start to carry the product later this spring. If you're not a Sam's Club member and don't want to wait to try the flavor, might we suggest adding some nutritional yeast or nacho-flavored cheese seasoning to some homemade popcorn?