Starbucks Fans Are Loving This Retro Gift Card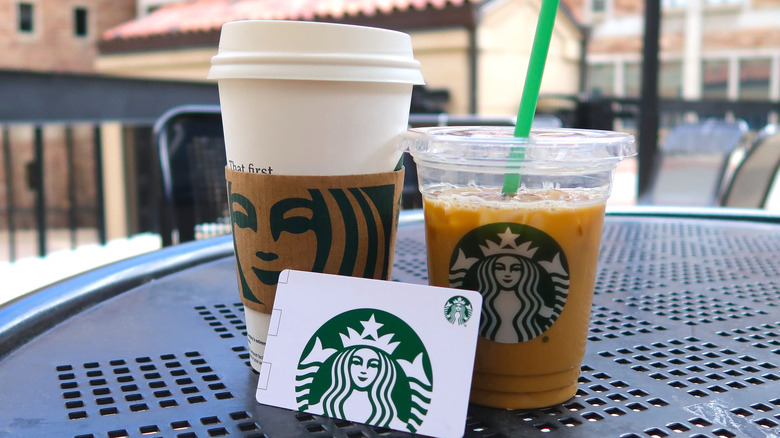 Red Herring/Shutterstock
For many of us, gift certificates are the perfect gift, especially when they are for our favorite pick-me-ups. There's something so satisfying about stopping by a favorite restaurant or coffee shop for a midday treat while having the cost already covered. However, there may be one downside to receiving a gift card: Sometimes we might forget that we even have one. Whether left in its celebratory card on the desk or sitting at the bottom of a pocketbook, a gift card can be easily overlooked.
That is exactly what happened with one Reddit user, who recently re-discovered a Starbucks gift card in their wallet from way back in 2006. The user posted a photo of the old Starbucks card in the Starbucks subreddit with the caption "I've had this gift card since 2006. Just checked balance and it still has original $5 on it." The vintage design brought back memories for fellow Starbucks lovers. Quite a few Reddit users responded to the post, reminiscing about the old gift cards and reflecting on how much the chain's prices have increased since the original poster received that gift.
Starbucks gift cards don't expire
Reddit users couldn't help but think about how much more that retro $5 gift card could have purchased back in 2006. The post garnered comments like "Damn, that $5 could've actually bought you a drink then. Not sure about now except tea and regular coffee maybe," and "I remember in 2000 when my daughter was an infant putting her in the stroller and waking down and getting a short coffee for 80 cents! You had to ask for the short though!" Another pointed out "The same thing in 2006 that cost $5 would cost $6.91 today adjusted for inflation," and someone even disclosed "My drink is $8.05."
While the old gift card might not have as much buying power at Starbucks as it used to, it still has value to some collectors. Some Reddit users admitted to collecting old Starbucks gift cards, with certain designs going for up to fifteen dollars or more on resale sites like eBay. But according to Starbucks, the gift cards do not expire, so if the Reddit poster with the 2006 Starbucks gift card is craving a Turkey and Pesto Panini and Frappucino, we suggest using that $5 toward it.