The Funny Reason Dunkin' Is Giving Away Free Coffee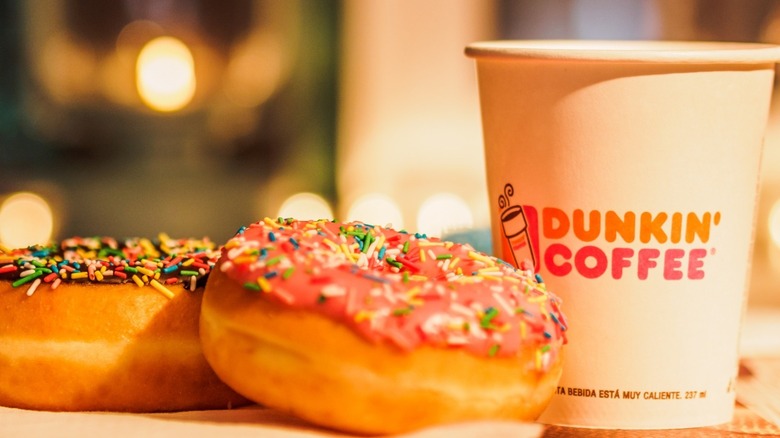 Pere Rubi/Shutterstock
When we take stupid little walks for our stupid mental health. like TikTok tells us to, it often ends in coffee. It's a reward for leaving the house and moving the body a bit, and it's part of many people's daily routine, especially after the pandemic. Whether we can afford to buy coffee every day is another question, but that is where rewards programs come in. In 2016, Dunkin' heavily promoted their rewards program after Starbucks made changes to their own, with Dunkin' hoping to steal a few of their customers (via Forbes). Since then, DD Perks has enrolled more than 24 million customers, with a 50% increase in member spend year over year (via Epsilon).
The success may stem from the program's simplicity compared to competitors like Starbucks, where you have to rise from the Green Level to the Gold Level to see more rewards, and on and on. At Dunkin', on the other hand, customers can earn 5 points for every $1 spent, and once they reach 200 points, they get a free drink. Pretty simple. The chain often offers additional discounts, too, like in February 2021 when they did "Free Coffee Mondays" just for DD Perks members (per RIS News). The donut and coffee giant understands that we all need some joe to get through the day, so they are happy to provide as many deals and discounts as it takes to keep customers around, even if it starts as a joke on Twitter — as is the case behind the most recent freebie opportunity.
You can thank Dunkin's social media manager for free coffee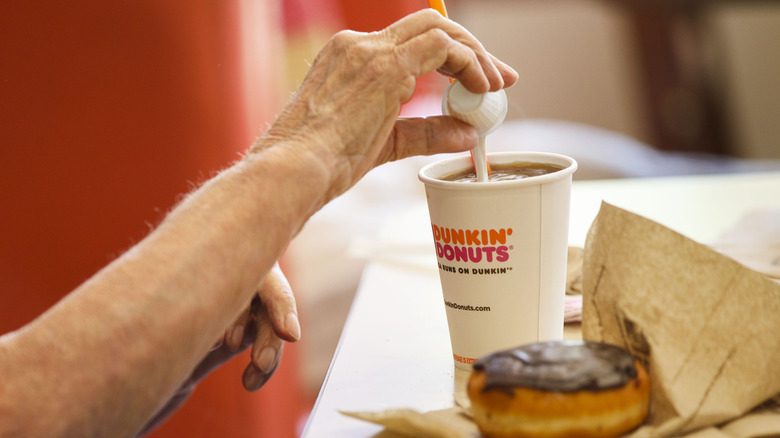 Bloomberg/Getty Images
In addition to offering enticing rewards, Dunkin' is active on social media, reminding us all to get our daily coffee fix. The brand is especially active on Twitter, where they send out funny and relatable messages to 1.2 million followers like, "Current cardio: Dunkin' runs and scrolling TikTok," as well as one post that said, "The millennial urge to think an iced coffee will fix all your problems." Their latest whole free coffee situation started when the Twitter manager for Dunkin' posted, 'Grabbing my free b-day bev, should I ask my boss if I can get u guys a free drink too?" While we're not sure if this original Tweet was a joke, or if the social media manager was just shooting their shot, but it worked. Their boss indeed told them that if the Tweet got 10,000 likes, that they could drop a promo code for DD Perks members to get a free coffee on the house.
Motivated by the idea of free coffee, the Tweet was shared and liked by more than 17,000 people, as the Dunkin' account manager posted an update, "Twitter, we did it. To all my social media managers out there — this one's for you. DD Perks members, use my code SOCIAL in the app & get a free beverage reward." The code was so popular that it was maxed out in 30 minutes, but the social media guru assured followers that this is just the beginning of DD Perks from their Twitter, so stay tuned and sign up!