Almost 43% Agree This Restaurant Has The Worst Free Bread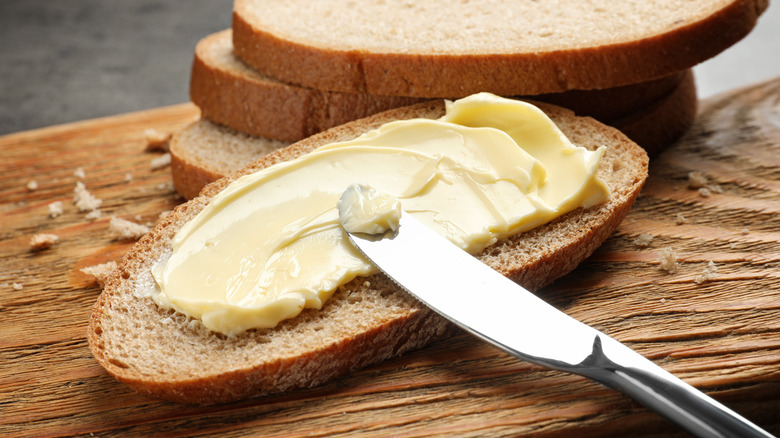 New Africa/Shutterstock
Imagine: It's Saturday night and you're heading out to dinner. You're already starving, so you aren't happy to find out there's a 45-minute wait. Once you're finally seated at your table, you have to wait for everyone in your party to decide what to order — which can take a while if you have that one indecisive friend. And then, the worst part of all: You have to wait for your food to arrive after you've placed your order. That can take a long time, especially if the restaurant is busy. The only saving grace? Free bread. It's a treat offered at many popular chain restaurants, and people are very grateful for the pre-dinner snack. According to a recent Harris Poll, 60% of people prefer good bread to good dessert when eating out (via Bake Mag).
Whether it's Texas Roadhouse's fluffy rolls slathered with honey cinnamon butter or Olive Garden's bottomless breadsticks, plenty of restaurants are known for their free bread. But not all carbs are created equal. Mashed polled more than 600 people in the U.S. to find out which national chain they think serves up the worst free bread. There's one that nearly half of respondents say is at the bottom of their list as far as the survey is concerned.
The free bread at Ruby Tuesday didn't fare well on the survey
If this survey is any indication, people who plan on digging into the bread basket before dinner might not be the biggest fans of the offering at Ruby Tuesday. According to Mashed's poll results, the national chain has the worst free bread, with 42.69% of people dubbing it their least favorite. It's not exactly bread that shows up on your table at Ruby Tuesday — it's tiny cheddar garlic biscuits, which the site Oola actually praised as being good enough to justify a trip to Ruby Tuesday. They sound delicious in theory but it seems that many diners aren't fans. "Their 'so-called' biscuits they serve are a joke, we call them bread shots because they are so small and the flavor is horrible," one reviewer on Influenster wrote back in 2014.
Where did the other chains popular for their free bread stack up in comparison to Ruby Tuesday? The restaurant with the second-worst bread based on responses was Olive Garden — which is known for its breadsticks — receiving 15.60% of the votes. It was followed by Logan's Roadhouse, with 12.64%, and Longhorn Steakhouse, with 10.18%. Texas Roadhouse, with its famous honey butter rolls, and Outback Steakhouse, with its chewy brown bread, were people's favorites of the bunch, only receiving 9.36% and 9.52% of respondents' votes respectively.