This Is What Makes Jersey Mike's Italian Sub So Delicious
Jersey Mike's has come a long way since opening its first-ever location in 1956 in Point Pleasant, New Jersey, on the Jersey Shore. They have grown to over 2,000 locations, earn more than $1 billion annually in sales, and, in 2019, were the fourth highest-grossing sub chain in the U.S. after Subway, Arby's, and Jimmy John's, according to Restaurant Business. This is pretty impressive when you consider that the three fast-food franchises ahead of them have considerably more stores.
One approach that sets them apart from most of their big-time competitors is that Jersey Mike's slices their meats and cheeses to order for each sandwich and never pre-packages their cold cuts. They bake their bread fresh daily and chop and prepare their veggies every day as well.
You can't go wrong with winners like their Club Supreme or Cancro Special (a peculiar combo of roast beef and pepperoni named after the CEO Peter Cancro) but if you want to sample the sub that earned top honors on our sandwich chain rankings list, order Jersey Mike's Original Italian.
A five meat gut buster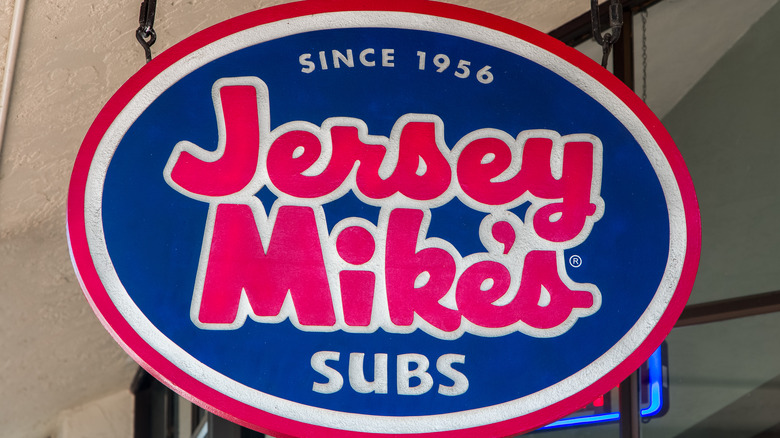 Ken Wolter/Shutterstock
For those seeking to satisfy their inner carnivore, it's hard to do better than Jersey Mike's Italian sub, which generously stacks their colossal sandwich with five types of meat: prosciuttini, capicola, ham, salami, and of course, pepperoni. To do it right, you'll want to include the provolone cheese that normally comes with it as well, which adds a little nutty, salty taste that perfectly complements the savory deli cuts.
Once you have dulled up the slicer blade and the meats and cheese are layered on your bread, you can dress your Italian with a variety of toppings. You can keep it simple and have them prepare it for you "Mike's Way," Jersey Mike's signature order that includes lettuce, tomato, onions, oil and vinegar, and spices, or you can get creative and build your own. Oil and vinegar are a must for any Italian, and Jersey's Mike bread holds up without getting too soggy.
Spicy mustard is a nice addition to an Italian, as is their hot pepper relish if you want to kick the heat up a notch. Balance out the spiciness with some tangy sweetness from their banana peppers. Whichever way you decide to make it, this behemoth belly buster probably won't leave you feeling hungry.