TikTok Can't Believe This Walmart Sheet Cake Reveal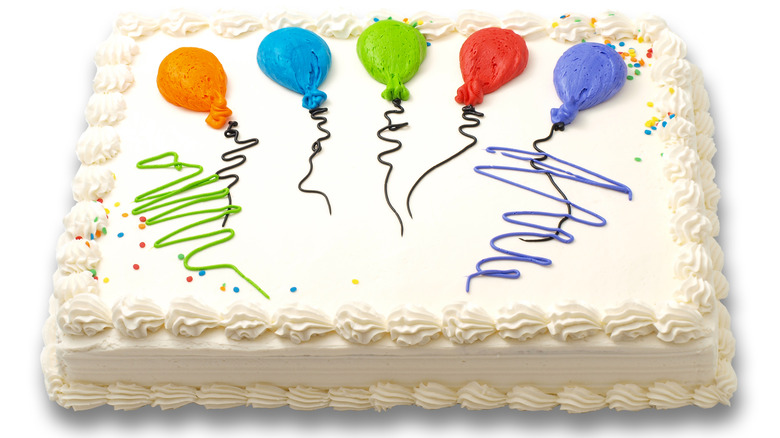 Park Ave Pics/Shutterstock
Even though you may only be going to the grocery store for a couple of staple items, the presence and aroma of a bakery within the store might just pique your interest and have you buying a dessert. A box of cookies, fresh pie, or chocolate cake could make its way to your dining room table, and for no special occasion. In life, there are both impulsive and planned cake purchases, and Walmart is geared up for both. 
According to Yahoo! Finance, in 2019, Walmart enabled online ordering for custom cakes to further streamline the process. Upon opening the website to place an order, prepare to be greeted with tons of options from simple sheet cakes to two-tier masterpieces. Once you select your style of cake, you are directed to choose the flavor, icing style, decorations, and message. After you place an order, the cake is hand-decorated, which is alluded to on the website, but take notice that the site doesn't mention "baked fresh." One former Walmart employee explains why on TikTok.
The cakes are not baked in Walmart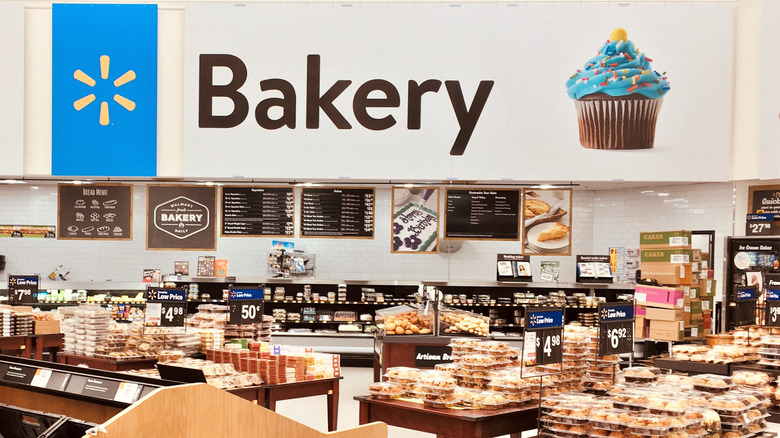 Jim Lambert/Shutterstock
While Walmart hand-decorates every cake with detail, making it look beautiful on the outside, the inside of the cake is a different story. One TikToker posted a video stitch with the prompt "Tell me a company secret that you can share because you don't work there anymore," and the former Walmart employee spilled the tea on the Walmart bakery. 
The TikTok user said that the reason you have to give Walmart a bit of notice before you order a cake is not because of how long it takes to bake, but rather the time it takes to thaw, then decorate. "Nothing is actually baked in the bakery, it's warmed up from frozen," she claims.
The video generated 389 comments thus far with some users surprised by this reveal. "Not suddenly realizing I've never smelt fresh baked goods when walking into a store," commented one user with laughing emojis. "Dude that's crazy n Funny cause Walmart cakes always tasted better than my mom's," another jested. 
Other users were not particularly shocked or concerned with this information. Reactions, or rather non-reactions, include "That's standard. Even high end bakeries freeze cake. It's also how they decorate it. It's fine," and "this also goes for any chain grocery store, Kroger, iga, food city, Ingles, etc." Others share that as long as the cake tastes great, it doesn't matter where it's baked.