On The Border Just Dropped 4 New Bolder Border Bowls
Let's say you're in the mood for Mexican food but want something a little "fancier" than Chipotle or Qdoba this time, no matter how much you love the fast-casual chains. Where do you go? One solid option is On The Border. The Mexican chain restaurant started in 1982 and now has more than 136 locations across the United States and abroad. 
The menu has options for meat-eaters, cheese fiends, and fans of boozy beverages, such as beefy burritos, cheesy quesadillas thirst-quenching margaritas. And who could forget the bottomless chips and salsa? If you don't want something wrapped in a tortilla — whether you're tired of tacos or trying to cut down on carbs — On The Border has Border Bowls, which it introduced back in 2015. "The Border Bowls are packed with fresh ingredients and bold and distinctive flavors created by cooking over Mesquite wood," Ward Whitworth, President of On The Border, explained in a press release (via PR Newswire).
Now, the restaurant has come out with a new version of its bowls: Bolder Border Bowls. According to Chew Boom, the upgraded bowls are currently available on menus nationwide. Here's what you need to know about them.
There's even a vegetarian Bolder Border bowl in the line-up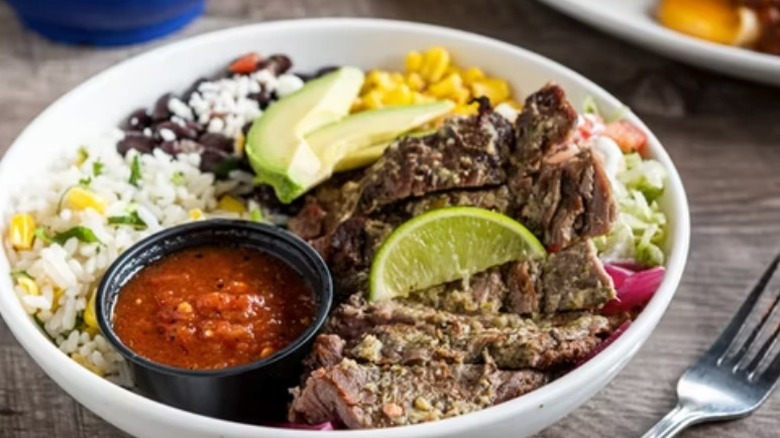 On The Border
Per On The Border's website, there are four varieties of Bolder Border Bowls ranging from 590 to 730 calories per bowl. There's the Grilled Steak Bolder Border Bowl, with grilled carne asada, lime-cilantro chimichurri, pickled red onions, cilantro lime rice, black beans, queso fresco, toasted corn, lime crema, avocado, and pico de Gallo, and more. There's the Grilled Chicken Border Bowl, which is the same base but with chicken instead. The Grilled Shrimp Border Bowl is also the same but with, as you may have guessed, grilled shrimp. Lastly, and perhaps most excitingly for the plant-based eaters among us, there's the vegetarian Grilled Portobello Border Bowl, which features grilled portobello mushrooms.
You can also customize the bowls to include (or not include) the ingredients since each one is made to order. If you're craving your order in wrap form, the blogger at Mommy Enterprises recommends asking for a side of tortillas with your bowl. Then you can wrap everything up inside for a DIY burrito.