How Dunkin' Changed Franchising Forever
These days, Dunkin' is known as a fast-casual coffee shop serving up a variety of coffees and breakfast treats. From its famous donuts to egg-based breakfast sandwiches and other tasty confections, the chain remains a popular International destination. Still, every brand had to start somewhere, and it turns out that Dunkin' ended up being somewhat of a pioneer for the fast-casual restaurant industry.
The first Dunkin' was opened back in 1948, in Quincy, Massachusetts, after William Rosenberg had the idea to start selling donuts and coffee for just $0.05 and $0.10 each, respectively. According to the Dunkin' website, Rosenberg wanted to sell the breakfast treats "quickly and courteously," which is what prompted the Dunkin' brand to operate the way it does today.
Still, Rosenberg knew that if he wanted to grow Dunkin' beyond the small New England town, he would need others to take over locations around the country. He had the idea to franchise, though the concept wasn't well-received. But Rosenberg's dream eventually became a reality and changed the game of franchising forever.
Dunkin' brought franchising to life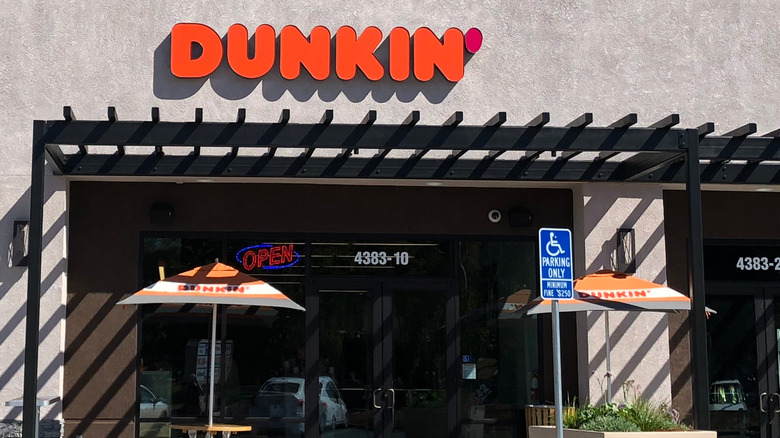 Lynn Watson/Shutterstock
Rosenberg had decided that he wanted his chain of quick-service coffee and donut joints to follow in the footsteps of Howard Johnson, a motel entrepreneur who franchised his locations. Back in the 1950s, however, franchising was considered to be taboo, and the Los Angeles Times reports that it was practically illegal.
Still, Rosenberg had a bold vision and in 1959 he gathered a group of people to launch the International Franchise Association, which would uphold the standards of franchising around the world. Within the next few years of Rosenberg's decision, places like KFC and other fast-food restaurants would franchise as well. Today, the concept is widely popular.
Because of his dream and drive to make it a reality, Rosenberg remains a key pioneer of the fast food industry. In 2000, The LA Times reports, he was honored by the Nation's Restaurant News as one of the top 100 people who "changed retailing and food service in the 20th century." So, the next time you get coffee from your local Dunkin' Donuts, you can whisper a little thank you to Mr. Rosenberg for not giving up on his dreams.