Geoffrey Zakarian Wants To Teach You To Make Valentine's Day Dinner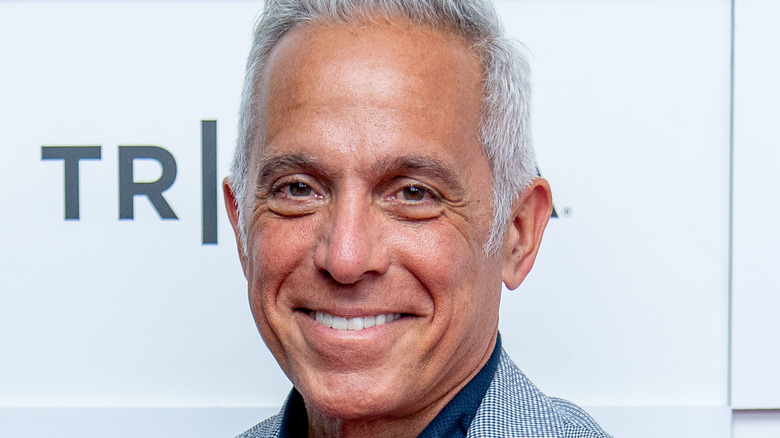 Roy Rochlin/Getty Images
If you want to woo your Valentine's Day date over a three-course dinner worthy of a Michelin star, a special cooking class from Geoffrey Zakarian's is an excellent option. In addition to being an ace restaurateur with many successful cookbooks under his belt, Zakarian has hosted a podcast, mentored "Chopped" participants over its many seasons, and guided viewers through various delicious recipes on Food Network's show "The Kitchen" during his 30-year culinary career (via Zakarian's website).
This isn't Zakarian's first time hosting a cooking class: In 2020, Zakarian hosted an e-class with his two daughters while promoting his cookbook, "The Family that Cooks Together" (via Creative Loafing Tampa Bay). Fans of the star chef may remember his dessert class with Talk Shop Live for Valentine's Day last year — Zakarian taught the process behind a chocolate tart, chocolate-dipped candy orange, and a flourless brownie (via Twitter). Each dessert was picked from one of Zakarian's three cookbooks and if that's any indication, the recipes for the special dinner in his upcoming class might be from his books as well.
Zakarian's Valentine's Day cooking class involves wine tasting
According to the announcement made on Instagram, Geoffrey Zakarian's virtual Valentine's Day cooking class will take place on February 10. Wine bundles and tickets for the class can be bought from Wine Insider's. Zakarian has worked with Wine Insiders since 2020 to regularly curate a selection of themed wine bundles that his fans can purchase through the wine seller's site (via PR Newswire).
Zakarian's virtual V-day cooking class will be hosted by Wine Insiders with a little something to make the class a touch more fun. While the "Chopped" judge will share recipes, ideas, tips, and tricks to make a romantic three-course dinner for Valentine's day, the three courses will also be paired with wine. As expected, fans are thrilled. "This is going to be my husband and my [Valentine's] gift to each other," wrote one fan on the chef's Instagram announcement.
You can get entry to the virtual class by purchasing one of the tasting packs of wine. Fans have the option of buying a trio of tasting wines to go with the three-course meal, or they can opt for a half or full case. Per Wine Insider, the wine packs are shipped to participants prior to the class, so they can sip as they watch Zakarian explain the nuances of a top-notch romantic Valentine's Day dinner on Zoom.