Easy Firecracker Shrimp Recipe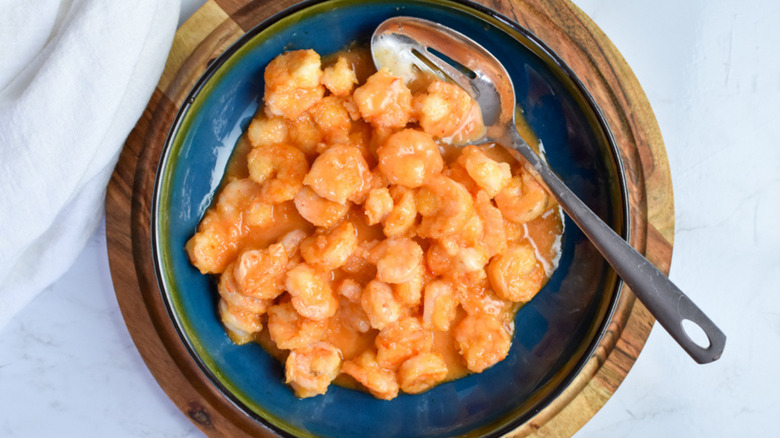 Stephanie Rapone/Mashed
Shrimp is one of the most popular types of seafood out there because it's relatively affordable, fresh, and tasty. When it comes to making it, there are dozens of ways, but this recipe for easy firecracker shrimp has a special spot in our hearts. As the title suggests, this recipe is really easy to make, and it takes just 10 minutes to prep and 10 minutes to cook. This means it would be great to make for a weeknight dinner or a quick appetizer. The wonderful sauce has sweet and spicy flavor that will knock your socks off.
Recipe developer Stephanie Rapone came up with this wonderful recipe that is great for many occasions. "These are ingredients I usually have on hand (frozen shrimp is a staple for me!), and this is so easy that I can whip it up for a yummy lunch or light dinner without any real planning," Rapone says. We have got to love a recipe that is easy and efficient. Keep reading to find out how to throw the recipe together.
Gather the ingredients to make firecracker shrimp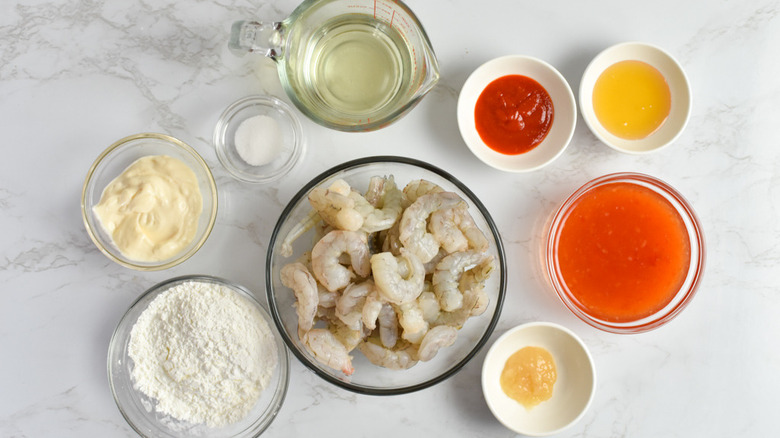 Stephanie Rapone/Mashed
Once you are ready to make this dish, you will need to make a list of ingredients and head to the grocery store. Start with some sweet chili sauce and ginger paste. In addition, you will need some sriracha, honey, and mayonnaise — all of which make up the amazing sauce. The recipe also calls for a pretty common ingredient that you may have at home already, which is vegetable or canola oil. You will also need some shrimp, cornstarch, and salt. Once you have all of those ingredients, you can get cooking!
Make the sauce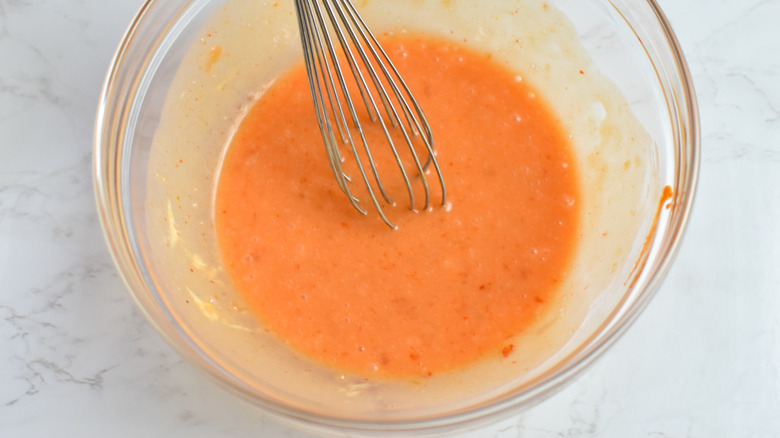 Stephanie Rapone/Mashed
For the first step in this recipe-making process, grab a medium-sized bowl to make your sauce. Start by adding the sweet chili sauce and ginger paste. At this time, you can also add the honey, sriracha, and mayonnaise. This is the perfect contrast between sweet and spicy, and it goes well on shrimp. "This sauce is a great blend of sweet and heat with a little kick, but the mayonnaise and honey really balances the spice," Rapone shares. Using a whisk, mix the sauce together and then set it aside. You will need it in just a moment.
Heat the oil and blot the shrimp dry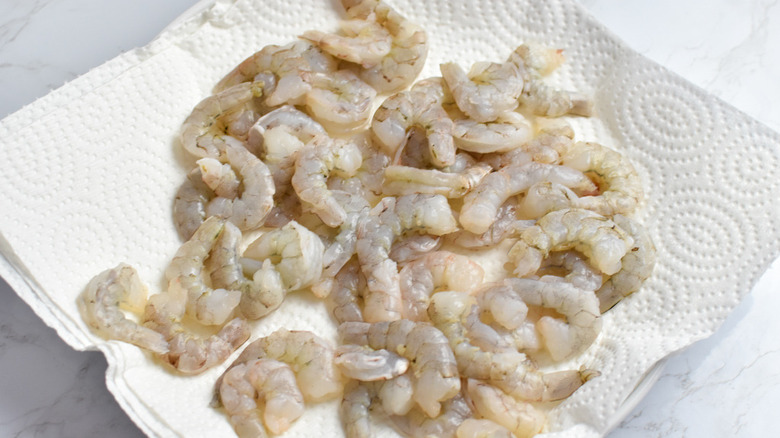 Stephanie Rapone/Mashed
Now that you have finished the yummy sauce, it's time to move on to the next item. Grab a large skillet and throw in the oil. Crank up the heat and cook the oil until the oil temperature reaches 350 F. "Tip the pan to get the oil to pool to one side and check the temperature with a digital probe thermometer — like what you would use to check the interior temperature on steak or chicken," Rapone suggests. While you wait for the oil to heat up, grab your shrimp and dump them onto paper towels. Blot them dry to remove all of the excess moisture. 
Cook the shrimp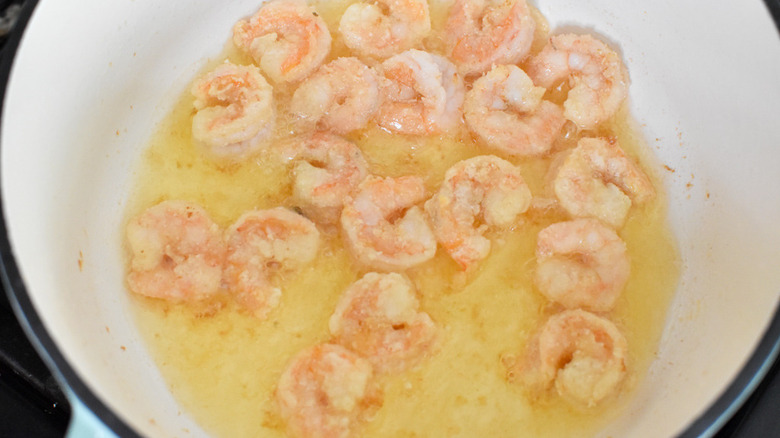 Stephanie Rapone/Mashed
Nearly all types of shrimp are delicious, but there's a particular type that Rapone recommends for this dish. "I recommend getting shrimp that are already peeled and deveined and removing the tail first," she suggests. "I prefer shrimp that are the 41-50/lb size because they cook quickly and I like the texture." 
Grab the shrimp that you blotted dry and toss them into the cornstarch to coat. Then, dump the shrimp into the sizzling oil and fry on each side for about two to three minutes, until pink and cooked through.
Toss shrimp in sauce and serve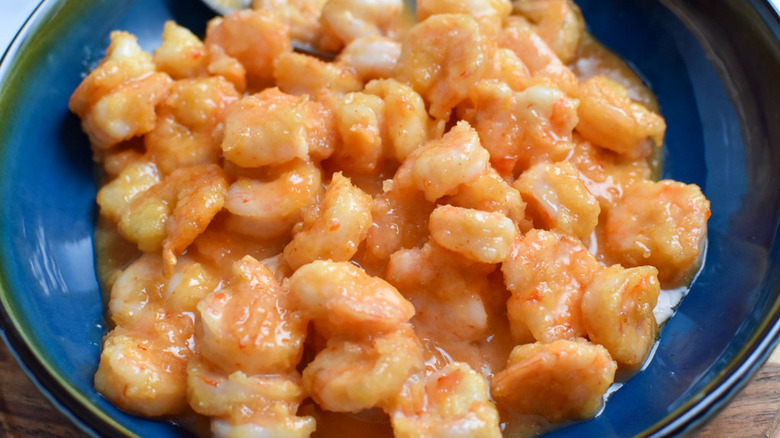 Stephanie Rapone/Mashed
Once you finish cooking the shrimp, toss them in the sauce you made in step one. Try and make sure each piece of shrimp is well-coated. There are plenty of ways to serve this to your guests, and it could be an appetizer or a full dinner. "It's great for either! As a dinner, pair with brown rice, grated carrots, chopped cucumber, edamame, and avocado for a delicious and healthy meal," Rapone shares. "This is best enjoyed when it's freshly made, as the coating turns to a weird gloppy texture if it sits," she adds. We hope you love this amazing shrimp dish! 
Easy Firecracker Shrimp Recipe
If you love the combination of sweet and spicy flavor, this easy firecracker shrimp recipe is for you.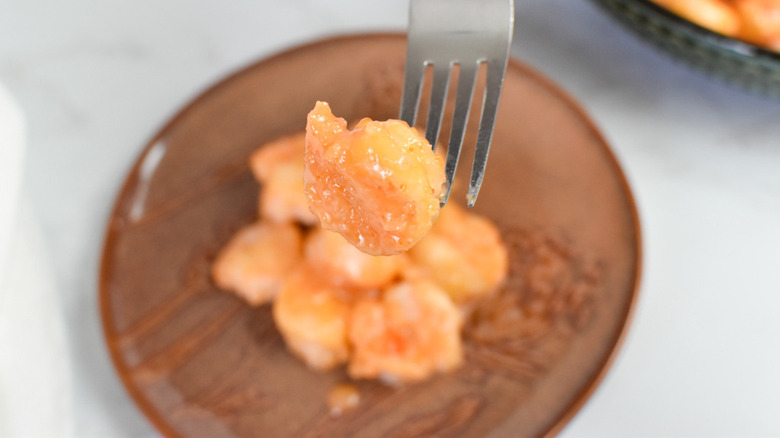 Ingredients
½ cup sweet chili sauce
1 teaspoon ginger paste
1 tablespoon honey
1 tablespoon sriracha
¼ cup mayonnaise
½ cup vegetable or canola oil
1 pound deveined and peeled shrimp
½ cup cornstarch
½ teaspoon plain salt
Directions
In a medium bowl, combine sweet chili sauce, ginger paste, honey, sriracha, and mayonnaise. Whisk and set aside.
Heat oil in a large skillet until it reaches 350 F.
While the oil is heating, blot the shrimp dry with paper towels. Mix the cornstarch and plain salt with a fork.
Toss the shrimp in the cornstarch mixture to coat. Fry the shrimp in the hot oil on each side for 2 to 3 minutes, until pink and cooked through.
Toss the shrimp in the sauce and serve.
Nutrition
| | |
| --- | --- |
| Calories per Serving | 535 |
| Total Fat | 39.6 g |
| Saturated Fat | 4.0 g |
| Trans Fat | 0.1 g |
| Cholesterol | 148.5 mg |
| | |
| --- | --- |
| Total Carbohydrates | 26.9 g |
| Dietary Fiber | 2.2 g |
| Total Sugars | 8.0 g |
| Sodium | 1,276.6 mg |
| Protein | 16.4 g |