Why KFC South Africa Paid For This Couple's Wedding Planner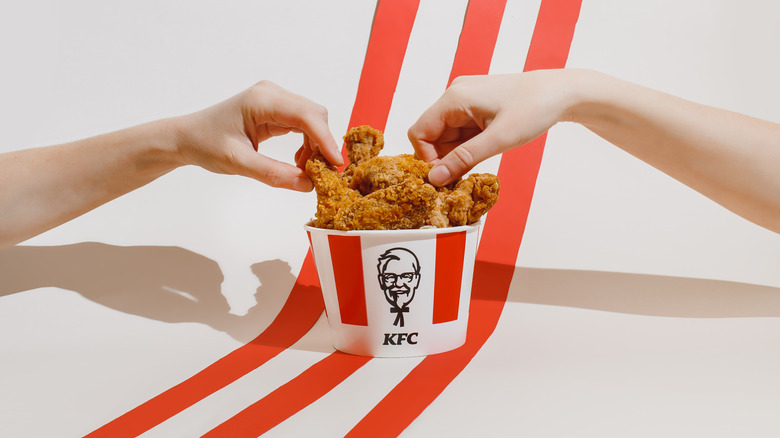 Pavlovska Yevheniia/Shutterstock
Break out your tissues.
In November 2019, one couple's unusual wedding proposal, which took place mid-meal inside a KFC in Vaal, South Africa, went viral when it was caught on video by a passerby outside the restaurant and posted online. In the video, Hector Mkansi could be seen on one knee as he proposed to Nonhlanhla Soldaat, who tearfully said yes, much to the delight of the crowd of onlookers inside the restaurant, reports Bored Panda.
The video was widely shared on social media, and racked up 4.8 million Twitter views, according to PR firm Edelman. And while most people found the proposal to be romantic, not everyone agreed, with one woman snidely commenting that, "SA men are so broke they even propose at KFC ... they have absolutely no class, I mean who proposes at a KFC" (via Upworthy). Turns out, KFC is Soldaat's favorite restaurant, and Mkansi enlisted the help of KFC employees to hide his ring in a meal for her to find, setting up the heartwarming proposal. Luckily, the social media team at KFC South Africa, who caught wind of the proposal, "love love" and asked Twitter for help in identifying the happy couple.
The internet came together to help the couple achieve their dream wedding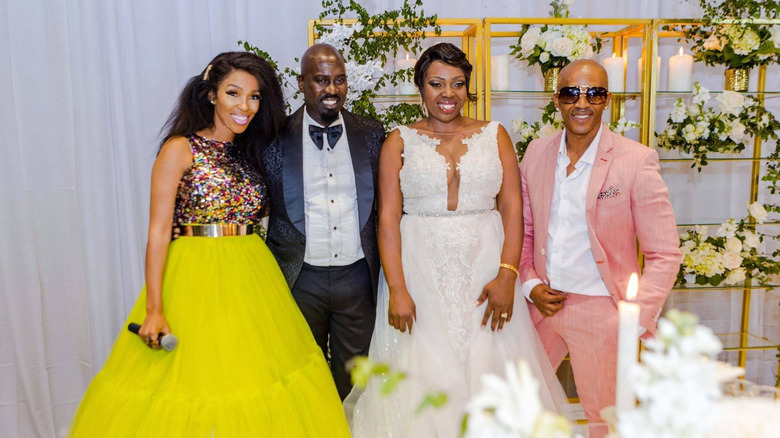 Facebook
Within a day, internet sleuths tracked down the couple, who had initially gotten married in a small ceremony in 2012, as that was all they could afford at the time, though they had always wanted something better (via CNN). Their story clearly resonated with romantics across the internet, as more than 5,000 individuals and brands stepped up with pledges and offers to help with various aspects of their wedding, according to Edelman. KFC South Africa provided the couple with a wedding planner at their request, and later added an all-expenses paid honeymoon to the US, in addition to updating everyone on the progress of the engagement and wedding (via Twitter). Other offers included everything from wedding rings, accessories, and spa treatments to mobile phones, furniture, groceries, and more (via Bored Panda).
The happy couple tied the knot in a beautiful ceremony on December 31, 2019, and were thankful for the strangers that helped their dream wedding come true. "We couldn't be more grateful to God and every single person that shared in our little story," Mkansi told CNN. "Our dream has come true, we never in a million years thought something like this would happen to us." Happily, true love conquers all, even haters on the internet.