Dunkaroos Is Getting A Chocolaty Upgrade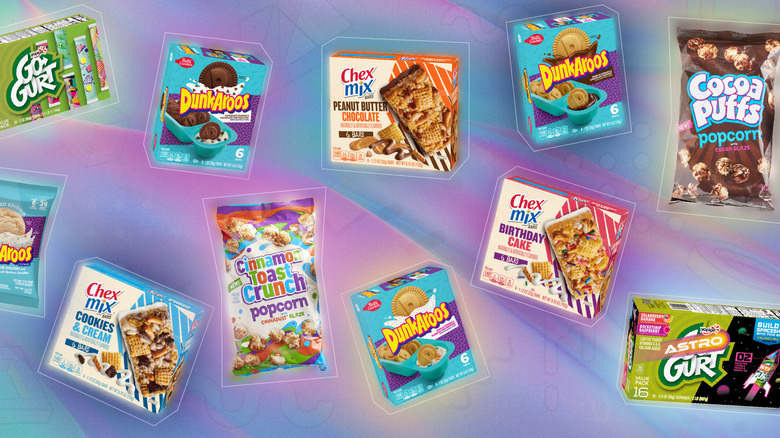 General Mills
A child of the '90s might vividly remember the experience of peeling the top off their Dunkaroos and getting ready to dig into the sweet treat underneath. One compartment of the snack's packaging held the small cookies, and the other was filled with a portion of frosting perfect for dipping, as the product's sporty mascot knew very well. The cookies and frosting were a match made in childhood heaven.
However, for quite some time, U.S. consumers who loved the snack as children were unable to indulge their nostalgia, as the dunkable snack went off the market. The Dunkaroos website says that "fans last saw Dunkaroos in 2012." After several years of a Dunkaroo-free world, though, they started popping up again on store shelves in 2020, as per The New York Times. Now, former '90s babies should be able to find a few packs of the lunchbox staple at grocery stores.
Some of you might have been on team chocolate or team vanilla as a child. But a new Dunkaroos flavor will be coming to town as of March 2022. Those who want to try it will need to grab one of the brand's new Dunkaroos Multipacks, as Nerdbot explained. Chocolate lovers, you'll want to prepare yourself for this one.
The chocolaty variation in the new multipacks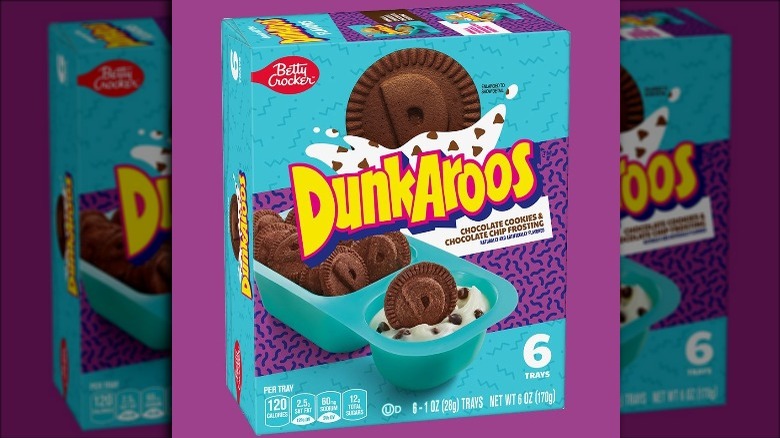 General Mills
If you pick up a Dunkaroos Multipack, you'll get to refresh your memory and dunk your way through vanilla cookies with rainbow sprinkle-strewn frosting as well as vanilla cookies with chocolate frosting (via Nerdbot). However, you'll also get the opportunity to try an entirely new flavor — Chocolate Cookie with Chocolate Chip Frosting
That's right — the frosting is no longer the only area within the Dunkaroos packet to get packed with that cocoa flavor. Now, you can dunk the coin-shaped chocolate cookie into the chocolate chip cookie frosting, which features tiny chocolate chips. The pale hue of the chocolate chip cookie frosting adds a contrast to the deep brown color of the cookies, and the duo seems like just the thing to convince even the most devoted vanilla cookie and sprinkle frosting lovers to switch it up.
Time will tell whether the Multipacks fly off the shelves, but so far, fans' response to the return of Dunkaroos has been promising if Twitter is anything to go by. Back in August 2021, when the nostalgic snacks had returned to grocery store shelves, Dunkaroos took to Twitter to ask its followers and fans what they love about the product. The simple question garnered over 500 responses, with many fans sharing memories of their childhood and waxing poetic about everything from the sprinkles in the frosting to the sweet dunking action. One follower, @LizSouda, summed things up by replying, "Literally everything. I love everything about them."