Don't Miss Cicis' Latest Large Pizza Deal
Forget New York City's $1 pizza, because Cici's has a deal that will steal your stomach and your heart.
For those unfamiliar with the casual pizza chain, Cici's was founded in Plano, Texas, in 1985 and is notorious for its low prices. According to its website, it now has over 300 locations across the United States. It recently sought out a rebranding and though it emerged from the change with a more cohesive color palette and brand identity, the restaurant still remained highly regarded for its low-priced slices of pizza.
Although some people may question the quality of Cici's pizza, you can't deny that you get a good bang for your buck. According to TheFoodXP, you can get a pie of medium Hawaiian pizza for as low as $6.99 and a 10-pack of wings for $8.99. And if you think those are good prices, wait until you hear about their latest deal.
You can get two Cicis pies for $5.99 each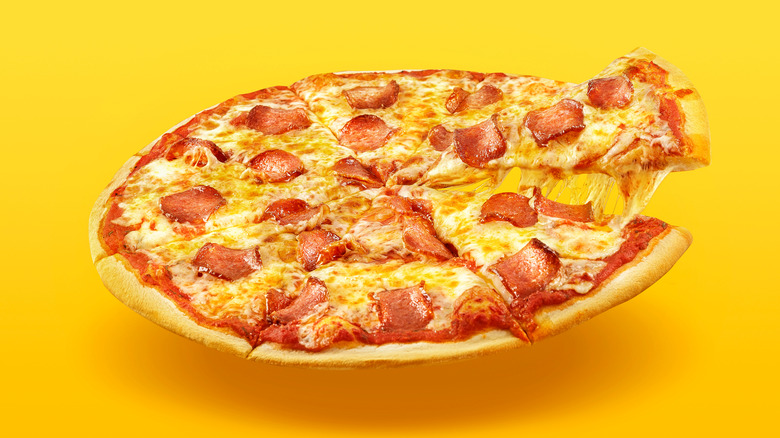 Dzha33/Shutterstock
According to Brand Eating, the chain is re-introducing its deal for two large, one-topping pizza pies for $5.99 each. This means you can get two large pies for $11.98. Yup, you heard that correctly. That makes one pie significantly cheaper than any of the chain's specialty pies. Datafiniti found that some pizzerias in big cities charge upwards of $7 for a slice of plain pizza. So you can't deny that this offering is major buy.
The deal was in stores before, but is back until February 27, 2022. The only exclusion is that you can only apply this deal to 10 pizzas max. This promotion applies in stores and on the chain's mobile app. Forget having wings at your Super Bowl party. Instead, order 10 boxes of pizza from Cici's and call it a day. That way, you'll be able to use the money that you save on drinks and other football-themed treats.