Bud Light Just Jumped On The NFT Bandwagon For The Super Bowl
If it's the Super Bowl, you can count on Bud Light being up to something attention-getting. Apparently, it's just how the company rolls, per CNBC, which identifies Bud Light as the number one most frequent Super Bowl advertiser between 2010 and 2020, having aired a total of 26 in-game commercials. Even last year, when sister brand, Budweiser, sat out the big game along with several other major brands due to COVID-related financial concerns (via USA Today), Bud Light delighted Super Bowl LV at-home viewers with ads for both its beer and its spiked lemonade seltzers. 
From what we're hearing, viewers should expect nothing less from Bud Light during Super Bowl LVI, for which parent company Anheuser-Busch purchased four minutes of ad time to advertise several of its brands during the national broadcast. Further, it looks like the company's marketing powers-that-be have been busily formulating a particularly ingenious plan to launch a new zero-carb beer, Bud Light NEXT, on the Monday before Super Bowl Sunday, which also happens to be one day AFTER the release of Bud Light's first NFT project, dubbed the "Bud Light N3XT Collection." And, of course, there will be an in-game Super Bowl ad that stands poised to tie it all together (via Marketing Dive).
All of which is to say, yes, Bud Light has, indeed, jumped on the NFT bandwagon — and just in time for the Super Bowl. Here's what all that could mean for you.
Bud Light's new NFT program drops February 6
On Sunday, February 6, Bud Light is set to drop 12,722 non-fungible tokens (NFTs), each a unique digital work of art celebrating "innovation, community, and the next generation of creators," according to Bud Light's NEXT NFT website. Each will be comprised of "an icon that represents beer, culture, gaming, music, and entertainment" (such as the slim pop-top can shown above), as set against a dual graphic background (like the one shown above). All of these Bud Light NEXT NFTs will be executed in the same crisp blue and white hues that appear on the Bud Light NEXT zero-carb beer packaging. 
Bud Light's new NFTs, stylized as "the Bud Light N3XT Collection," will be available for $399 apiece, to consumers 21 years or older, through the Bud Light NEXT website and using either cryptocurrency (ETH or Bitcoin) or a credit card. Tokens are generated randomly at purchase, and avid collectors will be able to buy multiple units up to a $10,000 cap. Of course, if you've never purchased an NFT, then you may be wondering why you might want to, especially at that price. 
Bud Light's new NFTs offer specific perks to purchasers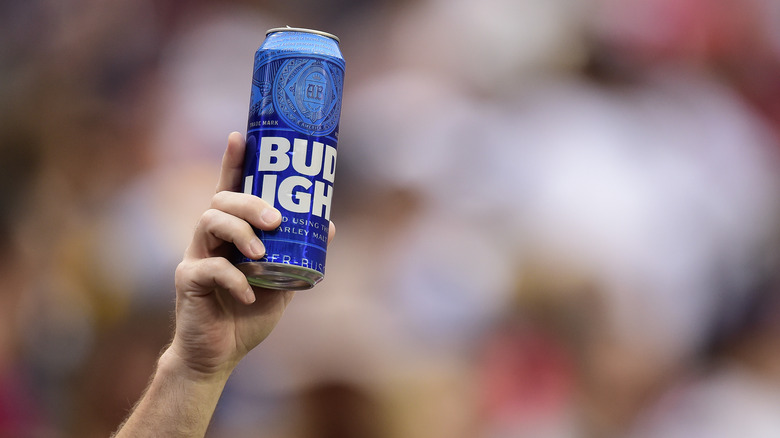 Patrick Mcdermott/Getty Images
NFTs from the Bud Light N3XT Collection are, at their essence, collectibles. Like pre-digital age collectibles (say, paintings, vintage dolls, stamps, coins, etc.), the purchase of an NFT may involve some degree of financial speculation, which is to say that resale may or may not be possible at a price that may or may not cover your investment. For that reason, Bud Light asks that you "HODL responsibly," which refers to "holding on for dear life," per Investopedia.com). 
In addition, however, Bud Light NFTs also offer guaranteed value in the form of "exclusive benefits" that, presumably, will sound attractive to Bud Light fans. These include "voting rights" on future brand initiatives, passes to exclusive events, and swag, among other things, according to Bud Light. Some of these perks are still in the planning process, according to Corey Brown, senior digital director at Bud Light (via Marketing Dive). What is clear at this point, Brown said, is that Bud Light's NFTs are meant "to take consumers along the journey of Bud Light Next."