RHONY's Teresa Giudice Celebrated Her Daughter's Sweet 16 With An Adorable Cake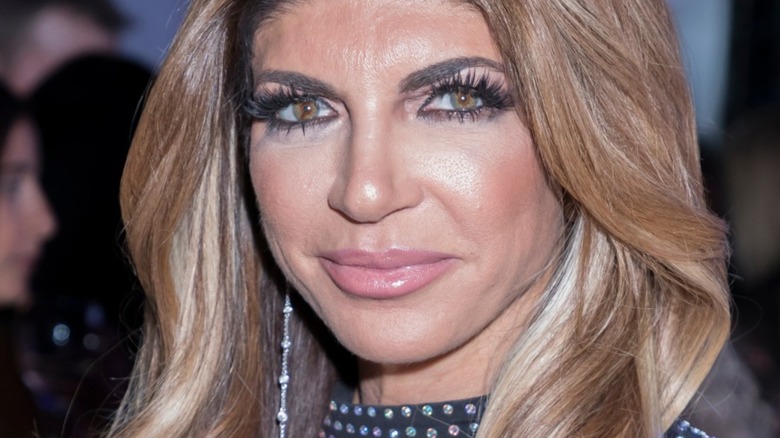 Sam Aronov/Shutterstock
Real housewife or not, real moms everywhere love sharing their wonderful children with the world, and RHONY's Teresa Giudice is no different, as seen in her recent "Sweet Sixteen" birthday post honoring her daughter, Milania. Posted on Instagram on February 3, and accompanied by a video of past and present images, Giudice said in the caption, "From the very first photo to every photo now, you absolutely steal the show, you keep everyone laughing, and have such a sweet gentle soul. You are the best big and little sister, and I thank my lucky stars every day that I get to call you my baby girl!"
The proud mom continued, "You are the brightest light, and I can't believe it's your Sweet 16! Love you today and all of my tomorrows!! Happy birthday beautiful girl!" Proud dad Joe Guidice also chimed in with the comment, "Love her so much." The post features a video slideshow with a number of images of the ever-gorgeous young Milania, from infancy to current times, and fans can't get enough. As one shared, "Literally watching her grow up on TV! She has been a firecracker from day one and I love it!! Happy birthday."
But of course, what's a birthday without cake? The reality star mom did not disappoint with that, either.
A birthday cake fit for a Sweet 16 queen
Proud mom Teresa Guidice also shared a series of birthday pics in her Instagram stories that featured a thrilled Milania holding a fabulous-looking cake and balloons. With a color scheme of pale blue, green, and silver, her birthday party seemed to have an oceanic theme as the teen posed for pictures, including one next to a box clearly labeled Gucci on the table. We can only imagine what gift was inside! There were also balloons adorned with shimmery matching metallic hues, including two confetti-filled showstoppers from the Balloon Boss — the self-described "premiere Balloon Decorating Company" of New Jersey (per Instagram).
And what birthday would be complete without cake? Milania is also pictured smiling behind a towering row of lit candles — a two-toned affair with tall and slender sticks that matched the cake and balloon color theme (via Bravo). The cake itself was a large, round, single layer baked treat with a white-frosted top reading, "Happy Sweet 16 Milania" and adorned with blue and green buttercream curls. Despite the many shares, the question of chocolate or vanilla flavor is still to be determined — but either way it looked delicious.