Instagram Is Loving Michael Symon's Daily Recipe Demos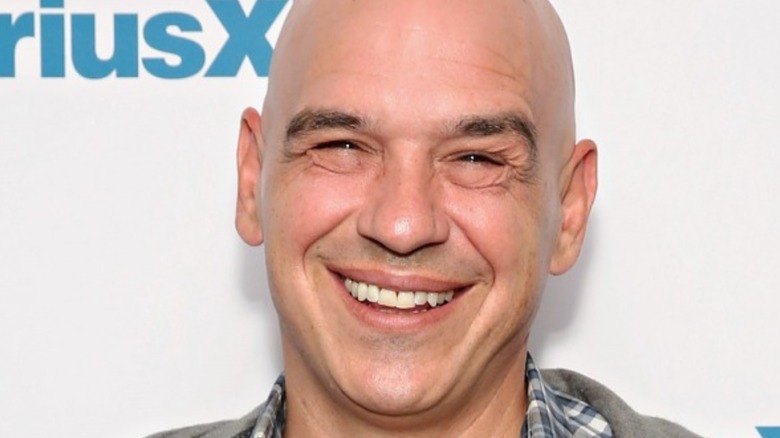 Cindy Ord/Getty
Celebrity chef Michael Symon became a bright spot for fans during the pandemic by sharing easy homemade recipes regularly on Instagram. They came in the form of a video series titled "Symon Dinners." Per Shondaland, he often used "pantry staples" to create his dishes. All the excitement over his posts even inspired him to write a cookbook. There's a twist to this story, though — Symon was crafting recipes that were specifically created for those following an anti-inflammatory diet. Symon himself has lived with rheumatoid arthritis and discoid lupus for years.
The chef has recently started giving his fans a sneak peek into the book, "Fix it With Food: Every Meal Made Easy," with helpful recipe videos on Instagram that have been greeted enthusiastically by Symon's fans. For example, someone commented on one of Symon's videos, which teaches viewers how to make a Root Vegetable and Black Bean Stew, saying, "Thank you so much for not rushing through your recipes and sharing all the tips. Shopping for your book now."
Fans cannot get enough of the recipes
Last week, Michael Symon, much to the delight of many fans who commented, announced that he's all set to cook live on Instagram and make one recipe from "Fix it With Food: Every Meal Made Easy" the entire week. In a separate post, the chef also advised fans on the ingredients that they needed to purchase beforehand to cook with him.
One recipe post that stood out was for a gluten-free dish, "Crispy Eggs with Avocado and Tomato Salsa." One fan wrote that the recipe has become a family favorite and added that it "fixed our differences on how to prepare eggs ... I can enjoy that creamy slow-cooked like yolk and hubby gets his crispy fried edge too!" Another fan expressed how much they enjoyed Symon's recipe videos, saying, "I could watch and listen to Michael cook for hours." 
Michael Symon also showed his viewers how to make a smoothie with ingredients such as pineapple, avocado, coconut water, ginger, lemon, turmeric, and ice. Once again, fans were grateful for the tips and instructions offered by Symon and praised the recipe. One person shared, "My 3-year-old stole my smoothie. Calling this recipe a win."