Why You Shouldn't Put All Of Your Super Bowl Party Food Out At Once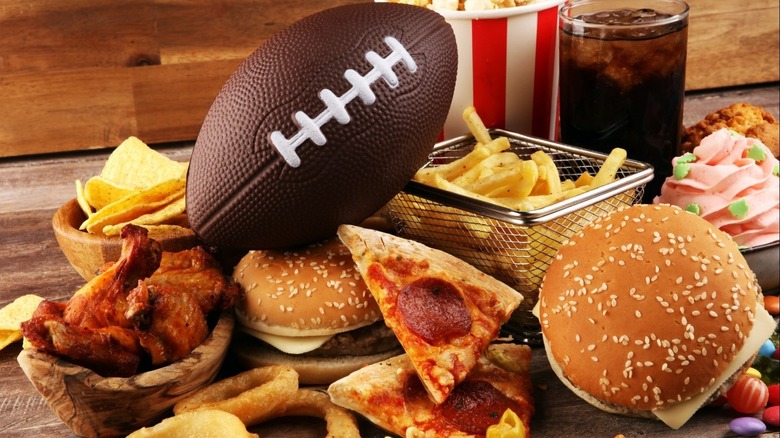 beats1/Shutterstock
Is Super Bowl Sunday even about the football anymore? Who is actually worried about touchdowns or interceptions when there are so many other things going on: the commercials, the party, the halftime show, and of course, the food. Okay, so maybe we're joking just a bit — of course, the game is fun, too — but there are also a lot of other aspects that make the contest an exciting event. If you're planning on hosting this Super Bowl Sunday and you're in charge of the appetizers and snacks, let us be the first to say you're going to do great. (Try not to stress too much.)
However, we all know that cooking for the Super Bowl can feel like cooking for Christmas, Thanksgiving, or any other major holiday. If you are a little overwhelmed, we've got some advice for you. First, take a deep breath. And second, try to time your food so you're not putting it all out at once.
Bringing food out in waves will keep you from running out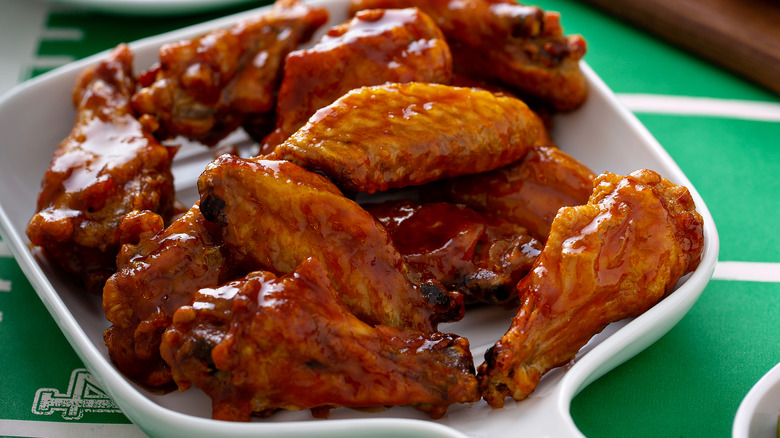 Elena Veselova/Shutterstock
According to Sunny Anderson, there's nothing worse than running out of food during the big game. "I've done so many Super Bowl parties and it's best to do it in waves," the celebrity chef told Reader's Digest.
You don't want to have to be that host who's telling guests to pace themselves, so do it for them subtly by only bringing out a few dishes at a time. Plus, with this strategy you might keep people on their toes just as much as the game on the TV does.
Now that you not only have permission and encouragement from one of the Food Network's top chefs to pace yourself, plan your Super Bowl strategy around this tip. It'll keep people from devouring everything before the first whistle blows and ensure people aren't sitting around with empty stomachs for the next four hours. This also means you don't have to have everything ready the second the doorbell rings.
You can try dividing servings by food category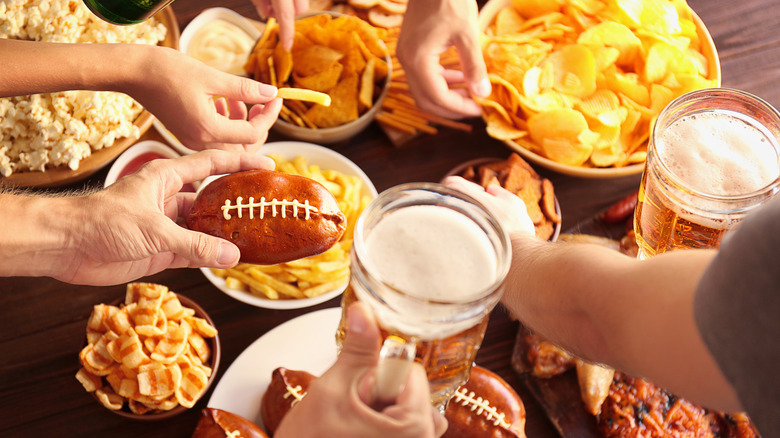 Africa Studio/Shutterstock
There are plenty of ways to divide up your waves, but it may be helpful to go by the dishes's purpose. You may want to start with light bites, like chips, dips, fruit, and veggies. This will give people something to munch on as they make their way into the party and the game begins. As the game gets moving, you could start to bring out more appetizer-like items — maybe wings, sandwich bites, a cheese board, soft pretzels.
When halftime hits, consider serving the main dish: pizza, mac and cheese, whatever you've got in the slow cooker. Whether your team is winning or losing, people will definitely be ready to fill up again because of excitement or dread. As the night winds down, bring out those light bites again and maybe something sweet, like cookies, to end the evening.
Another option might be splitting everything into quarters or thirds and refilling the serving station three or four times throughout the night. Or, you could make your own system all together. Just be sure to space it out. As Anderson said, "You can't just put everything out on the buffet and expect people to graze the whole time."