Olsen Twins Fans Will Remember This Ridiculous Pizza From Their '90s 'Sleepover Party'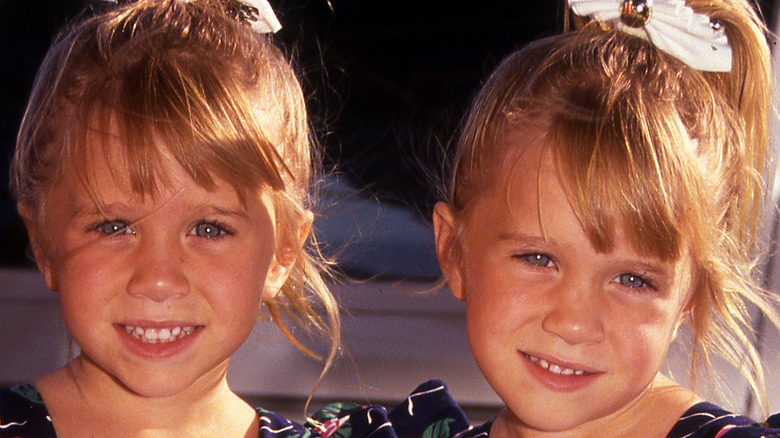 Vicki L. Miller/Shutterstock
Ah, the '90s. What a time to be alive! Whether you were choreographing dances to your favorite Spice Girls jam, munching on Butterfinger BB's, or collecting and trading Pokémon cards, there are so many things to love about that extraordinary era.
Chances are, whether you grew up in the '90s or not, you're familiar with the Tanner family of "Full House," and perhaps you still use Stephanie's "How rude!" exclamation or Michelle's "You got it dude" with a jesting thumbs up. Michelle, the adorable youngest daughter of Danny Tanner, was played by the Olsen twins, Mary-Kate and Ashley, who made their TV debut on "Full House" in 1987 as toddlers (per IMDb). As the strawberry blonde twins grew up, they became pop culture princesses, building their own entertainment franchise, which included the "You're Invited to Mary-Kate & Ashley's" direct-to-video movie series. 
These made for children masterpieces featured different themed parties with the girls and their friends enjoying a variety of adventures. The first video of the series, "You're Invited to Mary-Kate & Ashley's Sleepover Party," came out in 1995 and has become embedded in the minds of many American millennials.
A pizza party like no other
One scene in the 25-minute-long feature involves a high-energy pizza topping session that may cause your eyes to bulge or stomach to churn. For dinner, Mary-Kate, Ashley, and their friends Vanessa, Cara, and Brighton decide to order a "plain, nothing on it" pizza. Before the landline phone call even ends, the pie shows up and the girls clear the refrigerator and pantry which accounts for the haphazard assortment of toppings that end up on this pizza pie (via YouTube).
The girls rap a little diddy called "Gimme Pizza" as they build a ridiculous, yet memorable, "P-I-Z-Z-A!" Aptly dubbed by the girls as "a work of art like the Mona Lisa," the medley of toppings, which were sung out as placed atop the pie, include but are certainly not limited to, chicken, guacamole, meatballs, whipped cream, salsa, ice cream, fish, chocolate sauce, Oreos, marshmallows, caramel coconut cream, egg foo young, and tacos.
The Olsen twins won the hearts of many generations, and perhaps the same children who idolized them in the '90s are now parents themselves who enjoy sharing nostalgic Mary-Kate and Ashley moments. And in a perfect world, they make a giant, messy "P-I-Z-Z-A" together.