DIY Easter Oreos Have Been Sighted At Costco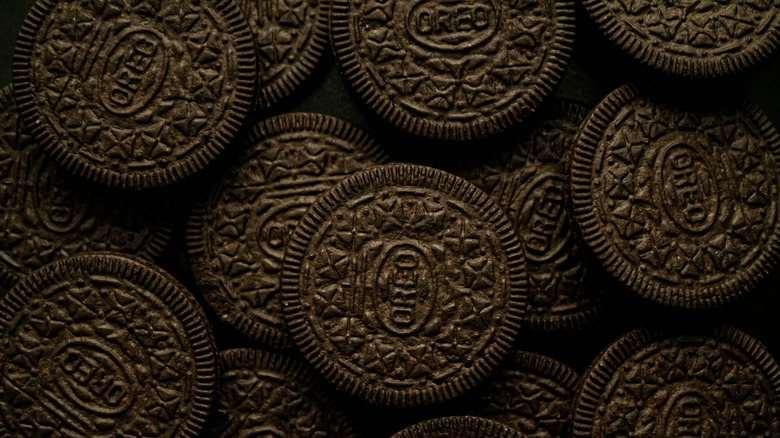 Katrin Volkova/Shutterstock
It seems like only yesterday that Christmas trees were up, fugly sweaters were out, and everyone was gathering around the dinner table with hot cups of cocoa to build gingerbread houses. And just like that, the holidays have long gone, January has flown by, and Costco appears to be preparing for Easter. Just as shoppers are making the most of heart-shaped desserts, pink macarons, and chocolate-covered strawberries that seem to have taken over the confectionary aisles at all supermarkets for Valentine's Day, Instagram user @costco_empties has already spotted an Easter offering at Costco: Create-A-Treat's DIY Oreo Easter cookie kits!
Create-A-Treat is known to partner with leading brands like Hershey's, Sour Patch, and Crayola to make cookie decorating kits for all sorts of holidays, including heart and teddy bear-shaped cookie kits for Valentine's Day this year. Costco shoppers may also remember the popular gingerbread mansion cookie decorating kits from the manufacturer that Costco sold last Christmas (via Instagram). Naturally, fans are getting excited about what the brand's Easter-themed Oreo kit has in store for them.
The kit comes with 24 cookies
The DIY Oreo Easter Fun Cookie Kit comes with 24 egg-shaped chocolate cookies made from Oreo cookie pieces and is priced at $11.99 (via Instagram). The kit comes with a creme-flavored bag of white icing to decorate these cookies, as well as pre-made pouches of icing in blue, yellow, and pink. It also includes pastel quin candies. To make it even more exciting for Oreo fans, the kit includes bags of Oreo mini cookies to help decorate the edible Easter eggs or to just eat plain.
The decorating bit sure sounds fun, but Costco shoppers seem to be interested in the egg-shaped chocolate cookies made from Oreos over anything else that the kit has to offer. "Gimme the cookies & you can have the rest," joked one user. Another commented that they just wanted to get their hands on the egg-shaped cookies from the kit. Fans seem thrilled to see the Oreo cookie kits for some fun Easter activities for kids and Oreo-loving adults alike, and the original poster stated that cookie kits "tend to sell out quickly."