Giada De Laurentiis Thanked A TikToker For This Lemony Recipe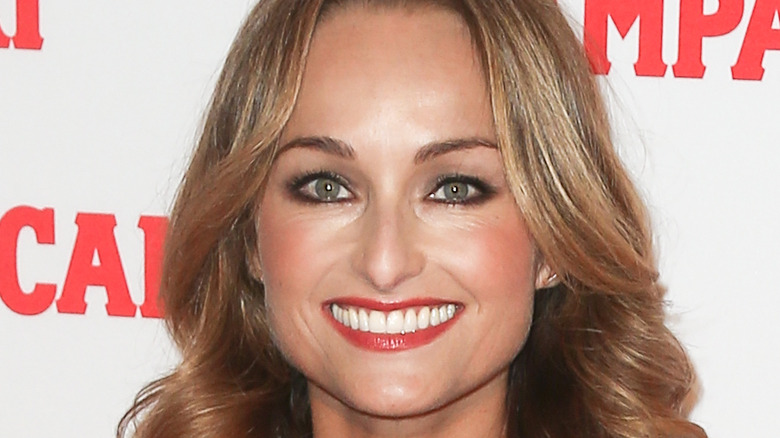 Debby Wong/Shutterstock
Giada de Laurentiis regularly takes to TikTok to share fun, delicious recipes such as the chocolate espresso cake recipe she recently shared for Valentine's Day or instructions on how to make the perfect pasta. However, what's super cool about de Laurentiis is that she not only shares her own recipes on the social media platform, she also shares recipes from other TikTokers, such as user @fooddolls' Oreo skillet brownie. She even gave major kudos to the two sisters and their account, writing in the caption "obsessed with @fooddolls thanks again for a great recipe!"
The celebrity chef has shared another recipe she got from a fellow TikToker, this time one for a lemon coconut sorbet from user @ballehurns, a TikToker and YouTuber who shares content surrounding college life and vegan food (via nofilter). Although she uses fresh lemons from her own garden to make the sorbet, de Laurentiis makes this recipe look quite easy.
This lemon coconut sorbet is made with just three ingredients
In Giada de Laurentiis' TikTok recipe video for lemon coconut sorbet, she strolls into her beautifully manicured garden and picks fresh lemons from her lemon tree. Before returning inside, there's a quick shout-out to her cat, Bella, who's hanging out in the grass. Back in her kitchen, Giada slices up the lemons, removing the peels and seeds, then pops them in the freezer for a while. When she takes them out, she puts the lemon cubes in a blender along with coconut milk and maple syrup, spoons the mixture into a bowl, adds a little thyme for garnish, and says, "Voila!"
TikTokers hit the comment section to express appreciation and awe for the lemon coconut sorbet recipe. "Will Try for Sure Thank You Giada," wrote one user, while another commented, "I bet on a hot summer day ... it tastes refreshing." Others were more enamored with de Laurentiis' impressive garden, with one user sharing, "Your garden is my goals beautiful" while another suggests others take notice of the garden's splendor, writing, "dont sleep on that backyard!"