Cereal Lovers Need To Know About These 2 New Walmart Popcorns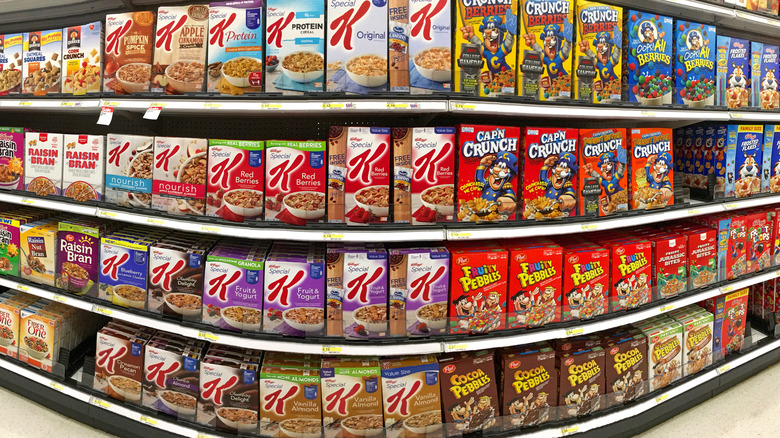 Sheila Fitzgerald/Shutterstock
If you're rushing out the door to work or class, there's almost no morning meal option as simple and as easy as a bowl of cereal. But even beyond the breakfast table, cereal is a versatile ingredient. There's the classic Rice Krispies Treats, which transforms breakfast into delicious dessert, or recipes like Martha Stewart's fried chicken, which covers the sweet and savory realm by using cornflakes to coat the meat.
Although cereal is clearly useful for all kinds of purposes, nutritionally-focused groups such as the Environmental Working Group continue to air concern about just how much sugar and artificial ingredients can go into a single bowl of products like Reese's Puffs or Cinnamon Toast Crunch. To others, it doesn't matter what goes into the cereal, as long as it tastes good. It is likely the latter, taste-focused group that cereal giant General Mills had in mind when lending some of the sweetest names in the cereal game to two brand-new kinds of popcorn available only at Walmart.  
Walmart's new popcorn comes in cinnamon and chocolate flavors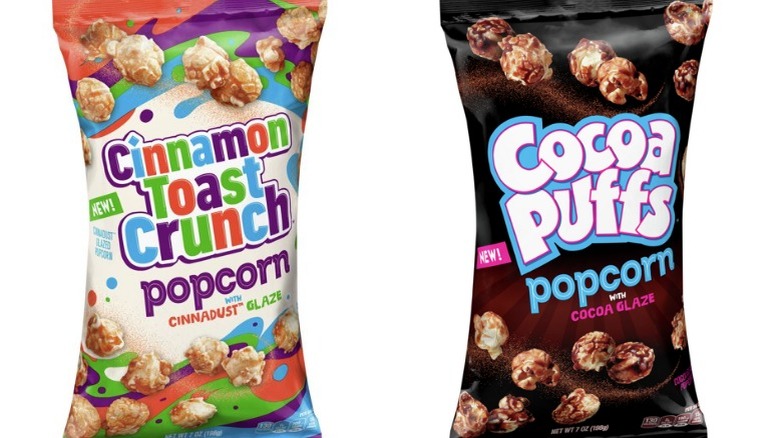 Walmart
Combining both the cinnamon-sugar flavor of Cinnamon Toast Crunch with the subtle salty taste of popcorn, Cinnamon Toast Crunch popcorn was first introduced in July 2021 at Sam's Club, the Walmart-owned membership wholesale club. Each piece of fluffy popcorn is covered with what General Mills calls "Cinnadust" — you know, that combination of cinnamon and sugar that's the taste you can see? Walmart is now carrying the product as well, along with Cocoa Puffs popcorn, which replaced the "Cinnadust" with a sweet "cocoa glaze" that gives the popcorn the taste of a spoonful of Cocoa Puffs. FoodBeast reports that the Cocoa Puffs version is currently a Walmart exclusive.  
But exclusive or not, just how good are these bags of cereal-blasted popcorn? Cerealously decadently described the Cinnamon Toast variety as having adequate caramel coating, along with a "golden-browned-buttery flavor" with a "delicate cinnamon-sugar kiss" to cap it all off. Their only minor complaint was that it could have used just a bit more salt. The Impulsive Buy's review of the Cocoa Puffs popcorn noted that it was better than they had expected and that it perfectly echoed the original cereal. Their sole complaint was, again, the popcorn needed some salt to balance out the sweetness.
Neither review suggests trying the popcorn with milk, but hey, we're not here to judge how you down your bowl of cereal-flavored popcorn.