Traditional Irish Breakfast Recipe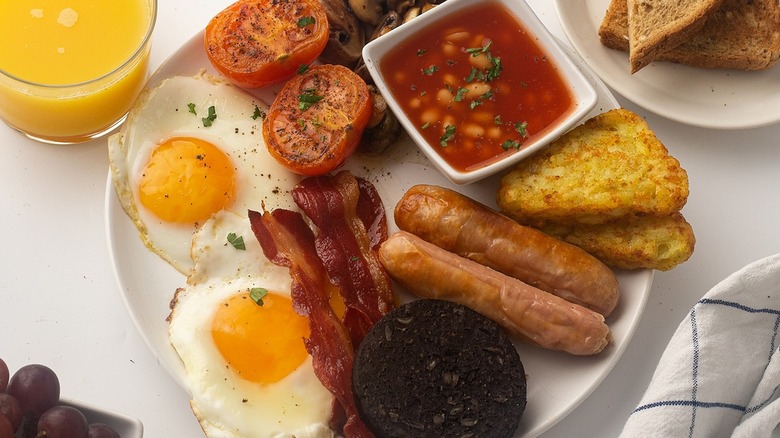 Susan Olayinka/Mashed
Here in the U.S., a nation with a large number of people who can claim Irish ancestry (nearly 10% of us, according to the U.S. Census), we seem to have forgotten our foodie roots. As far as many of us are concerned, Irish cooking begins and ends with corned beef, cabbage, and Guinness. Well, it seems we may be way off base here. Popular dishes in Ireland include lamb stew, colcannon, Dublin coddle, shepherd's pie, and a good hearty Irish breakfast.
Recipe developer Susan Olayinka, who lives in the U.K., describes a traditional Irish breakfast as something "very different to what Americans are used to," but says she really enjoys it and thinks we might, as well. She admits it's "just about 1000 calories in one sitting," so says it's not something she eats very often, but she feels it's well worth the occasional indulgence. As she says, "There's so much variety and I love getting each piece on my fork and eating it all." If you are looking for a hearty, filling breakfast, this traditional Irish breakfast will definitely do the trick!
Assemble the ingredients for a traditional Irish breakfast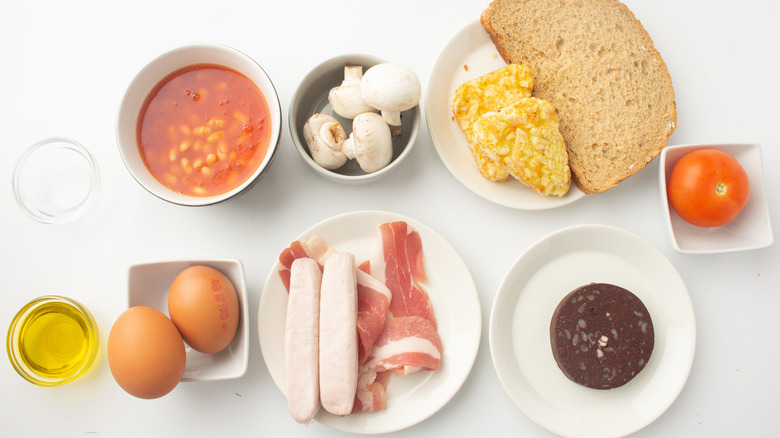 Susan Olayinka/Mashed
The first thing you need to do for this recipe is to try to source the ingredients. The eggs, tomatoes, and mushrooms are the same in the U.S. as in the U.K., and the cooking oil is, as well. American bacon is rather different, but if you can't find British bacon, it will do just fine. For the sausages, Olayinka says these are "standard pork sausages; any pork sausages will do." The hash brown patties she uses are frozen ones, also readily available here.
The one ingredient that you may not be able to find — or may not want to look too hard for, if truth be told — is the black pudding. As Olayinka describes it, this is "mainly dried pork blood, pork fat, pork rind, herbs, [and] wheat flour." She does say, "You may find it crazy to put blood in a product," but says that this pudding is very high in iron. As an alternative for U.S. palates, however, she suggests that a sausage patty could be used in its place.
Some of the items bake in the oven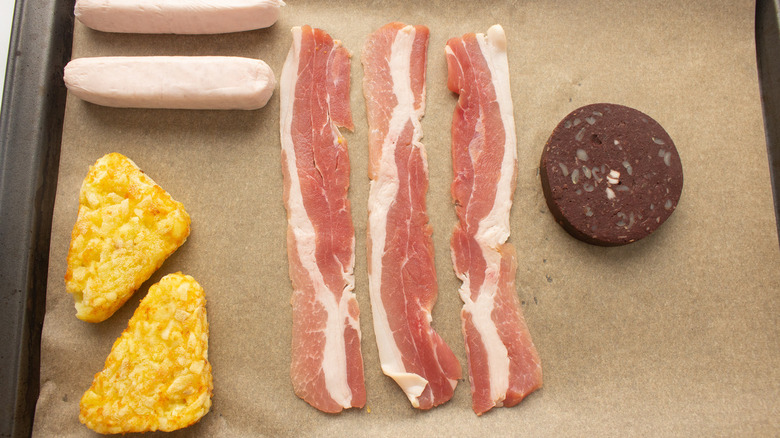 Susan Olayinka/Mashed
The first thing you need to do, once you've got your ingredients all ready to cook, is to preheat your oven to 350 F. While it is heating up, take out a sheet pan and arrange the following ingredients so they are not crowding each other: the black pudding (or sausage patty), the frozen hash brown patties, the bacon strips, and the sausage links. Check to see if the oven is done preheating. Once it has reached the proper temperature, put the tray in the oven and let everything bake for 20 minutes.
The veggies and eggs cook in a frying pan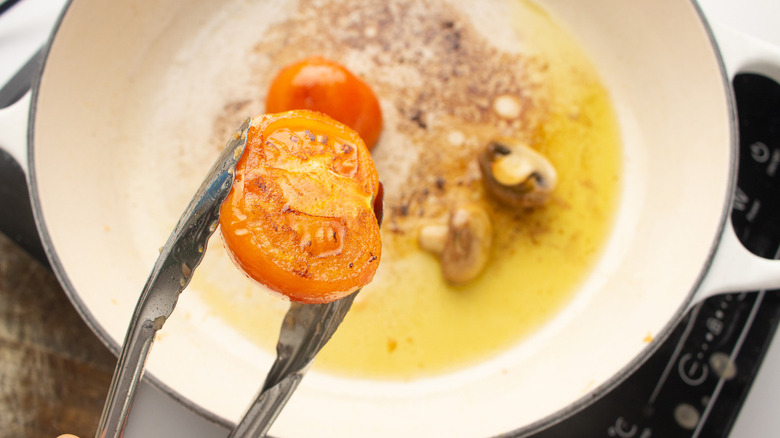 Susan Olayinka/Mashed
While the aforementioned items are baking, it is time to prepare the veggies and the eggs. Slice the mushrooms and tomatoes in half, then heat the oil in a skillet over medium-high. Fry the veggies on one side for two minutes, then flip them over and fry them for two more minutes. Take them out of the pan and set them aside.
Turn the heat down to medium-low and crack the eggs into the skillet. Salt the eggs, then cover the pan and cook them for about two minutes, so they are sunny-side-up. If you don't have a lid to fit the skillet, a piece of aluminum foil will work quite nicely.
Heat the beans, then breakfast is ready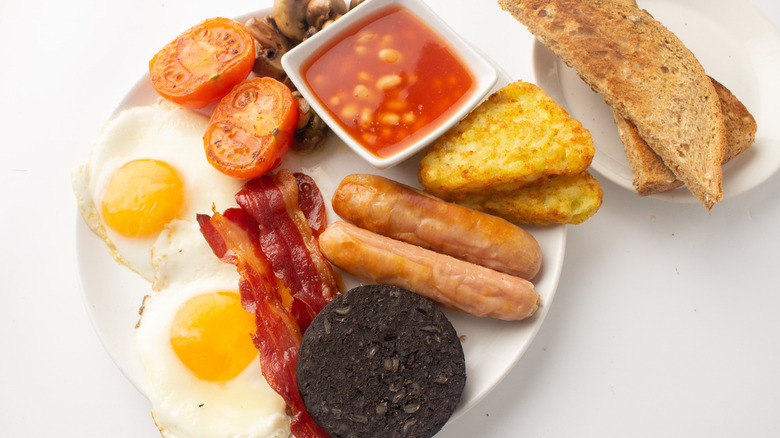 Susan Olayinka/Mashed
The last thing you need to do is heat up the beans, something Olayinka says should take about one minute in the microwave. If you prefer, you can just dump them into the skillet, too, after you take the eggs out. Arrange all of the items on a plate, then dig in! If you want a condiment, Olayinka says it's okay to use ketchup. She also suggests serving this breakfast with orange or apple juice, or you might like a mug of tea.
While this is a very large breakfast best suited for weekends, Olayinka tells us it's "no effort at all" to make, "as it's mainly the stove and oven that do the hard work." This recipe is meant to serve just one person, but feel free to split it with someone if you don't think you can manage it all on your own.
Traditional Irish Breakfast Recipe
Whip up a traditional Irish breakfast this St. Patrick's Day with the help of this easy recipe.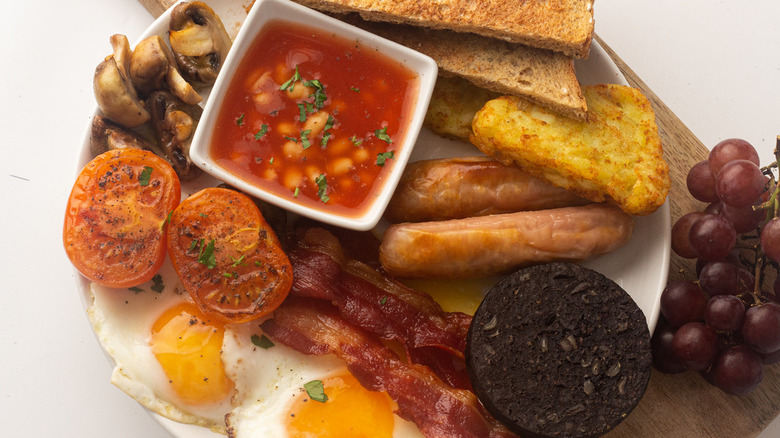 Ingredients
1 (4 ounces) black pudding
2 frozen hashbrown patties
3 slices bacon
2 pork sausage links
2 tablespoons cooking oil
3 button mushrooms
1 small tomato
2 eggs
¼ cup baked beans
Directions
Preheat the oven to 350 F.
Arrange the black pudding, hash browns, bacon, and sausages on a baking sheet. Bake for 20 minutes.
Slice the mushrooms and tomato in half.
Heat the oil in a skillet over medium-high heat.
Fry the mushrooms and tomatoes for 2 minutes on each side until golden brown, then remove them from the pan.
Turn the heat down to medium-low, crack the eggs into the frying pan, sprinkle them with salt, and cover the pan with a lid.
Cook the eggs sunny-side-up, something that should take about 2 to 2 ½ minutes.
Microwave the beans for 1 minute.
Arrange all of the ingredients on a plate and serve immediately.
Nutrition
| | |
| --- | --- |
| Calories per Serving | 1,394 |
| Total Fat | 122.8 g |
| Saturated Fat | 35.4 g |
| Trans Fat | 0.3 g |
| Cholesterol | 548.4 mg |
| | |
| --- | --- |
| Total Carbohydrates | 22.4 g |
| Dietary Fiber | 4.3 g |
| Total Sugars | 11.7 g |
| Sodium | 2,064.3 mg |
| Protein | 51.5 g |