Order This Menu Item At Whataburger, According To A Nutritionist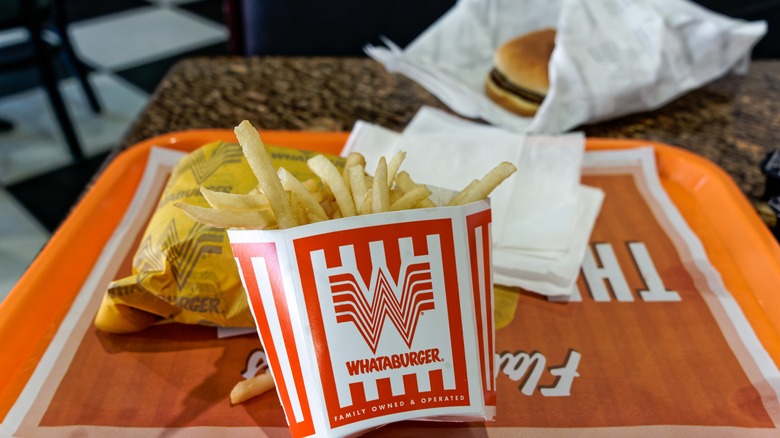 Rosemarie Mosteller/Shutterstock
If you're not a Whataburger fan, that may be because you've yet to become acquainted with this burger chain. To date, there are Whataburger locations in only 12 states, with more than 80% of these locations being located in the chain's home state of Texas. In fact, Whataburger's expansion into Kansas City may be thanks to lobbying from Patrick Mahomes, the quarterback who lead the Kansas City Chiefs to a 2020 Super Bowl win.
If there's one downside to having a Whataburger in the neighborhood, it might be the detrimental affect it could have on your bottom line ... or your waistline. If you order a regular Whataburger with medium fries and a medium soda (a Whatameal, the chain calls it), it'll cost you about $8, but those small expenditures do add up — quickly, if you've got a Whatafamily to feed. Where you'll really run into trouble, however, is the calorie count: 1,400 calories in all — and that's with no cheese, bacon, or creamy sauce. If you want to upgrade to a bacon & cheese burger, you're looking at 1,560 calories, while a double meat burger meal has 1,645 calories. If you really want to go Texas-sized, there's a triple meat burger meal with 1,885 calories — that's almost a whole day's worth of calories right there. 
And as Trista Best, MPH, RD, LD would point out, ordering the triple meat burger meal is probably a bad idea. Instead, she offers an alternate suggestion for your Whataburger order.
A Whataburger Jr. with low-cal sides is the healthiest choice
Trista Best, MPH, RD, LD, gave Mashed some tips for eating healthy at Whataburger. It's not the easiest thing to do, true, but it's possible to at least stay within reasonable bounds instead of going overboard with the calorie count. She suggests ordering the Whataburger Jr., explaining, "From a strictly calorie and nutrient standpoint, this is the best burger on their menu." According to Whataburger, this item, if ordered a la carte, has 310 calories, 11 grams of fat, 36 grams of carbs, and 14 grams of protein.
You may want to skip the medium fries and soda if you want to make a relatively healthy meal out of this burger, as making a Whatameal of it adds an additional 530 calories to the total. Instead, Best suggests you "pair [it] with a healthy, low-calorie side item and make a nutrient-dense and filling meal." 
Whatburger does offer this meal option, suggesting apple slices and unsweetened tea (a very un-Texan thing to drink, but sometimes sacrifices must be made) for a meal that's just 345 calories in all. Best also points out that you can still upgrade by ordering a double meat version of the Whataburger Jr. This will boost your calorie count by 110, but you'll get nine more grams of protein.