Red Wine Cupcakes Recipe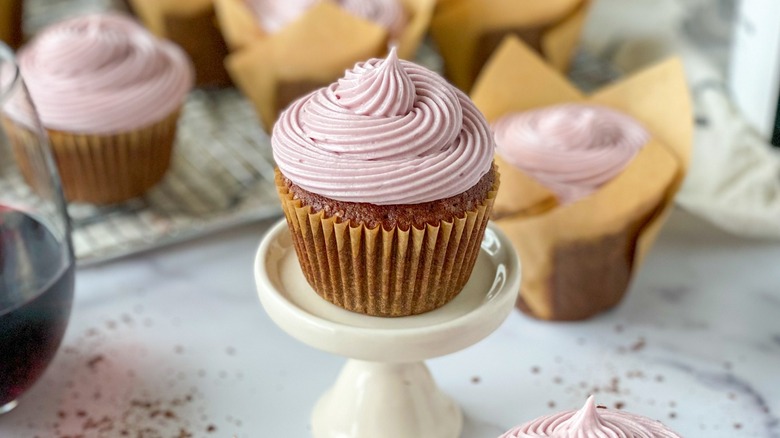 Hayley MacLean/Mashed
Christmas has cookies, Easter has chocolate bunnies, and Halloween has candy, but there's also plenty of sweet treats to be found on Valentine's Day. And no, we don't just mean those heart-shaped boxes of chocolate. One surefire way to impress your special someone on February's holiday of love — or anytime, really — is with a delicious homemade baked good. Hayley MacLean's decadent, sophisticated red wine cupcakes just might be the perfect treat.
"Chocolate and red wine are such a classic pairing, I knew there had to be way to join them in a treat," MacLean explains. "Plus what a perfect combo for Valentine's Day, right?" As for the flavor, MacLean also raves about the perfect balance that the wine and chocolate strike, noting that "red wine gives such a wonderful bitterness to these chocolate cupcakes and just a hint of flavor and color to the sweet frosting, which balances it out perfectly." As MacLean says, these cupcakes are obviously a great choice for Valentine's Day. But they'd also be a delicious addition to a birthday party, potluck, or casual gathering of loved ones. Who wouldn't appreciate a sweet treat made with wine?
Prepare the red wine cupcake ingredients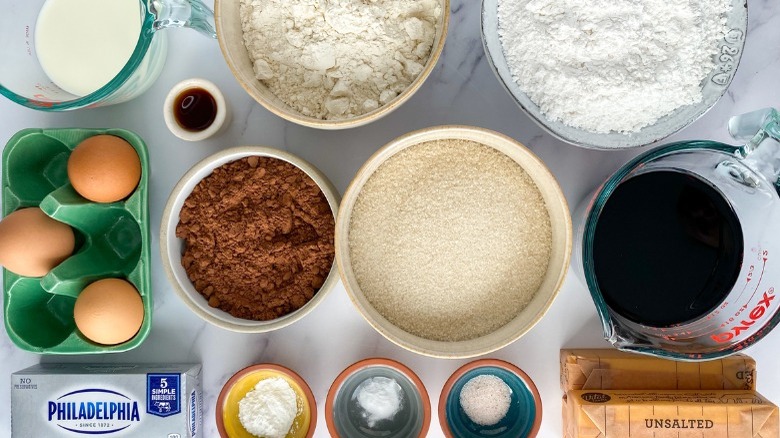 Hayley MacLean/Mashed
This cupcake recipe is relatively straightforward, but it's still important to get all your ingredients measured and prepared before starting. It may take a bit longer up top, but it'll make the entire process a breeze. First, preheat the oven to 350 F and fill a muffin tin (or two or three, depending on how big they are) with cupcake liners. Next, get out your butter, eggs, and cream cheese, since they all need to be either softened or at room temperature. After that, measure out your flour, cocoa powder, baking powder, baking soda, salt, granulated and powdered sugars, red wine, whole milk, and vanilla extract.
"I used a cabernet sauvignon here, as it is has strong bitter notes and wonderful fruity hints in it as well," MacLean notes. "If looking for something a little less bitter, a merlot or red blend would work as well!"
Mix up the dry and wet ingredients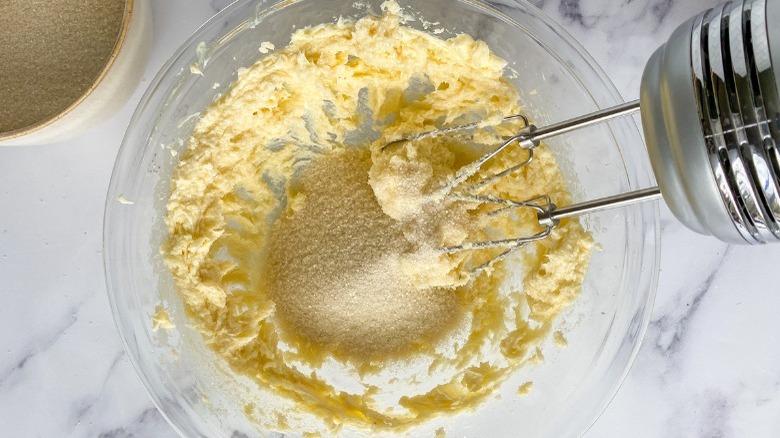 Hayley MacLean/Mashed
Many baking recipes require you to mix up your wet and dry ingredients separately, and this recipe is no different. Start by combining the baking powder, baking soda, flour, salt, and cocoa powder in a medium-sized bowl. In a small bowl or cup, stir together the milk and a cup of the red wine. Then, place a cup of butter in another, bigger bowl and beat it until it softens. "I used a hand mixer to beat the butter here, however a stand mixer would also be great! Mixing it by hand may be a bit harder, but is still possible too," MacLean says. "Just make sure it gets nice and fluffy and mixes completely with the sugar." Once you've beaten your butter, beat in 2 ½ cups of granulated sugar in small amounts at a time, followed by the vanilla and eggs.
Combine the batter and bake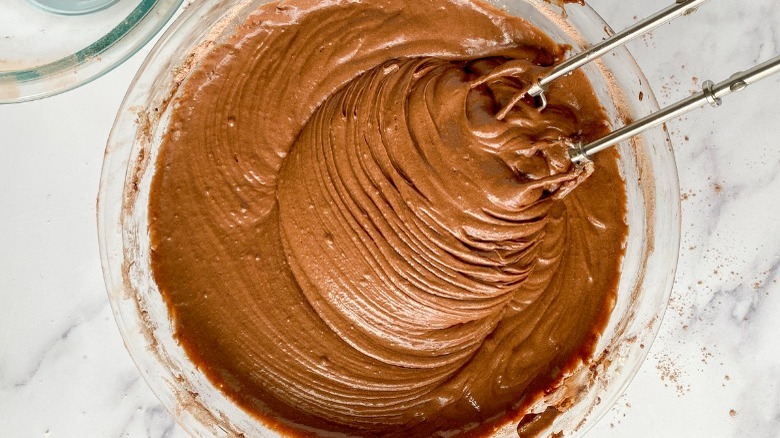 Hayley MacLean/Mashed
Now, take your red wine and milk mixture and add it to the bowl with the butter and sugar. After that, pour in the contents of your dry ingredients bowl, little by little so you don't get a face full of flour. Mix everything together, and voila, that's your cupcake batter! Fill up your muffin tins a little over halfway (to give the batter room to rise) and pop them into your preheated oven.
Make the frosting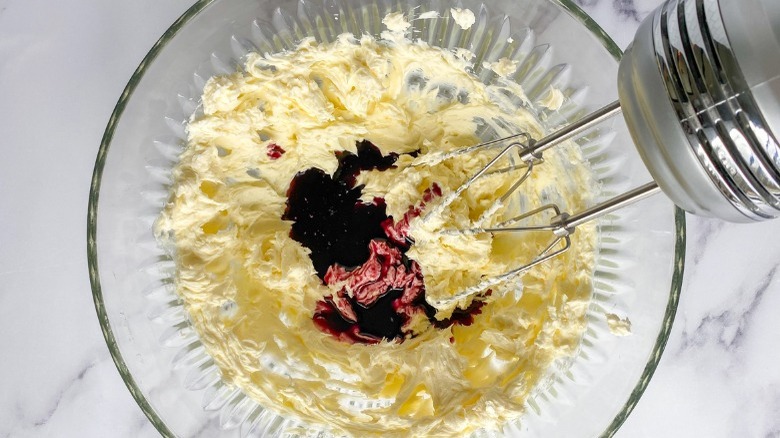 Hayley MacLean/Mashed
You have some time while the cupcakes bake — conveniently, just enough time to whip up some red wine frosting. Bring the rest of the red wine and a bit of sugar to a boil on the stove, then simmer the mixture until you have half the amount of liquid you started with. Take the pan off the heat, use a hand mixer or stand mixer to beat together cream cheese and butter. Once the red wine reduction has cooled, add it in along with the powdered sugar and marvel at the sweet pink frosting you've created.
Decorate the cupcakes and enjoy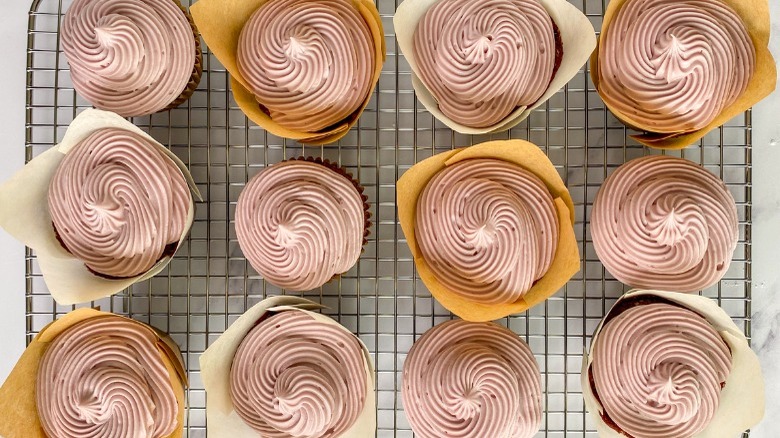 Hayley MacLean/Mashed
By now, your cupcakes should be ready, and your frosting is good to go. Once the cupcakes have cooled on a wire rack, it's time to decorate. MacLean says that she uses "a piping bag and a sunburst-shaped tip in quick swirls" when frosting these cupcakes, but adds that "it is just as simple to frost these by spreading it on with a knife, or even dipping the cupcakes in the frosting upside down may work!" So, no pressure to make them look perfect, they'll taste great either way.
This recipe makes 24 cupcakes, which is a lot of cupcakes. If you have leftovers, MacLean says you can keep them "in an airtight container in the fridge" for about five days. "If kept unfrosted, the cupcakes themselves can be stored for a couple of days on the counter," she adds, but notes that the frosting must be refrigerated. Happy baking!
Red Wine Cupcakes Recipe
These red wine cupcakes combine slightly bitter red wine with rich, sweet chocolate, making for a truly unforgettable cupcake.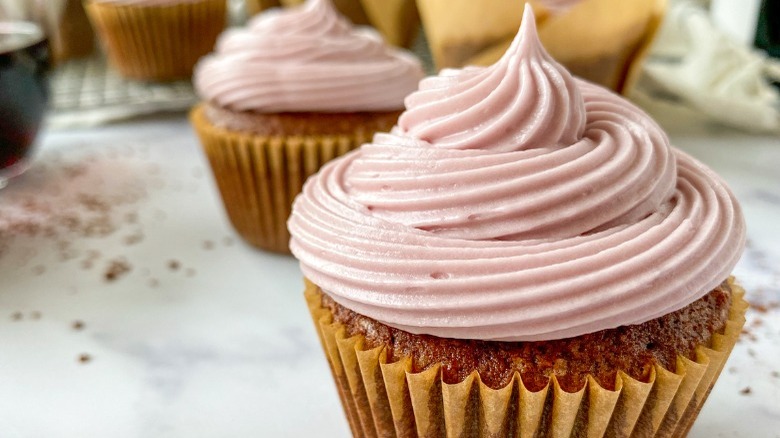 Ingredients
2 cups all-purpose flour
¾ cup unsweetened cocoa powder
1 teaspoon baking powder
¼ teaspoon baking soda
½ teaspoon salt
1 ½ cup red wine
½ cup whole milk
1 ½ cups unsalted butter, room temperature, divided
2 ½ cups + 2 tablespoons granulated sugar, divided
3 eggs, room temperature
2 teaspoons vanilla extract
8 ounces cream cheese, softened
4 cups powdered sugar
Directions
Preheat the oven to 350 F. Line a muffin pan with cupcake liners.
In a medium bowl, whisk together the flour, cocoa powder, baking powder, baking soda, and salt.
Combine 1 cup of red wine and the milk in a small bowl, and set aside.
In a large bowl, beat 1 cup of butter until soft. Gradually add 2 ½ cups granulated sugar, ½ cup at a time, until well combined. Add the eggs 1 at a time, followed by the vanilla.
Add the wine and milk mixture to the sugar mixture. Slowly add the dry ingredients to the wet ingredients until well combined.
Fill each muffin tin ⅔ of the way and bake for 25 minutes, or until a toothpick inserted comes out clean.
While the cupcakes bake, make the frosting. Combine ½ cup red wine and 2 tablespoons sugar in a small saucepan. Bring to a boil and then simmer to reduce by half. Remove from the heat and set aside to cool.
Beat together the cream cheese and ½ cup butter until smooth. Add the cooled red wine reduction (about 3 tablespoons). Gradually add the powdered sugar until desired consistency and sweetness is reached. Note that you don't have to use all of the powdered sugar.
Once the cupcakes have baked, allow them to cool completely on a wire rack. Pipe or spread on the frosting before serving.
Nutrition
| | |
| --- | --- |
| Calories per Serving | 365 |
| Total Fat | 15.9 g |
| Saturated Fat | 9.6 g |
| Trans Fat | 0.5 g |
| Cholesterol | 61.4 mg |
| | |
| --- | --- |
| Total Carbohydrates | 52.5 g |
| Dietary Fiber | 1.3 g |
| Total Sugars | 42.2 g |
| Sodium | 124.6 mg |
| Protein | 3.1 g |