Heart-Shaped Pizza Is Back At California Pizza Kitchen For Valentine's Day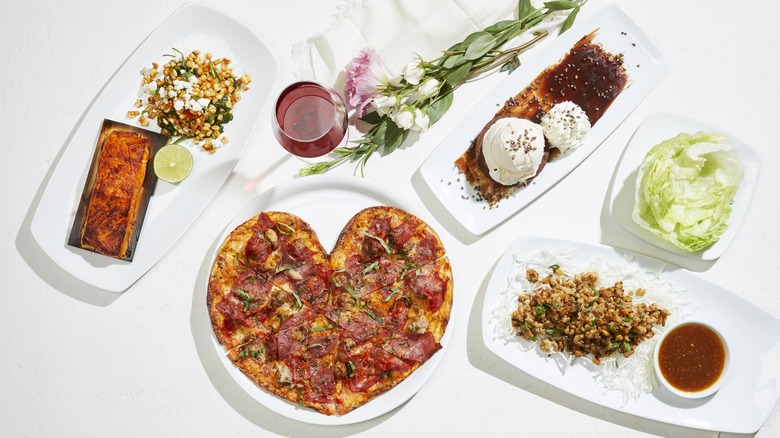 California Pizza Kitchen
California Pizza Kitchen is hoping to be the place you chose to have your Valentine's Day dinner by bringing a romantic fan-favorite back to the menu. In 2019, California Pizza Kitchen first announced that it would be offering fans the chance to enjoy any of their favorite pizzas on a crispy, thin, heart-shaped crust in honor of Valentine's Day. This year, the company has decided to bring them back for the fourth February in a row, per Brand Eating. 
Customers who dine in-store from February 9 through February 14 can order a romantic, heart-shaped crispy thin crust pizza to share with their loved one for no extra charge. In addition to the romantic pizzas, the chain is also offering its "Sweet Deal for Two" promotion. Customers can select from two menu options, each of which deliver one appetizer, two entrees, and one sweet dessert, all for a set, pre-fixed price, per Business Wire. And for fans who can't make it out for a dinner date on Valentine's Day, they can still celebrate the occasion by purchasing a California Pizza Kitchen eGift card in three romantic red and pink designs.
Customers can choose between a Classic or Adventure 'Sweet Deal for Two'
California Pizza Kitchen customers who want to take advantage of the "Sweet Deal for Two" Valentine's Day savings can choose select items from the chain's classic menu for $40. Fans can choose either a Spinach Artichoke Dip, White Corn Guacamole with Chips, or Mexican Street Corn for an appetizer, along with Red Velvet Cake, Key Lime Pie, or Butter Cake for dessert. For the main course, customers can choose salads, heart-shaped pizzas, or pasta. And for an extra $10, customers can also choose the Adventure menu, which offers customers Lettuce Wraps with Chicken, Spinach Artichoke Dip, or Spicy Buffalo Cauliflower for appetizers, along with Belgian Chocolate Soufflé Cake, Key Lime Pie, or Butter Cake for dessert. In addition to full-sized salads and pizzas, customers also have the option to choose Cedar Plank Salmon, Chicken Piccata, or Kung Pao Spaghetti with Shrimp for their main course.
To make these deals even sweeter, customers who purchase one of these options will receive a bonus buy-one-get-one free card that can be redeemed for their favorite foods between February 15 and February 22, per Business Wire.