Valentine's Day 2021: Where To Get The Best Food Freebies And Deals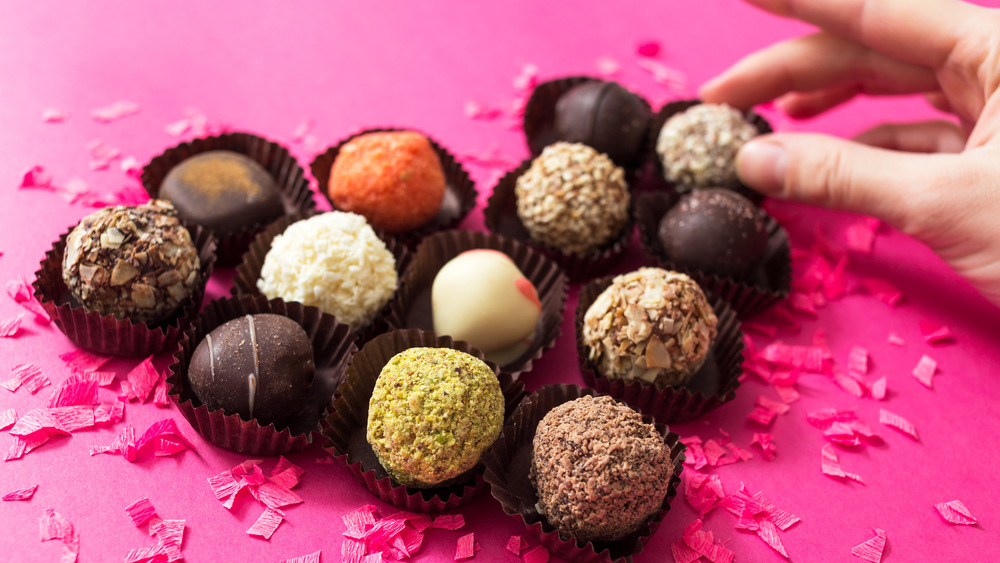 Shutterstock
Valentine's Day is right around the corner this weekend, and there are tons of freebies and deals you need to know about. From coffee and sweets to full-blow meals and last-minute gifts for your loved ones, there's no shortage of deals this year. While you can always go the flowers and chocolates or cookies route, there are tons of other unexpected ways you can show someone (or yourself) how much you care this year.
One such unusual way is through themed and "punny" candy from Target. The nationwide retailer has brought back hits like its "Let's Avo-Cuddle" avocado-shaped chocolate for $5.99 along with some new takes too, according to a press release Mashed received. There's a "Dinner Date" that's an entire dinner with the plate for $7.99. Another new chocolate valentine is "Bananas For You," which is a solid chocolate banana for $5.99. These off-beat picks will satisfy those with a sweet tooth while skipping the usual hearts and roses.
But Target's chocolates are only the beginning. To make the most of all the freebies and deals this Valentine's Day, you'll need to start with coffee and breakfast.
Start Valentine's Day with breakfast and coffee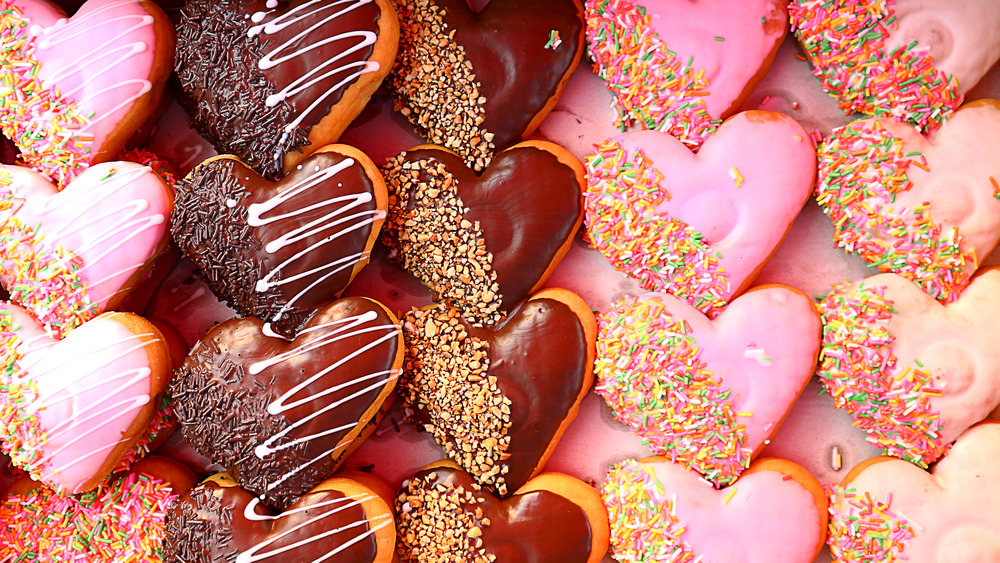 Shutterstock
Valentine's Day at Starbucks actually began on February 8th and runs through the day itself. The coffee chain has Valentine's merchandise, pink drinks, red velvet coffee cake, and much more to make things festive (via Delish). All delivery fees are being waived for orders of $15 or more, and those who order with UberEats and meet the $15 minimum will get 50 percent off with code SENDLOVE. You can even add a note to the Valentine's Day Starbucks bag.
Some Tim Hortons locations in the U.S. are participating in the celebration too (via ChewBoom). On February 13th and 14th, fans can get a free donut when they buy a drink. Just order online or with the app. Meanwhile, Dutch Bros Coffee is raising money for local food banks on the 14th. With every drink sold on the 14th, $1 will be donated. Besides, they have six festive drinks like the Chocolate Strawberry Frost, which tastes just like chocolate-covered strawberries (via Dutch Bros Coffee).
Another way to save on coffee this Valentine's Day is with Copper Cow Coffee. You can get 10 percent off all orders when you use the CouponFollow code VDAY10 between February 10th and 14th.
Celebrate Valentine's with pizza and wings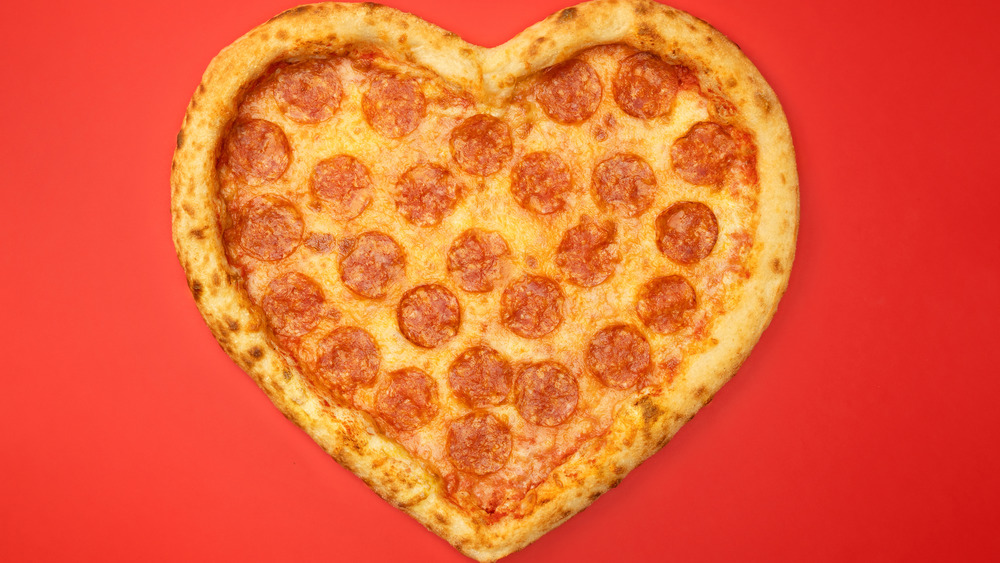 Shutterstock
One of the most interactive deals might be the "Shred Your Ex" at Hooters (via Delish). All you have to do is choose a photo of your ex to virtually shred, burn, bury, or toss darts at on their website. Once you're done, the website will give you a digital coupon that will give you 10 boneless wings, though you have to dine-in to claim it. 
Fatburger and Buffalo's Express locations are also giving away wings on the 13th and 14th. All orders placed at locations with both restaurants will get a free six-piece Chick'n Vings with any purchase. Just mention the promo or use the code VDAY21 if you order online.
California Pizza Kitchen has lots of deals going on between the 10th and 14th too. The beloved heart-shaped pizzas are making a comeback as well as a $35 prix fixe menu that includes one appetizer, two entrees, and a dessert, according to a press release shared with Mashed. They've also rolled out three new "Sweet Deal Packages" for takeout. The chain is also making donations to the Children's Heart Association for every glass and bottle of Colby Red Blend wine that's sold. Finally, all rewards members who have signed up through the 14th will be entered to win a "Stay-At-Home Wine Basket for Two." Five winners will get three bottles of wine, a wine key, a $150 CPK gift card, a $25 Netflix gift card, and jcoco chocolates. Of course you can always gift a Pizza Valentine eGift Card too.
More Valentine's deals from your favorite chains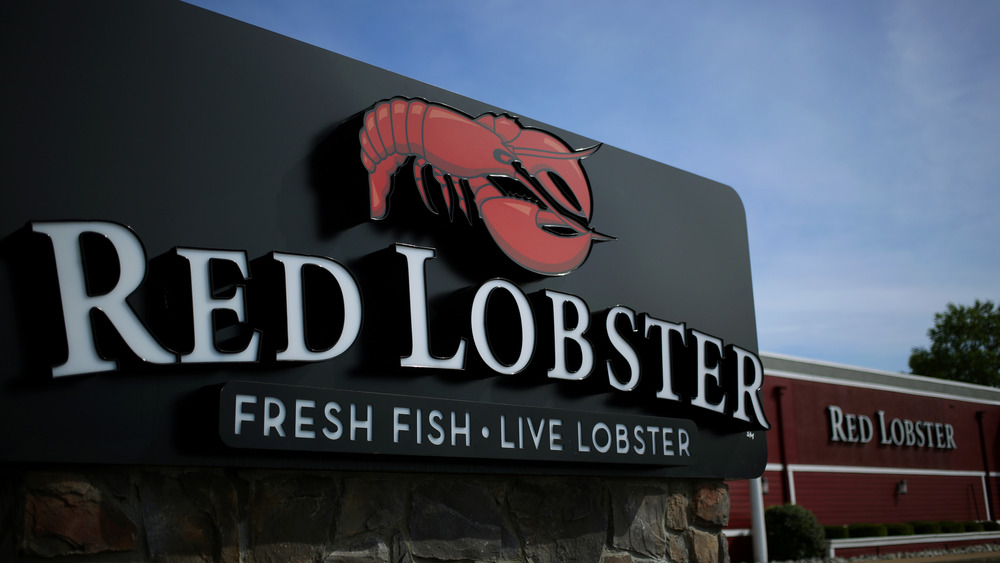 Bloomberg/Getty Images
Smokey Bones will be running a special between the 12th and 14th, per a press release sent to Mashed. The Bone Fire Bundle of Love is available for dine-in only and includes baby back ribs, steak, smoked chicken wings, smoked sausage, chicken breast, potato wedges, grilled peppers and onions, and Bonefire sauce. The dinner is $75 and includes a bottle of Cabernet and a slice of chocolate cake too. That's a ton of food for the price.
The Wing Experience is also offering a Bundle of Love package that comes with 12 boneless wings and 12 bone-in wings with a side of crinkle fries and a slice of chocolate cake for $40 between February 12th and 14th. This deal is available for delivery or pickup.
Red Lobster is going all-out too. They've published recipes for Cheddar Bay Biscuit Bowl Seafood Fondue, Cheddar Bay Biscuit Waffles with Candied Bacon and Salted Caramel, and Chocolate Wave Cake Pops, all of which can be made with Red Lobster ingredients ordered to-go or for delivery. Plus, through the 13th, loyalty members can get 15 percent off select flowers of $40 and up at 1-800-Flowers.com and a free Maine lobster tail.
Restaurants worth visiting for V-Day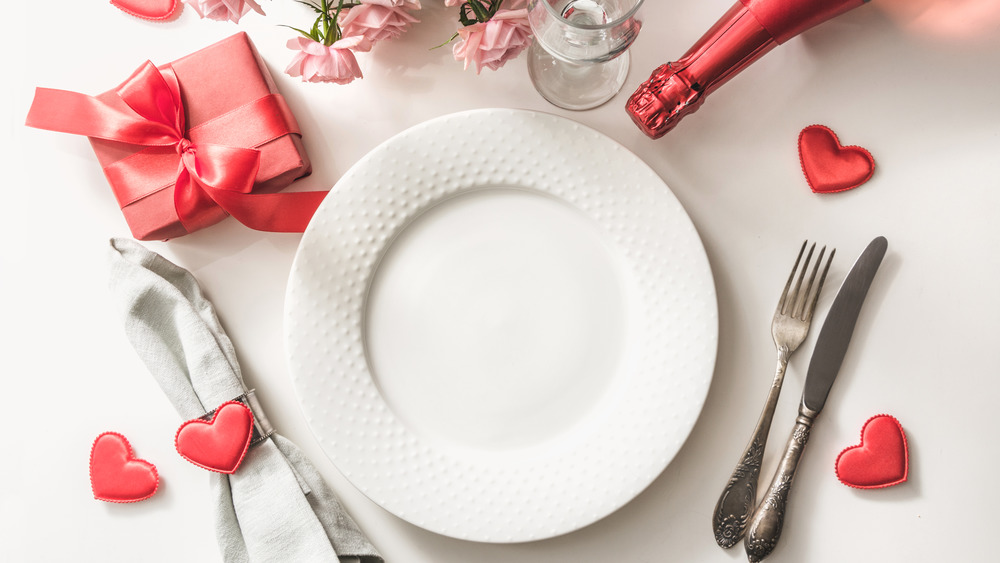 Shutterstock
Those looking for an upscale dinner for a reasonable price should make a reservation with these restaurants. 101 North Eatery and Bar in L.A. county is serving dinner for two with their take-out, delivery, and outdoor dining options. The dinner is $175 and features nine courses including Maine lobster, Iberico ham, and Wagyu beef among many other delicacies. 
Buca di Beppo has a dine-in and to-go pre-fixe special that includes heart-shaped lasagna for two, garlic bread, salad, and mini cannolis. Brio Italian Grille's pre-fixe features Chilean sea bass, beef medallions with shrimp, and cheesecake. Bravo Italian Kitchen will also serve Chilean sea bass, and Bertucci's will have a selection of salads, entrees, and desserts.
Ellington's in Nashville is also offering a pre-fixe menu on Valentine's Day with a scrumptious menu that can also be ordered to-go. Pick-up orders need to be placed on or before the 12th, though.
Smith & Wollensky restaurants will offer prime steaks, fresh seafood, amazing sides, and delicious desserts too. Tables will be socially-distanced, though the meal is also available for pickup or delivery with ChowNow.
Finally, Personal Chef To Go is offering 20 percent off of chef-prepared meals delivered to your doorstep with code LOVE20 thanks to CouponFollow.
Grocery store finds for Valentine's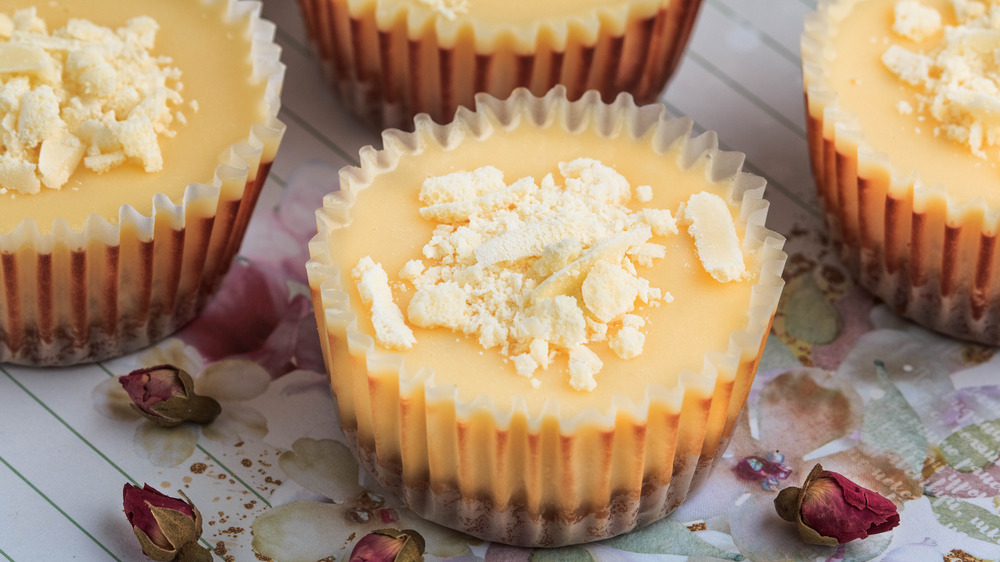 Shutterstock
Philadelphia Cream Cheese just released a new Cheesecake Crumble that comes in four flavors. The individual serving of cheesecake comes in strawberry, original, cherry, and chocolate hazelnut. You can even get a free sample this Valentine's Day weekend (via Ibotta). But they're not the only ones with a new launch.
Pepperidge Farm Farmhouse is also releasing a nut-based flavor of Thin and Crispy cookies. These cookies will be butter pecan, and a pack is just $3.89 making them a total steal. They'd undoubtedly go great with butter pecan ice cream too. Plus, if your ice cream needs dressing up or you are celebrating with kids, Smucker's new Unicorn Magic Shell is the perfect way to do it. The shell is white cupcake flavored and has pink, blue, and purple sprinkles.
Sooo Ketolicious makes amazing keto-friendly pizza crusts that you can pick up at the grocery store for a cheesy Valentine's night in. Use the code LOVE15 with CouponFollow to get 15 percent off your purchase of the crusts too.
More grocery finds to spark the romance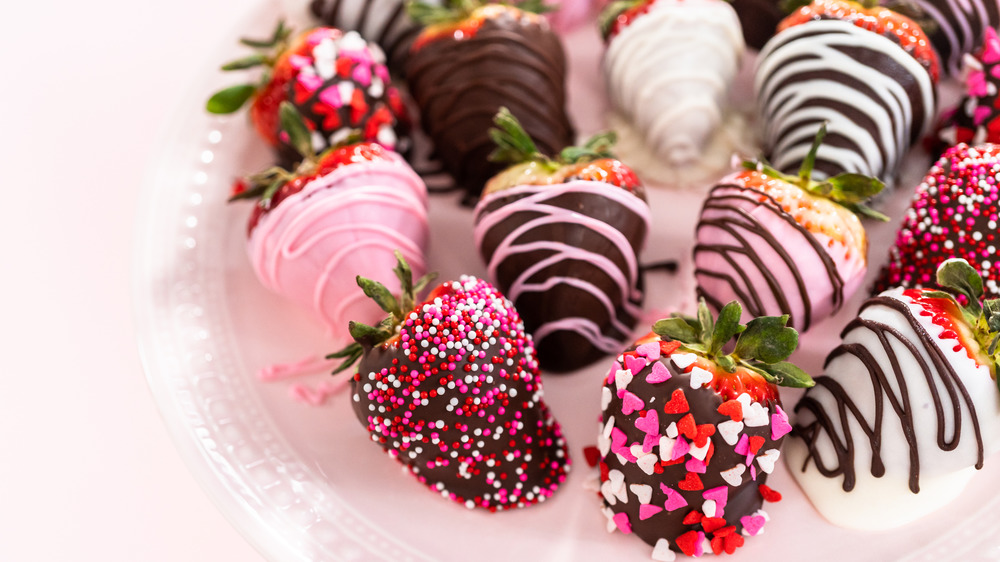 Shutterstock
If you're looking to buy everything you need for a decadent meal at home, Sam's Club has it for less. From lobster and steaks to rich pasta and sides, they've got you covered. Plus, they have chocolate-dipped strawberries, heart cookies, and mini strawberry cake bites so you can enjoy dessert without having to work hard in the kitchen. Costco is also stocking amazing chocolate ganache cakes that are heart-shaped. It's a perfect and easy way to celebrate.
Those looking for a more low-key night in can pick up popcorn from Sam's Club with a touch of elegance and decadence. Their new Truffle Salt Popcorn comes in a 14-ounce bag for just $4.98. While you're there, you can pick up a huge, oversized Crafted by Catherine throw for $29.98 to cozy up with at home in front of a movie with that popcorn.
Those looking to shake up the status quo with their Valentine's day gifts can also find just the thing at the grocery store. Whisps has Cheesygrams Snack Packs for Valentine's day to offer a lighter alternative to the chocolate-heavy holiday. You can get 15 percent off with the code 15VDAYWHISPS. But, they're only $13.49 on Amazon, which is hard to beat. The five-count packs come in a variety of flavors like the new Tangy Ranch flavor that was revealed last year. Plus, the packs come with 100 stickers and signable cards so you can personalize them.
Imbibe with these boozy options for Valentine's Day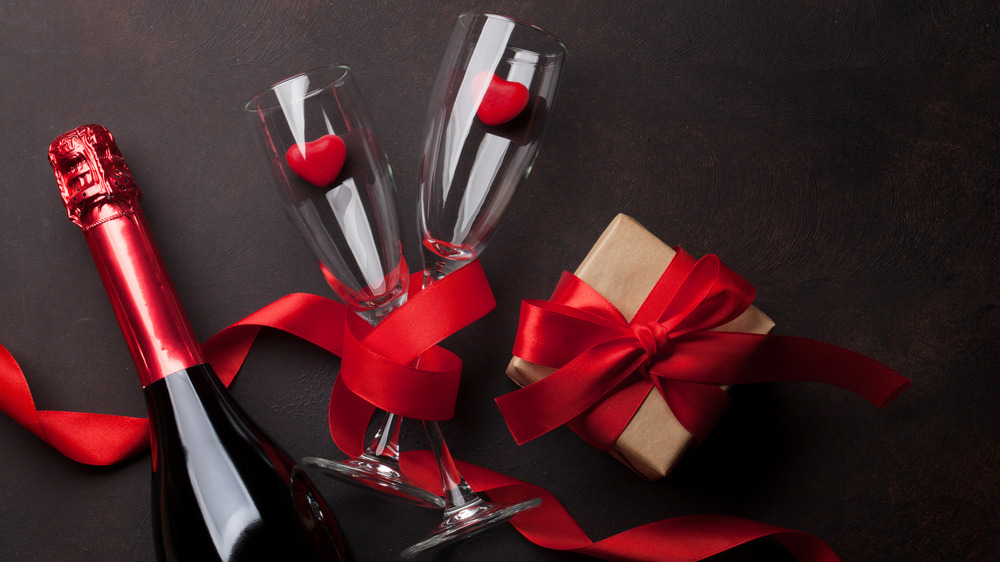 Shutterstock
For those who enjoy a great bottle of wine to mark the holiday, this year has tons of great offers. MOVO Wine Spritzers is giving away free wine to everyone who texts "U Up?" to 73255. They're just trying to help you avoid sending that text to your ex after all. Those who text MOVO Wine Spritzers instead will get a rebate coupon, according to a press release sent to Mashed.
One of the most exciting wine developments this year is that Sotheby's has just revealed its own label and collection of wines. Sotheby's Wine now has a 13-bottle collection of excellent wines that are marked at an affordable price. Most bottles are around $25, though the Blanc de Blancs Grand Cru Champagne rings in at $80. For a Grand Cru vintage though, that's not a bad price at all. So if you're looking to impress your date, splurge with a bottle or two from this collection.
More bottles, bags, and deals to enjoy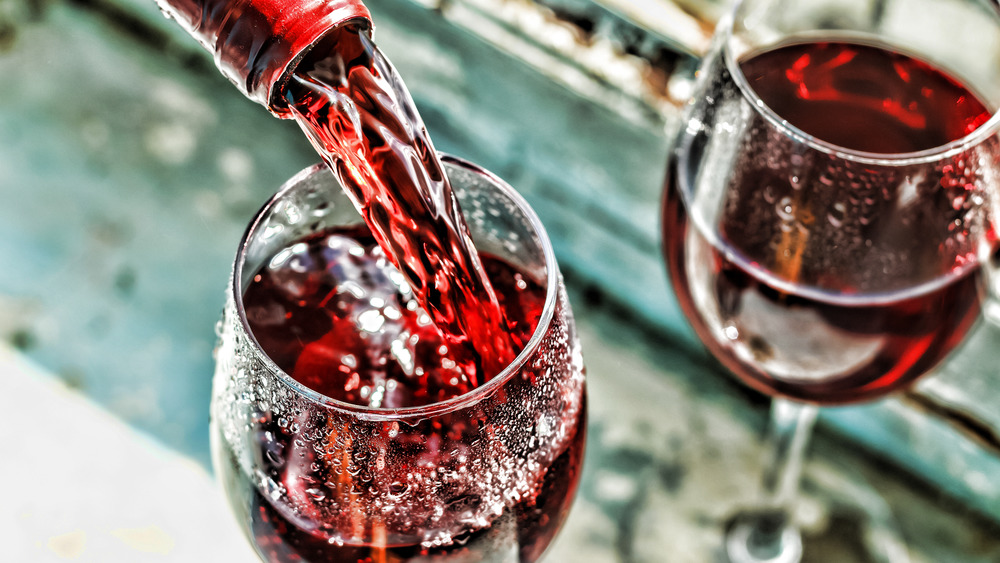 Shutterstock
Port Barrel Aged Pinot Noir and Nobel Vines 515 Rosé are also great bottles on a budget. They are priced at $16.99 and will certainly make the night special. The Port Barrel Aged Pinot Noir has notes of dark berries and cocoa making it an indulgent bottle that will pair wonderfully with any Valentine's Day meal or chocolates.
Drizly is also offering $5 off or free delivery with the code VDAY2021. You can also get $10 off an order of $30 or more if you're a new customer and use code VDAY10.
But if you're looking for the perfect gift for a wine enthusiast, try the PortoVino bags, which can hold and mask two bottles of wine. These bags allow you to pour the wine from a spout at the bottom of the bag making it a fun gift for a girls' night in (or out, when you can).
Treat yourself to these Valentine's desserts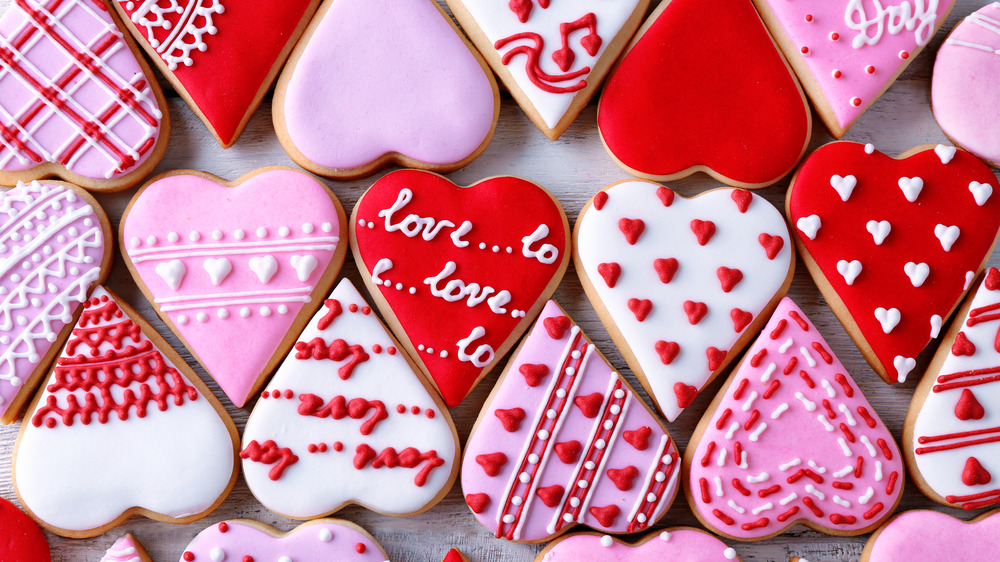 Shutterstock
Now, down to the good stuff. Those looking for healthier sweet treats can try Quest peanut butter cups. A box of four is just $8.99, and the peanut butter cups have 11 grams of protein and just one gram of net carbs. That's tough to beat. Lily's Sweets are also a great option made with stevia. There are tons of flavors of chocolate bars and candies that won't break your healthy eating habits.
Cookies are another big hit this year. Per a press release, Insomnia Cookies is offering a Valentine's-inspired menu and even has heart-shaped cookie cakes with cream cheese icing. They're also putting together packs and combos like the Chocolate Lovers Pack, Sweetheart Combo Pack, and U+Me Combo Pack. Each includes both cookies and ice cream, though one includes cake too.
Mariah Carey is also coming out with her own line of cookies just in time for Valentine's Day too. You can get her limited-edition red velvet white chocolate chunk cookies just for Valentine's Day. You can get a whole box of Mariah's Cookies or create your own box with her other flavors like White Chocolate Cranberry, Heath Bar, or Lemon Cooler.
Valentine's Day gifts for foodies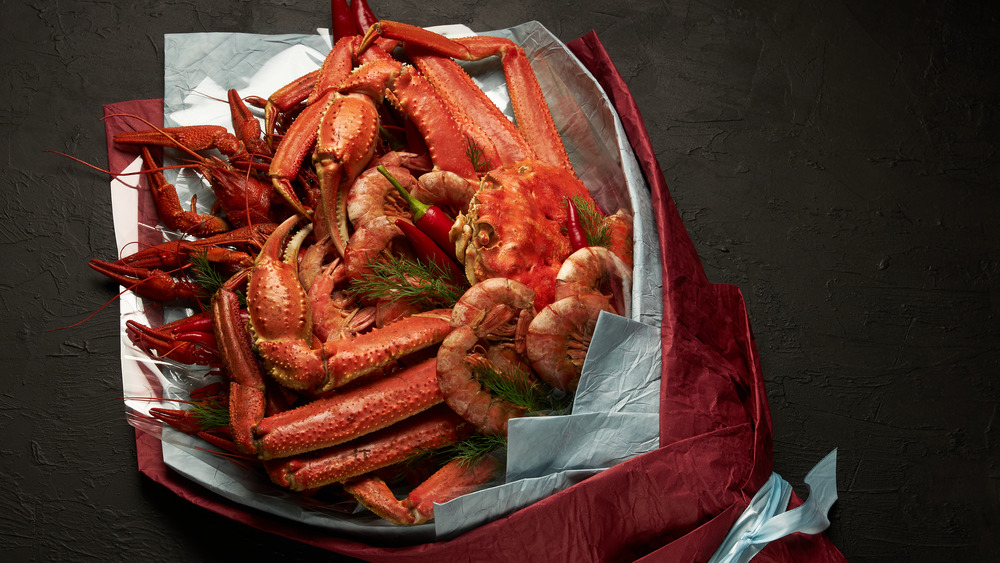 Shutterstock
If you're still looking for a gift, The Maine Lobster Marketing Collaborative is selling Maine Lobster Tail Bouquets that can be shipped to you or the one you love. There's a four-tail option for $82.49 from Hancock Gourmet or a six-tail option for $109.99 from Maine Lobster Now, according to a press release shared with Mashed. There aren't many people who wouldn't love a lobster tail bouquet.
Sonoma Gourmet is also offering an olive oil set for foodies this Valentine's. The set includes 8.5-ounce bottles of oils including basil parmesan, sauteed garlic, garlic and herbs, orange and rosemary, and roasted chiles flavors. The set is $51.99 and is a great way to celebrate with fellow home cooks.
Another luxe pantry staple you can treat someone to is Runamok Maple's special edition cocoa bean-infused maple syrup. The Vermont maple syrup is infused with roasted cocoa nibs and costs just $16.95 for a 250-milliliter bottle. Just imagine that slathered all over your morning pancakes or a bowl of ice cream.
However you choose to celebrate this year, you can't pass up at least one of these many foodie deals, steals, and freebies.