Why The Song In Pringles' 2022 Super Bowl Commercial Sounds So Familiar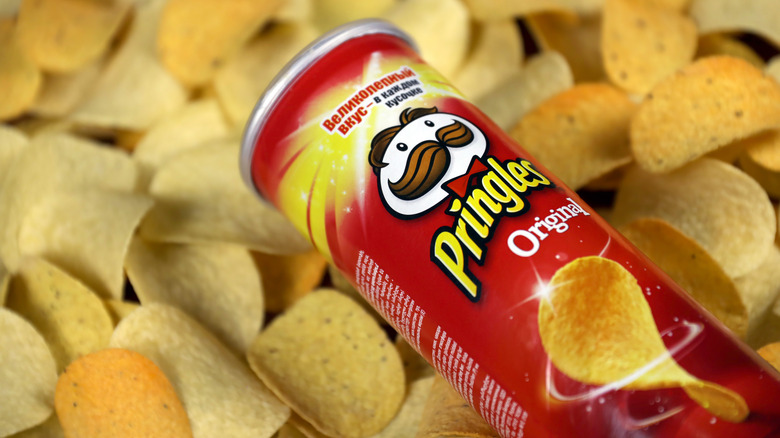 Mehaniq/Shutterstock
Pringles has been crucial to the Super Bowl commercial scene for four consecutive years now, and the chip brand is coming back with a fifth ad for 2022, according to a company press release. Gareth Maguire, senior director of marketing at Pringles, promised "something fun and completely new" in the 30-second spot. People had mixed feelings about Pringles' Super Bowl commercial from last year, which revolved around astronauts whose spacecraft had crashed at sea (via YouTube). The only problem? Anyone who could have saved the stranded astronauts was too distracted, as they were constructing chip towers with all of Pringles' "endless flavors to stack."
Per Adweek, the stacking concept has been a recurring theme in Pringles' gameday commercials since 2018, featuring characters "layering different flavors of chips to find the ultimate combo." However, the saddle-shaped chip brand has decided to step away from its tried-and-tested formula this year in favor of a concept that's likely to be a tear-jerker, especially due to the emotional song playing in the background.
The song in Pringles' ad may get "stuck" in your head
Pringles' 2022 Super Bowl commercial follows a man through the different stages of his life. He's seen attending parties as an excited youngster, going to classes in college, tying the knot with his partner, marveling at his firstborn baby, celebrating his birthday as a grandfather, and, finally, lying to rest at his funeral. What's common among all of these moments is that he has his hand stuck inside of a Pringles can at all times, whether he's feeding wedding cake to his new wife or pushing his child on a swing. As the video description explains, "Is grabbing the last Pringles crisp worth getting your hand stuck in the can...forever? Yes, it is."
The emotional aspect of the commercial is heightened by a popular love song by Lionel Richie, "Stuck on You," which was released in 1983. An aptly titled song selection for the dilemma faced by the protagonist in the commercial, right? Viewers are already impressed by the ad: Someone commented on YouTube, "I've watched it like 10 times already, and I notice something new every time. The groom cake topper has a Pringle can on his arm. ... Well done. I laughed so hard I had tears."