Popeyes Is Honoring Valentine's Day With A Deal For Chicken Sandwich Lovers
The Popeyes jingle cheerily sings the tagline, "Love that chicken from Popeyes." For folks like tennis legend Serena Williams, that love extends to the chain's sandwich, which went viral after it debuted in 2019. Per US Weekly, when Williams tried the sandwich in 2019, she apparently loved that she shared what almost sounded like an ardent message of affection in an  Instagram story: "Have I known life before this day?" Gayle King also praised the sandwich on social media, writing, "It really lives up to the hype. It's really good."
Now the chain doesn't just want people to love its chicken. Popeyes wants fans to feel a pitter-patter, even it is just in their pocketbooks this Valentine's Day. But instead of just releasing a jingle that sings "Love that Valentine's chicken," the brand is offering a special deal BOGO deal that fans can use whether they are dining alone or with someone they kind of like.
Promotion runs from February 14th to 20th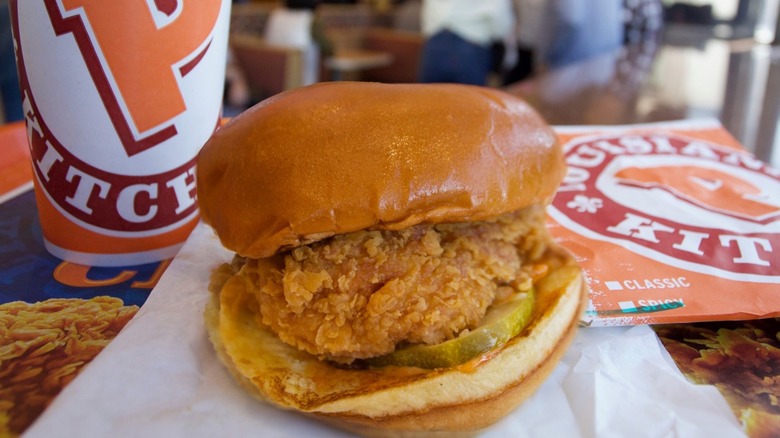 Elliott Cowand Jr/Shutterstock
According to Chew Boom, beginning, February 14th, people who purchase one of Popeye's Chicken Sandwich combos – spicy or classic – get a medium chicken sandwich combo free. But Popeye apparently realizes that not everyone can celebrate their love on a single day because the promotion runs through February 20. How it works: Customers will need to order their chicken sandwich combo through the Popeyes app or online, which will "qualify" them for the free combo.
If you've not yet experienced one of these meals, Popeyes chicken sandwich a fried chicken cutlet on a brioche bu with spicy mayo and a couple of pickles. Per the Popeyes website, a chicken sandwich combo includes a drink and a regular side. For those interested in the nutritional info, that comes out to around 1,55q calories.  But on such a special loved-up day or extended week, depending on how long Cupid is hanging out with his bow and arrow, maybe it's better not to count. We won't say anything if you won't.