The Doritos 2022 Super Bowl Commercial Has Twitter Smiling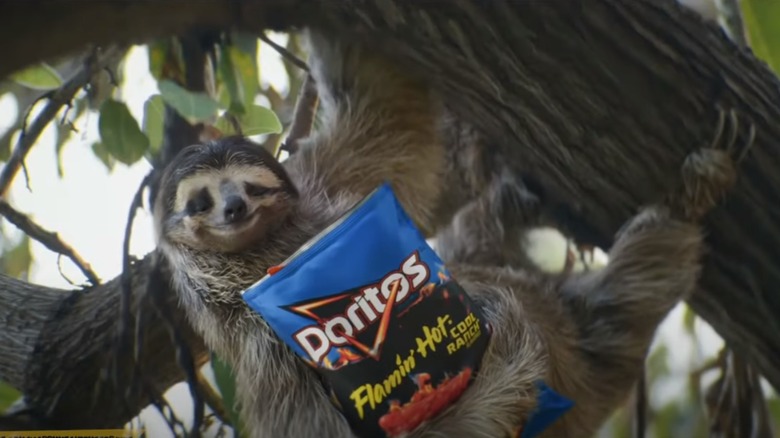 Tom Pennington/Getty Images
Enter the scene as a young woman extends across a jungle branch in search of wildlife grasping her essential gear: Flamin' Hot Doritos, Cheetos, and binoculars. Described by a fan sharing the entire clip, "A bird watcher drops bags of Flamin' Hot Cheetos and Flamin' Hot Cool Ranch Doritos to the forest floor when she shifts on a tree branch for a better angle. A curious sloth crawls over to the scattered snacks for a taste, reacting in delight when the spicy cheese flavor hits," (via YouTube). Shares one happy Twitter fan, "You combine Doritos, one of my favorite snacks, with a sloth, my all time favorite animal, and I'm in love."
But that sloth isn't alone in it's love for the hot and cheesy snack food. The forest begins to come alive as viewers see a deer, water buffalo, a bear, a fox, and a crocodile (or is that an alligator) with a red bird in its mouth. The animals all start making noises — much like you'd make, too, if you ate something really spicy. This noise begins to create music by some pretty big celeb names. 
In fact, the red bird in the Flamin' Hot Super Bowl 2022 commercial is voiced by none other than Megan Thee Stallion, supported by fox Charlie Puth, leading into a beat-box jungle version as Salt 'N Pepa croon that iconic "Baby Baby" from their classic hit "Push It" (per Just Jared).
Fans loved the Flamin' Hot characters
Social media is loving the animals in the Flamin' Hot Super Bowl LVI commercial, although it's hard to say if the super-hot chips will be quite as big of a hit, as some users note they can't handle the spice. 
Charlie Puth also shared in a post-commercial tweet, "I may be biased but our spot was [fire emoji] go check out @doritos & @ChesterCheetah to learn how you can win some cash by sharing #FlaminHot opinions." A tweet from the @ChesterCheetah account explains that tweets about the Flamin' Hot Super Bowl 2022 commercial with the hashtags #FlaminHot and #entry could earn Twitter users a $500 prize.
One fan replied to Puth's tweet with a sweet anecdote, writing, "My mom is so cute. When I showed her the commercial, she thought she would actually see you not a fox lol." Another fan couldn't resist making another song reference, writing, "That's what the fox says..." 
In a tweet reply to a message from Doritos, another user wrote, "Friendly reminder: do not feed animals." And yet another fan responded to Megan Thee Stallion's bird character, asking, "Does this mean you'd be down to go birdwatching or..???????" The Cheetos and Doritos commercial certainly made fans smile.