Reddit Allegedly Caught A Restaurant Serving Costco Red Velvet Cake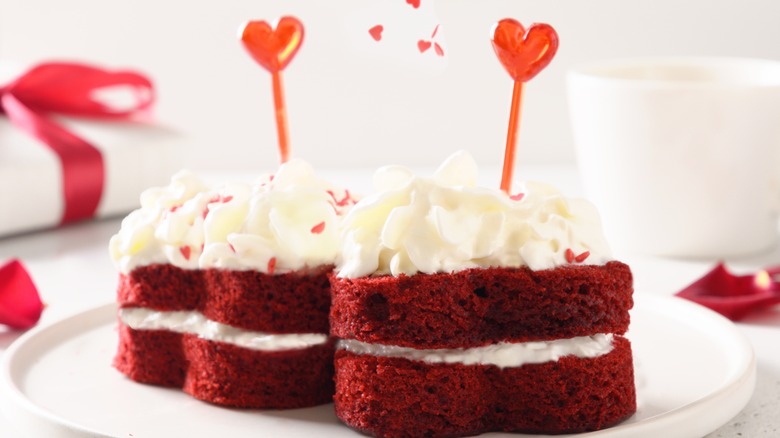 Lazhko Svetlana/Shutterstock
There's no denying that Costco has an impressive range of snacks, drinks, ready-to-eat meals, and desserts. Come Valentine's season, that collection becomes even more luxe with the likes of heart-shaped cheese ravioli and raspberry macarons, as well as chocolate-covered strawberries and mini red velvet cakes (via Instagram).
And while these items might be a steal at the buy-in-bulk chain, it can be quite awkward when you find the same Costco favorites disguised as gourmet meals in a fancy restaurant. It turns out, that's exactly what might have happened to a Redditor making the allegations. The Costco frequenter claims to have ordered a "Red Velvet Cake for Two" at a local restaurant only to find it looking suspiciously similar to Costco's mini red velvet cakes, with the addition of a whipped cream dollop and a scoop of vanilla ice cream on the side. 
But that's not all, certain items on the charcuterie board appeared to have hints of Costco too. While the Reddit community was a bit appalled at the restaurant selling a Costco item, users weren't exactly surprised.
Some restaurants might serve Costco items in disguise
One Redditor pointed out that similar instances have happened in the past where a Charleston-based restaurant was called out for allegedly serving Costco's $2 Kirkland Signature Cheese Pizzas for $18, marketed as fresh oven-baked pizza with house-made marinara sauce (via Post and Courier). Others claim it's a common practice in the restaurant industry for small cafes, in particular, to sell some of the best Costco desserts as their own. "Costco does have business memberships and that's what bulk buying is great for," reports one user, but states, it "feels ... lazy imho. They have a kitchen, most cafes don't." Another explains that "most chefs are proficient [in] baking but the time, materials, and expertise just aren't there" and so, buying pastries from Costco can be a more lucrative option.
If the "Red Velvet Cake for Two" dessert in question is indeed the beloved Costco mini cake, patrons are furious about the high mark-up. The restaurant priced the dessert at $18 when Costco sells them at just $8 for a box of 6. One Reddit user jokingly suggested, "You should go buy some [from Costco], take one to the restaurant with your bill, give it to them, and ask them to take it off the bill."
As for the overall consensus, Costco shoppers say that they don't mind seeing their favorite items when they're dining out, but the price markups and lack of creativity on the restaurant's part are what troubles them!