How Much Cookin' With Brooklyn Really Costs To Make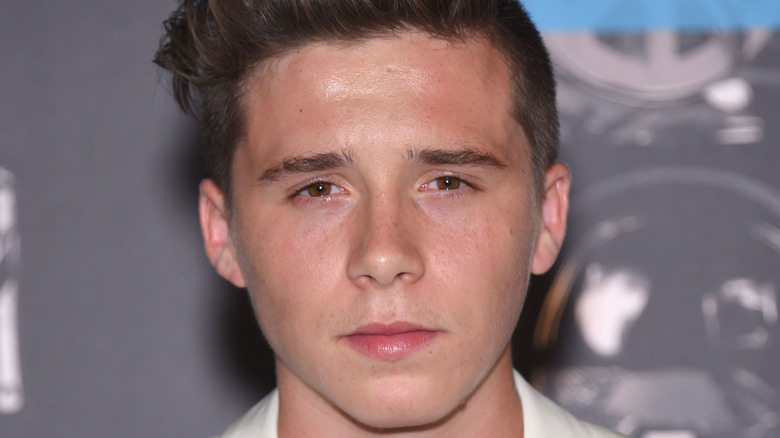 DFree/Shutterstock
There are several celebs whose hobbies include cooking for friends and family in lavish kitchens whenever they can spare the time to and who have since turned their hobbies into lucrative cooking shows. Amy Schumer's "Learns to Cook," Selena Gomez's "Selena + Chef," and the Hilton heiress' "Cooking with Paris" are just a few examples of celebrity-led cooking shows that have recently aired. "Cookin' With Brooklyn" is the newest show on the block that follows Brooklyn Beckham cooking everyday foods.
Beckham told Vogue that the idea for the show was born out of quarantine cooking when his fiancé Nicola Peltz would film and post videos of him cooking. Fans were loving the sight of the oldest Beckham kid in the kitchen and just like that, Beckham had the idea of turning it into a reality cooking show. The first episode premiered in December on Watch Together Messenger with a new episode airing each week on its eight-week run.
The show doesn't just see Beckham behind the kitchen counters though. Joining him are a string of culinary stars including Nancy Silverton, Roy Choi, Adam Perry, and even Nobu Matsuhisa. With such a large production, it turns out that "Cookin' With Brooklyn" cost quite a bit to make.
Each episode costs big bucks
"Cookin' With Brooklyn" airs on social media and is Brooklyn Beckham's first time on a reality cooking show, so you may think the production costs are low. However, New York Post reports that each episode of "Cookin' With Brooklyn," which runs about eight minutes long, costs $100,000 to make. Purportedly, the budget covers a crew of 62 professionals including five cameramen, nine producers, and even a culinary producer. While the show follows Beckham as he learns culinary skills from successful chefs, some people are calling out the show and its host.
The Tab reports that some viewers noticed that Beckham did not do much of the cooking on the program and simply assembled a bagel in one episode while the guest chefs did more. One critic also hinted in The Sun that Beckham might have an unfair advantage over other young chefs, implying that Beckham may have just landed the show and its big budget because of his famous parents. In any case, the show enables viewers to learn alongside Beckham.