Red Velvet Brownies Recipe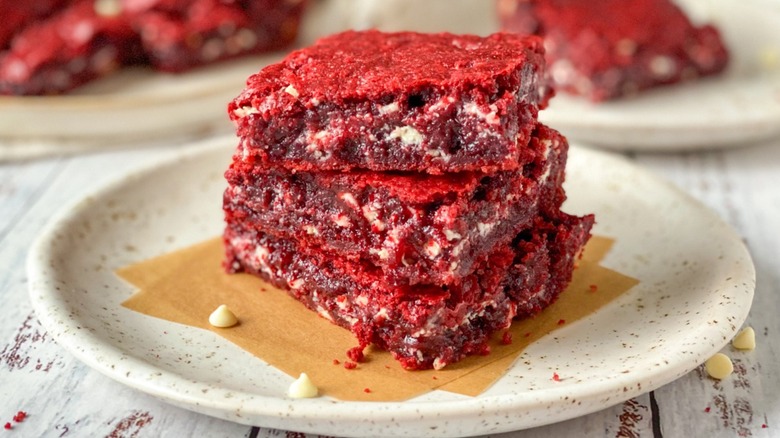 Hayley MacLean/Mashed
There's something so satisfying about eating a treat that looks as good as it tastes. Sure, any baked good probably looks appealing, but there's one variation of desserts that goes above and beyond — red velvet, of course! While you may think of cake or cupcakes when it comes to red velvet, that doesn't have to be teh case. Recipe developer Hayley MacLean offers an alternative to red velvet cakes and cupcakes — a red velvet brownie recipe! — that she describes as tasting "like a mixture of a brownie and a sugar cookie."
MacLean says these brownies are the fudgy, chewy type, but says if you want a more cake-like brownie, you can just bake them for a few extra minutes. The flavor, she tells us, is "just lightly chocolatey, with a sweet vanilla background and some rich molasses notes from the brown sugar." While the white chocolate chips are meant to mimic the cream cheese frosting typically used on red velvet cake, you can swap these out for chocolate chips if you want more of a chocolate flavor in your brownie.
Assemble the ingredients for red velvet brownies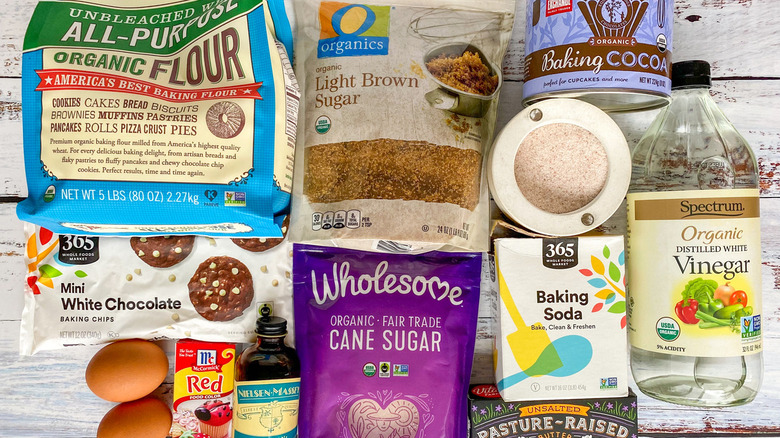 Hayley MacLean/Mashed
The chocolate in these brownies comes from cocoa powder, but you'll also be getting some flavor from the white chocolate chips, or semisweet ones should you prefer to use these instead. The red coloring comes from a generous amount of food coloring. The rest of the ingredients are pretty standard brownie stuff: butter, eggs, granulated sugar, brown sugar, vanilla extract, flour, baking soda.
There is one ingredient, though, that you wouldn't usually expect to see in brownies, which is a little bit of white vinegar. "The vinegar in this recipe," she explains, "adds a bit of acid to the flavor profile that is commonly known with red velvet." She also says that it helps to keep these brownies from being too sweet.
Do a little prep work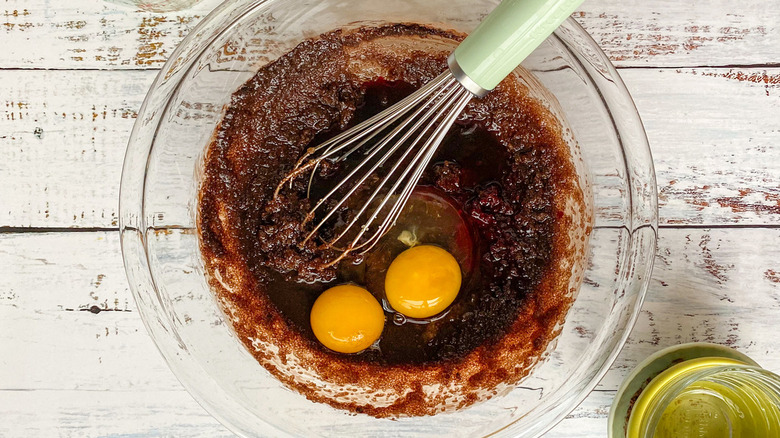 Hayley MacLean/Mashed
The first thing you'll need to do before you bake is to take two eggs out of the fridge so they can warm up to room temperature. Melt the butter, too, then allow it to cool down a bit. Preheat the oven to the standard baking temperature of 350 F. While it is heating up, take out an 8x8-inch baking pan and lightly grease it. You can use cooking spray, a little vegetable oil, or a tiny bit of butter for this. If you prefer, you can also skip the grease and line the pan with parchment paper instead.
You can also start prepping the brownies themselves. Once the melted butter has cooled, whisk it together with the sugars (both types) and the cocoa powder. Now separate one of the eggs and add just the yolk to the butter mixture along with the entirety of the other egg. Add in the vanilla and red food coloring, then mix all of the ingredients thoroughly.
Finish making the brownie batter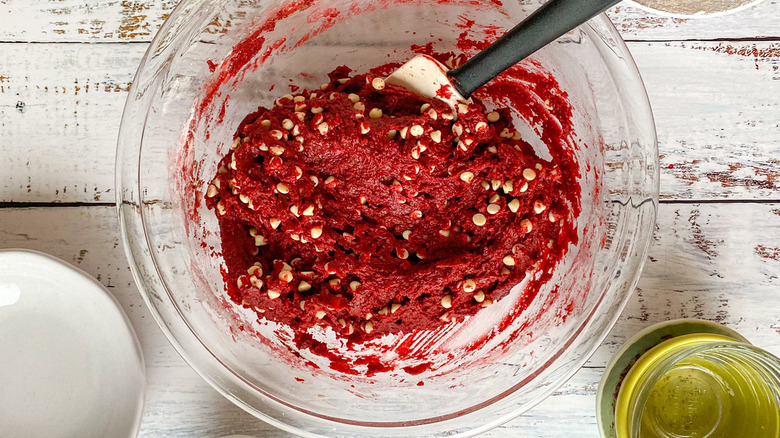 Hayley MacLean/Mashed
With the wet ingredients combined, you can start focusing on the dry ones. Fold flour, baking soda, and salt into the mix. Then, add in the vinegar and mix until just combined. MacLean notes that she adds the vinegar at the end "to prevent too much of a reaction with the baking soda in the mixture." As a last step before the batter hits the pan, fold in the chocolate chips, and voila — you have some red velvet brownie batter!
Bake the brownies and serve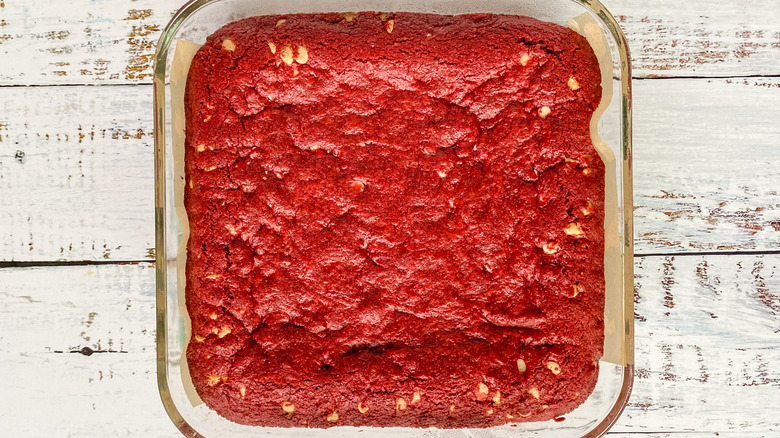 Hayley MacLean/Mashed
Spread the batter into the prepared pan, and once the oven is hot enough, stick the pan inside and bake for 28 to 30 minutes. MacLean says that when the brownies are done the edges should be set, but the middle bits will still have a bit of jiggle to them. As she explains, the brownies "will continue to cook for a bit after removal from the oven." Once you do take them out, let them cool in the pan before you slice them into bars.
MacLean recommends serving these with milk, though if you're not much of a milk drinker, the light, not-too-chocolatey flavor would also go well with a cup of coffee or tea. You may also want to make a batch for a party, like perhaps a Valentine's classroom party or something of that sort. As McLean says, these brownies' color makes them "festive and fun," just right for the holiday.
Red Velvet Brownies Recipe
Forget red velvet cake — these red velvet brownies are where a truly fudgy, decadent, and chocolatey treat is at!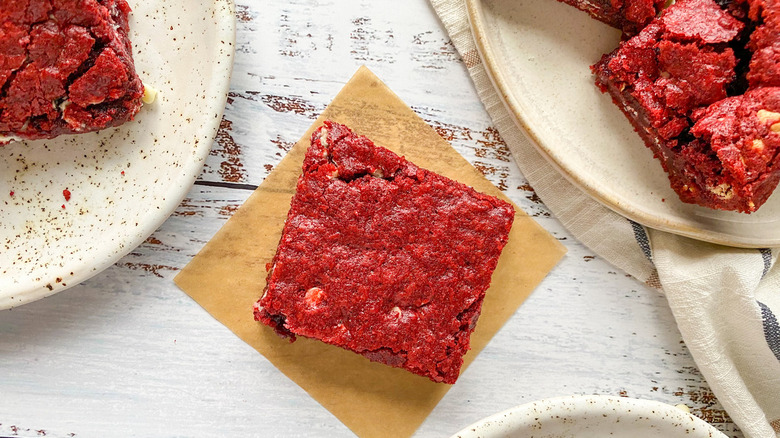 Ingredients
½ cup + 2 tablespoons unsalted butter, melted and cooled
¾ cup granulated sugar
½ cup brown sugar
2 tablespoons cocoa powder
1 large egg + 1 large egg yolk, room temperature
1 teaspoon vanilla extract
1 tablespoon red food coloring
1 ¼ cups all-purpose flour
½ teaspoon baking soda
1 teaspoon white vinegar
1 cup mini white chocolate chips
Directions
Preheat the oven to 350 F.
Lightly grease an 8x8-inch baking pan or line it with parchment paper.
Whisk together the melted butter, granulated sugar, brown sugar, and cocoa powder until well combined.
Add the egg and egg yolk, vanilla, and red coloring, and mix thoroughly.
Fold in the flour and baking soda, along with ¼ teaspoon salt.
Add the vinegar and mix until just combined.
Add the chocolate chips and mix until they are evenly distributed throughout the batter.
Pour the batter into the prepared baking pan and bake for 28 to 30 minutes, or until the outer edges are set and the inside is still a little wiggly.
Allow the brownies to cool before slicing and serving.
Nutrition
| | |
| --- | --- |
| Calories per Serving | 289 |
| Total Fat | 14.8 g |
| Saturated Fat | 9.0 g |
| Trans Fat | 0.4 g |
| Cholesterol | 43.9 mg |
| | |
| --- | --- |
| Total Carbohydrates | 37.4 g |
| Dietary Fiber | 0.7 g |
| Total Sugars | 26.8 g |
| Sodium | 74.8 mg |
| Protein | 3.0 g |