Why You Should Think Twice About Getting Wawa's Italian Sub
Pennsylvania is associated with many things. From "Rocky" to "The Office," to scrapple and Tastykakes, the Keystone State overflows with cultural and historical touchstones. But we're not here to take you on a tour of Pennsylvania, no, we're here to talk about one of the state's most beloved institutions: Wawa. This convenience store chain juggernaut stretches from Pennsylvania down to Florida (via Wawa), where its offerings of freshly-made hoagies (which we will discuss in a moment) and house-brewed coffee have earned it an almost cult-like legion of fans. One rival to Wawa is Sheetz, another convenience store chain from Western Pennsylvania. Their competition is so legendary that a documentary about it is currently in the works. So beloved is Wawa that it has 1.2 million followers on Facebook — pretty impressive for a chain of gas station convenience stores!
Now to the topic of Wawa's famous sandwiches: It's clear many Wawa fans find it hard to pick just one sub to rule the rest. Insider believes the spicy turkey club is a sure-fire winner, while Philadelphia magazine says there's no doubt that the Thanksgiving-themed "The Gobbler" is the chain's best. But as beloved as Wawa's hoagies are, some aficionados believe you should probably weigh your options before ordering this one sandwich. Is the Wawa Italian sub a misunderstood hero obscured by the bigger sandwich names, or is it a greasy, flavorless sandwich that makes you wish you took your business to Sheetz?
Wawa's Italian sub needs improvement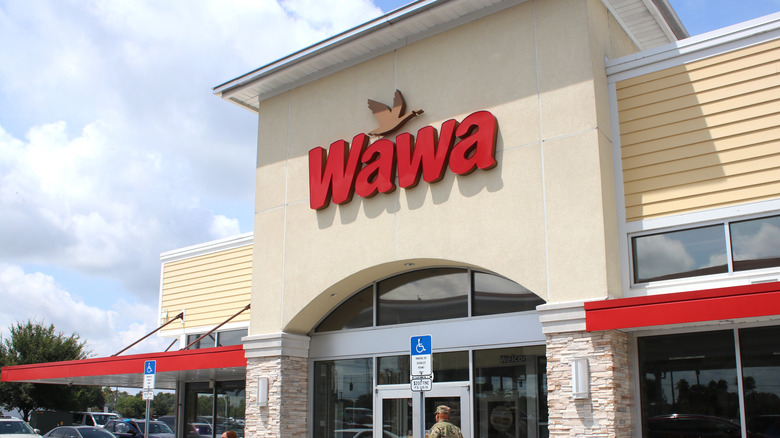 Eric Glenn/Shutterstock
A classic Italian sub is often composed of cured meats such as capicola or salami, plus provolone cheese, and vegetables such as tomato, lettuce, or peppers (via Esquire). Wawa's Italian sandwich isn't lacking meats or cheese, but to some, the sandwich needs a bit of work.
Insider writer — and self-proclaimed die-hard Wawa fan — Fabiana Buontempo ranked all of Wawa's cold sandwiches, placing the Italian hoagie dead last. While they were impressed with the consistency of its soft and chewy bread, the sub's lack of condiments only enhanced the meat's saltiness and made the sandwich "skimpy and dry." If you do want the Italian sub, Buontempo says, add other toppings or condiments.
Although much more forgiving than Insider's review, ranking the Italian sub number two on their list, Philadelphia magazine did have some criticisms too. Jason Sheehan claimed the hot ham doesn't approximate capicola and that the sandwich is "best eaten as leftovers." He still generously gave the hoagie the title of being a "benchmark sandwich" at Wawa and recommended adding oil, vinegar, and extra meat.
It's important to remember that these are all subjective opinions and do not stand as fact. To you, the Italian sub could be the best thing since sliced bread. Hey, as long as your trip to Wawa isn't wasted, it's all good in the end.