Aldi Fans Are Freaking Out Over These Asian-Inspired Noodle Meals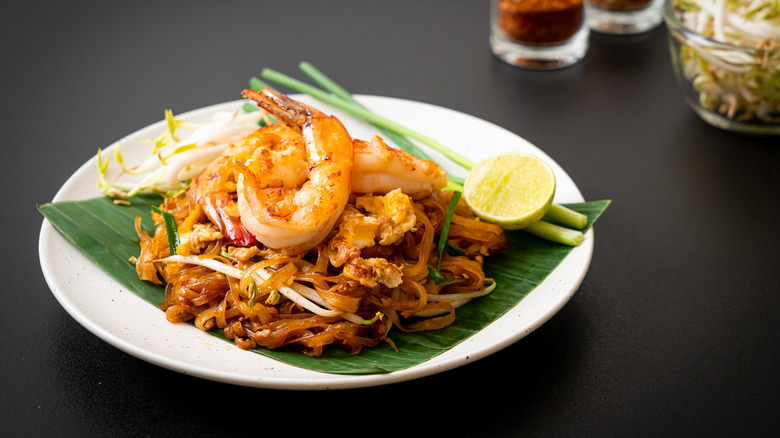 gowithstock/Shutterstock
Some shoppers visit Aldi for its wide selection and low prices, while others head to the grocery chain to check out its ever-updating Aldi Finds. These limited-edition items change each week and have their own section in the store and online, prompting shoppers to return frequently to see what's new and returning. The January 2022 Aldi Finds included a ton of plant-based options, for example.
While Aldi Finds range widely from everyday items to holiday-specific goods, the store occasionally has themed weeks. A couple of times a year, Aldi Finds feature food items from different parts of the world, such as Italy, Greece, or Germany, according to Aldi fan blog Aisle of Shame. Now, "Asian Week" is returning to Aldi stores, with the chain releasing several Asian-inspired specialty food items in the Aldi Finds section. The popular Aldi-related Instagram account @aldifavoritefinds shared a peek at some of the items, and the noodle meals have followers particularly excited.
These noodle meals are about $2 a pop
Per @aldifavoritefinds on Instagram, some of the chain's Asian Week Aldi Finds include Fusia-brand broths for ramen and pho, as well as dried noodles for those dishes so you can complete them with the proteins and vegetables of your choice at home. Especially of interest to fans, however, are Fusia's trio of ready-to-heat rice noodle dishes. These range from vegetarian pad Thai to rice noodle soup with green or red curry. "Ahhh I've been hoping for these kinds of things to hit aldi," user @imstephtacular posted. "I'm going to need to fill a cabinet with the pad thai bowls," @kell5e remarked, while another user raved, "I LOVE this aldi brand !!"
The Fusia noodle bowls are listed on Aldi's website for $2.19 each. Other noodle-based Aldi Finds are soup bowls with kimchi, miso, or Szechuan flavors. These limited-time Asian Week products debuted the week of February 9, so shoppers should expect to find them for only a short time longer.