LaCroix's Newest Flavor Is A Taste Of Springtime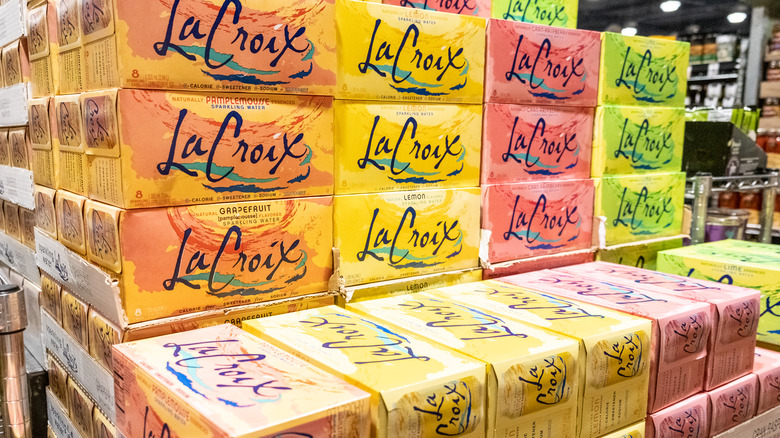 calimedia/Shutterstock
LaCroix's new flavor is springtime in a can and fans are hyped for it.
LaCroix announced its Cherry Blossom flavor on Valentine's Day with a perfect pastel pink video posted to its Instagram. The post's soft pink hues match the vibe of both occasions — Valentine's Day and the beginning of the spring season. The company's caption read, "Our gift to you, a botanical twist of sweet and tart, the dazzling taste of blossoming Spring! Available at select retailers nationwide March 2022!" With over 13,000 views so far, it appears Instagram is swooning over the new beverage.
LaCroix is known for getting its flavor from "natural essences," and claims to use no additives or other synthetic flavors. Per Forbes, the Cherry Blossom sparkling water stays in line with the other products, free of artificial ingredients, calories, sugars, and sodium. A spokesperson for LaCroix told Forbes that the new drink will be fresh and aromatic, like the actual flower. And Chew Boom reports that the taste of the drink will be mostly sweet with a touch of tartness. One could say this drink will "bloom" in your mouth.
The LaCroix Cherry Blossom flavor is sweet and significant
With 200 comments of delight and heart emojis raining on LaCroix's Instagram video, the new flavor has sparkling water fans excited. But there's more to this new flavor than satisfying taste buds. Cherry blossoms may be a favorite pretty, pink springtime flower, but they also have an important cultural significance.
According to the Smithsonian, in Japan, cherry blossoms, or sakura, are celebrated to welcome the start of spring with Hanami, which is a celebration as the trees blossom. Events might include potluck parties, picnics, and even romantic dates. Like spring as a whole, these flowers symbolize fresh beginnings and because they blossom during this season when the Japanese school year starts, they are a representative symbol of regeneration.
According to CountryLiving, cherry blossom flowers are edible. You can eat the petals or pickle them to use in soft sugar cookie recipes and aromatic cocktails. Not to mention, they make any dish they're in a fun, pastel pink color.
While LaCroix's Cherry Blossom flavor might not feature real cherry blossom, it shows up for everything else this special flower stands for.