This Is Mumbai's Biggest Street-Food Dish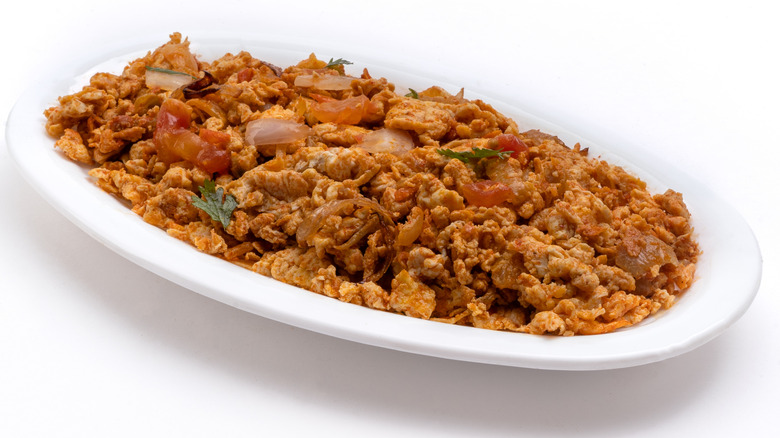 abhishek mane/Shutterstock
If you like food and have a trip to India planned, you should put Mumbai on your itinerary. According to travel blogger David Hoffman of David's Been Here, Mumbai is home to 12.5 million people and is a top tourist destination due to great discoveries and food bargains to be found in its bustling streets. And what better way to taste the authentic flavors of a city than to sample its street food? In Mumbai, Hoffman shared that the offerings vary from spicy to sweet and crispy to creamy. Some popular foods from the metropolis include vada pava, which is spicy, potato patty on a soft roll with spicy green chilis. Pav Bhaji, a thick vegetable masala topped with butter, is also a staple.
When it comes to volume, few street foods can compete with the egg bhurji from the food stall Pav Bhaji and Bhurji Center (via Facebook). Owner Mohammad Nasir makes the spicy scrambled dish on a giant griddle, 200 eggs at a time. Also known as anda bhurji , this dish consists of eggs scrambled with a mash of onions, chili peppers, ginger, garlic, cumin seeds, garam masala spices, red chili powder, turmeric, and cilantro (via Taste Atlas). Sometimes, fresh tomatoes and bell peppers are also added. Egg Bhurji is usually served with pav (a soft bread roll), chapati (flatbread), or rice.
They use 2,000 eggs a day
Mohammad Nasir's bhurji is a huge undertaking. It takes three hours to make one batch, and the crew at his food stall starts by cooking hundreds of tomatoes, red onions, and chilis in hot oil on a giant griddle called a tava. Salt and masala spices are added and the cooked vegetables are mashed by hand. One by one, 200 eggs are hand-cracked into the center of the emulsion. The eggs are scrambled and incorporated into the vegetable mix. The mix is pushed to the perimeter of the tava, clearing out a space on the griddle for a small pond of butter, green chilis, and more spices — a step called tadka, which refers to the tempering of spices in oil, butter, or ghee, according to the Facebook video. This brings out the fullness of the spices' flavors.
Nasir serves bhurji with a toasted piece of pav (roll) and an onion-tomato salad. Bhurji is spicy, so those with more sensitive palates can request some yogurt on the side. The dish is a popular late-night snack and, according to the video, Nassir sells most of his Bhurji between 10:00 p.m. and 3:00 a.m. The crew has to work constantly because one batch serves 60-70 customers and sells out in about an hour. Up to 10 batches of the dish are made at the stall each day, which adds up to 2,000 eggs.