Banza's Newest Pasta Shape Is Perfect For Sauce Lovers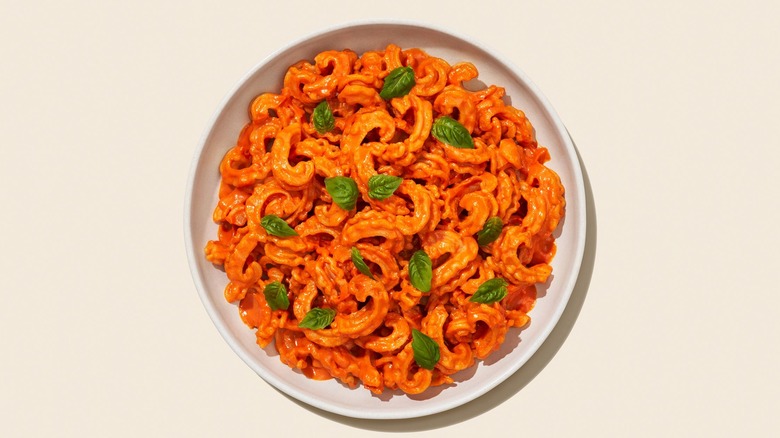 Banza
Craving a bowl of noodles smothered in tomato sauce and cheese but trying to cut back on carbs or eat gluten-free? Enter chickpea pasta, which has become all the rage in recent years as more and more people turn to plant-based protein sources. (According to the USDA, the average 2-ounce serving of chickpea pasta contains 8 grams of fiber and 14 grams of protein — much more than a helping of white flour pasta.) A number of brands have come out with their own chickpea and low-carb pasta varieties, but one of the most popular is Banza, which you may recognize from its bright orange boxes that are sold in more than 19,000 stores across the United States, per a company press release.
While there are hundreds of shapes of regular pasta, the options are more limited when it comes to chickpea pasta. Banza, however, just added one new shape to the list — and the brand claims that its especially good at scooping up sauce.
Banza cascatelli will be available nationwide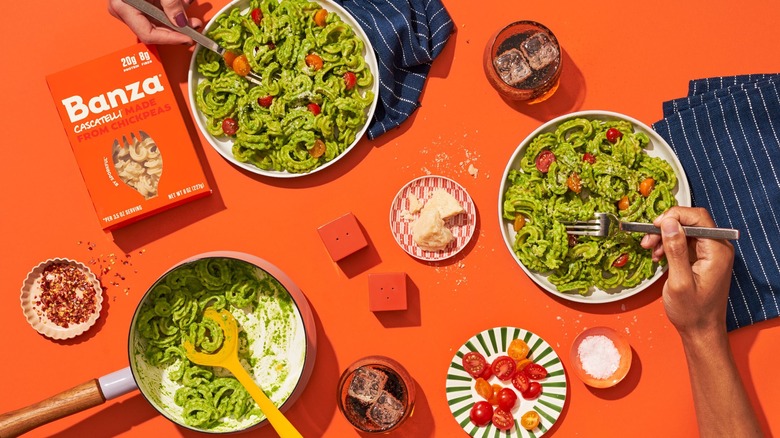 Banza
About a year ago, Dan Pashman of "The Sporkful" podcast invented cascatelli, the world's newest pasta shape, and made headlines. Banza tapped the podcast host to collaborate on a gluten-free version of the shape, which a company press release says is coming to stores this month. Named after the Italian word for "waterfall," cascatelli made with chickpeas contains 20 grams of protein and 8 grams of fiber per serving. According to Banza, the new shape has high "sauceability," as its flat shape and ruffled edges create somewhat of a canal to collect the sauce. 
If you've never tried Banza chickpea pasta, many reviewers say that while it doesn't taste like wheat flour pasta, it's delicious in its own way. "It's always nice to get some extra protein and fiber while still eating your favorite dishes. Good taste, good texture, good all the way around," one customer said on Banza's website. Banza cascatelli will be available exclusively in Whole Foods stores across the country and online at EatBanza.com and Amazon.