Duff Goldman Had Some Interesting Cakes At His Wedding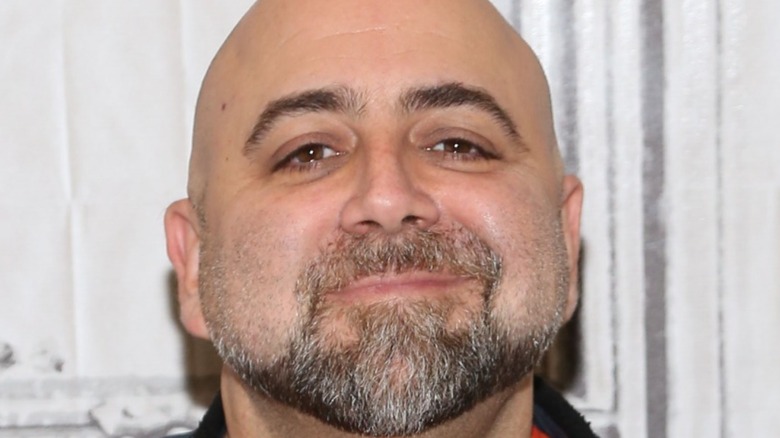 Manny Carabel/Getty
Wedding cakes can be exceedingly intricate and extravagant, with high-end creations being bona fide edible works of art. Duff Goldman, owner of Charm City Cakes in Baltimore and graduate of The Culinary Institute of America, is known for his jaw-dropping cakes and his numerous hit shows like "Ace of Cakes," "Buddy vs. Duff," and "Kids Baking Championship." Not to mention his two James Beard Award nominations and appointment as a U.S. Culinary Ambassador by the White House in 2012 (via The Baltimore Sun).
So when Goldman announced his engagement to now-wife Johnna Colbry, many fans were buzzing about what this master cake decorator's wedding cake would look like. With Goldman's long resume of impressive projects for clients like Betty White, Jack Daniels, George Lucas, and the cast of the Harry Potter movies, fans wanted to know if he would go all out for his own 2019 wedding bash. Nobody could have predicted how all out Goldman was going to go, though. Needless to say, fans were not disappointed.
Goldman had five cakes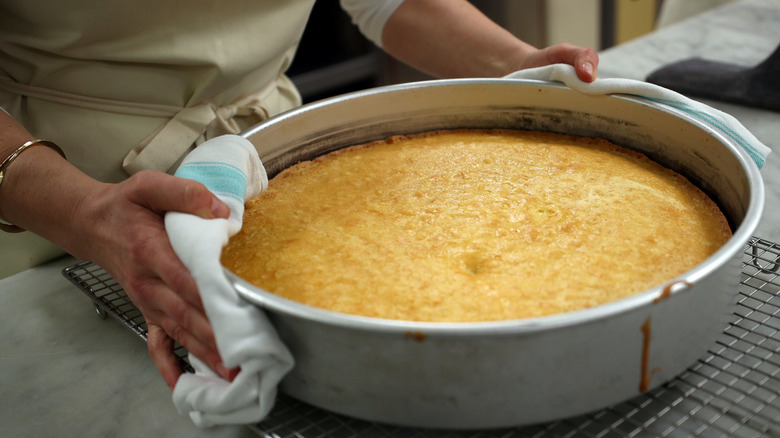 Wpa Pool/Getty Images
To start off, Duff Goldman and Johnna Colbry had five cakes at their wedding; all made at Goldman's Los Angeles location of Charm City Cakes. Not to be outdone by the event's backdrop of The Natural History Museum, all five cakes were showstoppers, with one underwater-themed cake even hanging from the ceiling like an installation in the museum itself, according to Martha Stewart Weddings. Another of the cakes that guests and fans couldn't stop talking about was the meat cake. Yes, a cake made of meat.
In Goldman's classic zany style, the cake was still decorated like a traditional wedding cake, though the traditional bride and groom toppers were made out of hot dogs. Goldman told People, "The bottom tier is meatballs, the second tier is meatloaf, third tier is lamb shawarma, the top tier is scrapple ... Then it's iced in mashed potatoes, with bacon roses and then we have a chocolate fountain that we put gravy in." Goldman's wife-to-be also contributed to the litany of cakes as the inspiration for a more traditional red velvet and brown butter cake, frosted to match the lace on the bride's dress, according to the celebrity chef. The final two cakes were a pumpkin chocolate chip cake and a classic carrot sheet cake. Talk about having your cakes and eating them, too.