The First Drive-Thru Pizza Shop Is Here, But Only In One State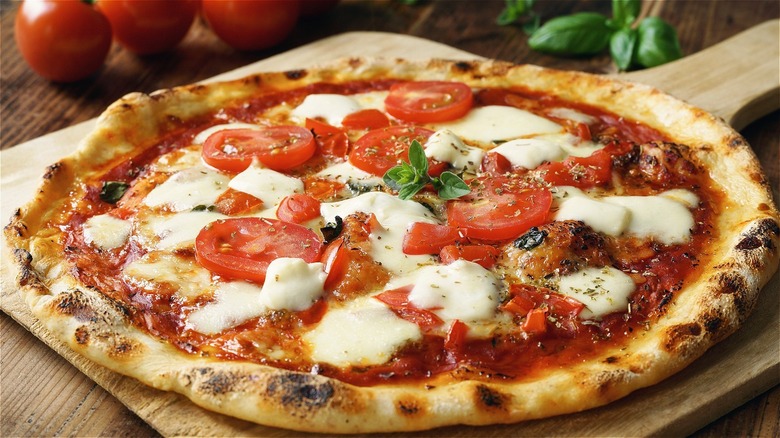 V. Matthiesen/Shutterstock
While the drive-thru has been around since 1947, when the first drive-thru restaurant was opened in Springfield, Missouri, it's recently spiked in popularity. According to CNBC, 44% of off-premise restaurant orders in 2020 were from drive-thru lanes. While some of that is likely due to the pandemic — for awhile, dining rooms were closed and customers had to use the drive-thru or mobile ordering — some of it is also due to our increased love of convenience when it comes to food. 
From McDonald's to Taco Bell to Chick-fil-A to Dunkin', many fast-food chains have had drive-thru lanes for years. More recently, fast-casual chains including Panera, Chipotle, and Starbucks have joined in on the trend. And now, there's a new member of the drive-thru restaurant family: Fly Pie Pizza. It's the first drive-thru pizza shop in the United States, and fans are excited about it. Here's what you need to know about the unique pizza chain and how it's blazing a trail for other pie joints in America.
Fly Pie Pizza is a must-visit in Nevada
If the thought of a drive-thru pizza shop has you excited, you might want to plan a trip to Nevada. As of right now, that's the only place Fly Pie Pizza exists, having opened its one and only location in 2020 in the city of Henderson. Here's how it works: You order your food and drive through the tunnel, experiencing "in-flight entertainment" while you wait (which is essentially fun cartoons for hungry kids to enjoy). The pizza is made with Italian Caputo flour and New York water (giving it that coveted, crispy New York-style crust) and baked in a stone hearth for the best texture and flavor. According to Fly Pie, your pizza will be ready to eat in just 150 seconds.
The menu includes a variety of drool-worthy pies, from classic cheese and pepperoni to more unique offerings including the "Texas Layover," which features BBQ sauce, grilled chicken, and jalapeños, as well as the "Impossible and Beyond," which is made with vegan cheese and meat crumbles. There's more than just pizza, too. You can also order wings, loaded French fries, and desserts such as deep-fried Oreos and churro "tots." 
Fly Pie has received a number of rave reviews on Yelp so far. "You're literally driving through a pizza oven!" one person exclaimed, adding that the "toppings were fresh and generously portioned" and the crust was "perfectly cooked."