Doritos' New Dip Is Perfect For Party Appetizers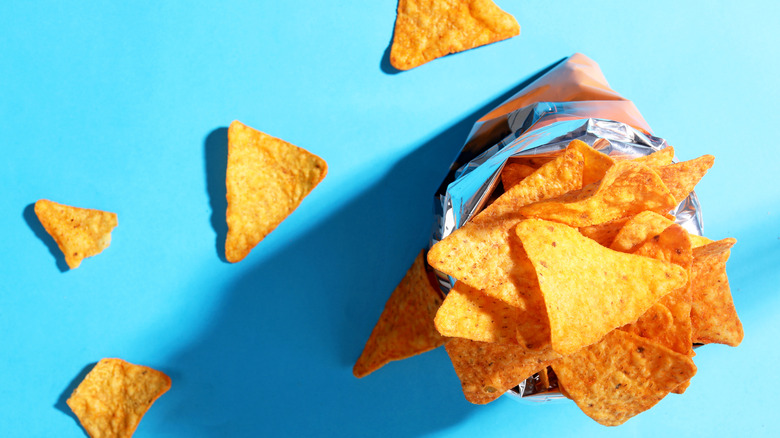 VITTO-STUDIO/Shutterstock
We may receive a commission on purchases made from links.
Doritos is one of the most popular chip brands out there, with classic flavors like Cool Ranch and Nacho Cheese as well as more unique offerings like Organic White Cheddar, Salsa Verde, and Blazin' Buffalo & Ranch (via Doritos). Doritos fans have taken to Reddit to share their favorite Doritos and dip concoctions — one person recommends adorning Cool Ranch Doritos with sour cream, while another proclaims that "Doritos' + cream cheese + sweet chilli sauce = heaven." Still a third goes with a classic: "Nacho Cheese Doritos + Salsa." Doritos also has its own line of dips including various salsas, a nacho cheese dip, and even a refreshing sour cream and chives option. However, they're only available in the UK and Australia — US consumers can get them on Amazon, but have to shell out nearly $15 for one jar.
Luckily for American Doritos connoisseurs and party appetizer enthusiasts everywhere, the brand will soon be expanding its line of official dip offerings available in stores to include two spicy dips based on the chip brand's two iconic and ever-debated flavors, Cool Ranch and Nacho Cheese (via Best Products).
This is nacho average party dip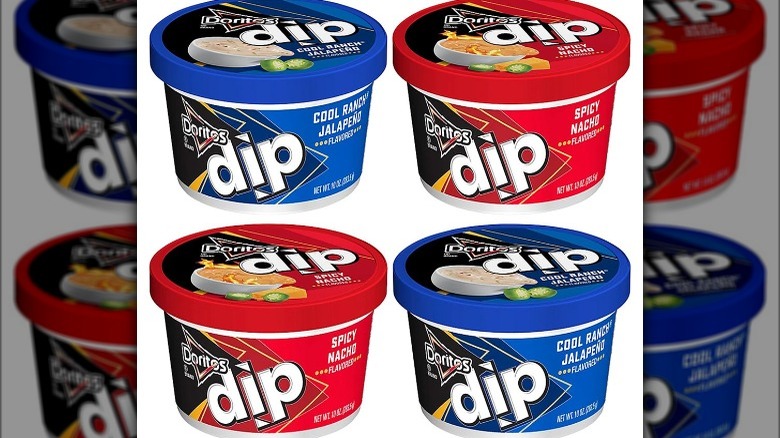 Frito-Lay
According to Best Products, the two new dip flavors are called Cool Ranch Jalapeño and Nacho Cheese, although both have jalapeños pictured on the packaging, suggesting both flavors have a spicy kick. The dips will come in 10-ounce containers in their signature blue and red colors to denote each respective flavor.
The new Cool Ranch Jalapeño and Nacho Cheese dips aren't available to purchase in stores just yet. In fact, Best Products notes that Doritos' parent company, Frito-Lay, has yet to even announce the existence of the products. However, we can't help but begin to ponder what would be the perfect chip to serve with each dip as a party appetizer, and we can't help but go with the obvious answer: Cool Ranch chips with Cool Ranch Jalapeño dip and Nacho Cheese chips with the Nacho Cheese dip. Or maybe you want to get fancy and switch them up for a sure-to-be unique taste. Serve them both, and party on, Doritos fans.